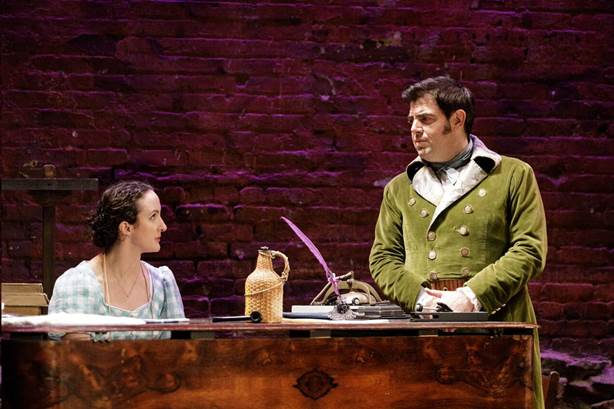 Kate Hamill and Jason O'Connell                photos by James Leynse
                     by Julia Polinsky
It's easy to go back and forth between liking Primary Stages' production of Kate Hamill's Pride and Prejudice and absolutely loathing it. If you can take or leave the Austen novel, you may like this show better than if you are academically minded. In the book-to-stage transition, some stuff will be left out and some wholly changed. Accept that premise, and you can enjoy this dizzying transformation of Austen's work into post-postmodern screwball comedy.
Where an academic may be annoyed by this kind of cavalier treatment of good books, the theater junkie can get an enormous kick out of what damn good theater it all is. Hamill and director Amanda Dehnert, working with scenic designer John McDermott and Tracy Christensen's inspired costume designs, toss and mix and mesh and edit and create something vividly theater-y out of a 200+ year old novel of manners.
If you're up for silliness, you'll get it. If you want the spectacle of watching people play the game of love (yes, you'll hear that song), it's in there. Pared to its essence, and maybe a bit beyond that, the story moves right along, at the frenetic pace of farce.
In many ways, Hamill does a great job of re-shaping the novel's storyline to fit the constraints of one stage, 8 actors, and two and a half hours. For one thing, 8 people play 14 characters, with cross-dressing costume changes, energetic movement around the stage, and some terrific acting making that possible. Only Nance Williamson as Mrs. Bennett, Jason O'Connell as Mr. Darcy, and Kate Hamill as Lizzy remain themselves always; all the other actors do double or triple duty as Pride and Prejudice's cast of characters.
Hamill paints those characters with broad strokes, and the cast steps up with gusto. Bingley (John Tufts) comes off as Darcy's not too bright dog; Eliza's sister Mary (also John Tufts, in a perfectly awful/awfully perfect dress) reads as a nerdy, awkward, scary goth girl; characters shriek when they meet her.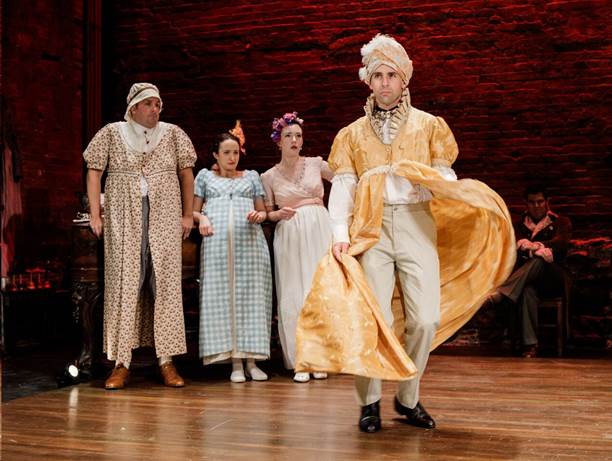 Chris Thorn, Kate Hamill, Amelia Pedlow, and Mark
Bedard
One standout performance comes from Mark Bedard -- or should I say three performances? He was simply hilarious as Mr. Collins, Miss Bingley, and Mr. Wickham, with a real presence and a gift for physical comedy. The chair bit alone, a charming chunk of stage business, steals the show.
"Hilarious" may not be the first word that comes to mind when you think of Pride and Prejudice, but Hamill's Pride and Prejudice is all high comedy, no high thought. Alter the costumes to what we wear today, and you actually would have a sitcom, with so many sound cues, they nearly become a laugh track. For instance, not only do bells literally go off when boy meets girl – the cast uses tonechimes at the moment the Bingley and Jane (Amelia Pedlow) meet -- but Darcy and Lizzy meet cute to the Darth Vader theme from Star Wars.
Boy meets girl exceedingly cute, in fact; at a ball, Lizzy spills hot punch on Darcy. Not just on him, but on his upper thighs. Near the center of his body. (OK, on his crotch.) Boy and girl meet; they snark; they fall in love; boy gets girl; girl bests boy in a light saber duel to the tune of the Star Wars score. Played for laughs? Absolutely. Gets laughs? You bet.
To change the intricacy of Austen's Pride and Prejudice, the subtlety of its portraits, the complexity of its treatment of a fairly banal subject, to broad comedy with silly songs from the 60s and a light saber duel between Eliza and Darcy? Feh. If that's your taste, so be it.
In a program note, the author says she's trying to create a complex female character, and also to surprise audiences by creating a true piece of "…highly theatrical theater, not just a retread of the novel." In that, she succeeds.
Pride and Prejudice by Kate Hamill
At The Cherry Lane Theatre
38 Commerce St, NY, NY 10014
Through January 6: Tuesday, Wednesday, Thursday, Friday, and Saturday 8pm; Saturday, 2pm;
Sunday, December 3 and 10: 3pm;
Starting December 13, add matinee performances Wednesday at 2;
Extra performance January 1, 8pm
Tickets $82-152.
https://web.ovationtix.com/trs/cal/34639?sitePreference=normal