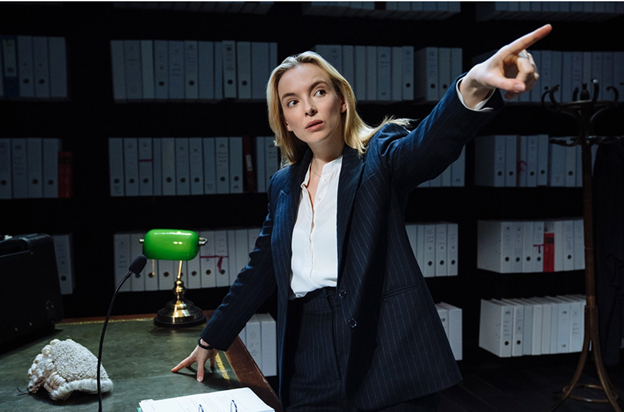 Jodie Comer in "Prima Facie." (Photo: Browen Sharp/Caz Lock)
Prima Facie
By Julia Polinsky
In Prima Facie, Tessa Ensler (Jodie Comer), a criminal defense attorney from a working-class family background, has worked hard at law school and achieved great success in the English legal system. Often, she successfully defends men accused of sexual assault. Tessa's at the top of her game, strutting, cocky, confident, fully armored by her wig, her robe, the law, not always likeable, while she tells us all about how she does it and how it feels.
She's proud of herself, not just because she can beat the upper-class prosecutors at their own game, but also proud of how well she defends her clients by, basically, attacking their victims. "Because you know… People are fallible" she says. "Their word has to be tested. …Her word against his, I test her word, her version of the story in court. Test it, test it."
Jodie Comer in "Prima Facie." (Photo: Browen Sharp/Caz Lock)
Until she herself is sexually assaulted, and she encounters the system from the other side. "Same court, no armor," she says.
For so long, she felt great. Now? Everything has changed, and it changes her. To be the victim, to experience the callousness and harm she has inflicted on others, to lose who she was and become less than herself: watching Jodie Comer's performance as Tessa morphs from super-successful, super-strong defense lawyer to soaked, frightened victim is a privilege.
The story is as simple as can be, and has been told so often, in this age of TV shows such as Law and Order: SVU. There's nothing new, or even recent, about condemning the way the legal system treats people who have been raped, how, in her words, "…The story has to make legal truth…you just have to point out that HE DID NOT KNOW there was NO CONSENT. That it was reasonable for him to think it was okay…" Truth is what you can prove – we've been living for several years in a world of post-truth accusations and counter-reality. Just because the subject is not new doesn't mean it has any less power.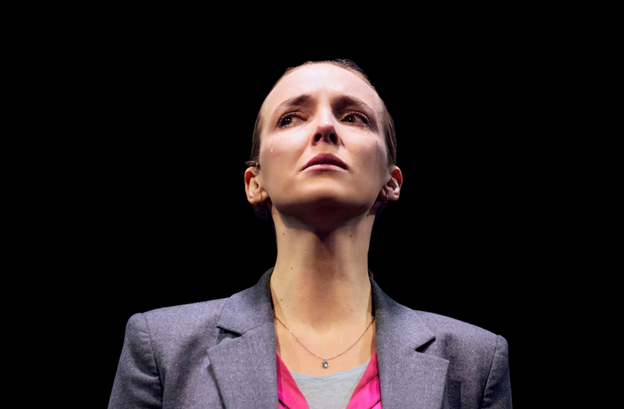 Jodie Comer in "Prima Facie." (Photo: Browen Sharp/Caz Lock)
Imported from London, where it won many awards, Prima Facie features so many cues from the British legal system that it may, or even should, seem difficult for US audiences to understand completely. Why does she wear a wig and a robe when she's in court? What's a barrister? A KC?
Questions like these really don't matter, on the face of it. (By the way, that's what "prima facie" means: "on the face of it.") What matters is the subject: sexual assault and how the legal system handles it, and what happens to the victims. No wonder it comes with trigger warnings, on the website, and in an insert in the program. As Tessa points out, after her day in court: one in three women has been sexually assaulted. "Look to your left, look to your right," she says.
Justin Martin's direction allows Comer to make her stage debut unforgettable. Superb scenic design by Miriam Buether, and Natasha Chivers' lighting design make the most of light and darkness, as if Tessa's emotions were visible, and all those case files on the shelves are overwhelming – as they should be. Interestingly, Prima Facie actually has a musical score, composed by Rebecca Lucy Taylor, a technique borrowed from film/television.
The 100 minutes of Prima Facie fly by, no matter how uncomfortable the subject may make you, because of Comer's extraordinary acting. It's worth seeing Prima Facie for that alone, even if it's a little hard to take. More than one audience member was indeed looking to the left and right, with thoughtful faces, after the show.
At the Golden Theatre, 252 W. 45th St, NY, NY
Tues-Sat at 8; Wed and Sat at 2; Sun at 3
100 minutes, no intermission
Tickets $31-315; https://www.telecharge.com/Broadway/Prima-Facie/Overview
Through June 18, 2023