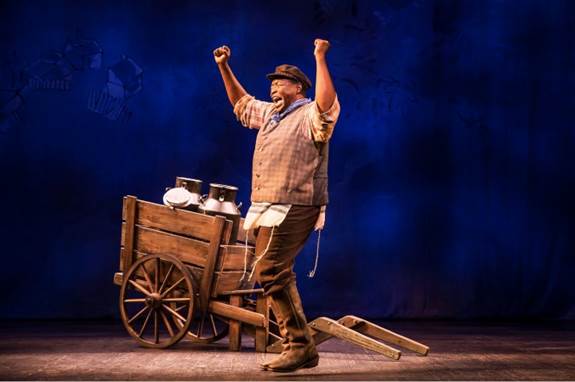 Chuck Cooper delivers powerful performances in "Prince of Broadway," with old favorites such as "If I Were a Rich Man" from "Fiddler on the Roof." (Matthew Murphy)
                        by Eugene Paul
When does the Prince of Broadway become the King of Broadway?  He's 89 years old and working on his next theatre project.  No one has more awards, 21 Tonys, 14 Drama Desk Awards, gobs of others.  No one has reveled in the breadth of variety of productions – commercial productions, please note – covering a varied palette in taste and temperament, producing and directing for almost 70 years.  On Broadway.  Oh, elsewhere, too,  opera, film, television, but who's totting?  Why isn't a Broadway theatre named after him?  A street?  A district?  At least an alley?
Isn't it ironic, even funny, that the producing organization which concocted this show is Japanese and that it is being produced on Broadway by the not-for-profit Manhattan Theatre Club, that they are presenting this splendidly produced, gorgeously loaded, reeking with famous talents, directed  –- by himself.  Hal Prince.  Is this hubris on steroids or what?
He's forced himself to curtailing the number of shows in this paean of a revue to seventeen out of dozens more because two and a half hours is long enough and any producer worth his salt knows not to get into overtime.  And he has selected a smashingly strong cast every one of which also plays Hal Prince in David Thompson's efficient book with music arrangements, orchestrations, supervision and a new song by Jason Robert Brown, whose show, Parade, is also represented in the long, lush, list of  numbers from Prince shows. All decked out with remembrances in scenic designs by Beowulf Boritt, costumes by William Ivey Long, lighting by Howell Binkley, nothing but top flight. Including co-director choreographer Susan Stroman.
The nine member company, displaying amazing versatility happily, deliriously extending themselves over a dazzling range of characterizations – in addition to being Princes –are sheer delight.  Outstanding among the outstanding are Brandon Uranowitz, in scenes from Damn  Yankees, She Loves Me, Cabaret, Michael Xavier in Superman, Phantom of the Opera, Tony Yazbeck in West Side Story, Follies (Oh, how he dances!), Kaley Ann Voorhees in West Side Story, Phantom of the Opera, Chuck Cooper, Jane Dacal,

Emily Skinner channels Elaine Stritch in "Ladies Who Lunch" from "Company."
Emily Skinner, Karen Ziemba, Bryonha Marie Parham, wonders, just wonders.
And, yes, it takes all of them to be Hal Prince himself at various times and all together, introducing number after number as well as being a dozen different characters in as many shows.  Emily Skinner's standout in A Little Night Music is swiftly followed by Chuck Cooper's standout in Fiddler on the Roof  to the ongoing delight of an audience that cannot help singing along.  And so it goes. Prince directed Andrew Lloyd Webber's Evita, Phantom of the Opera, launched Sondheim after Sondheim, Sweeney Todd, Follies,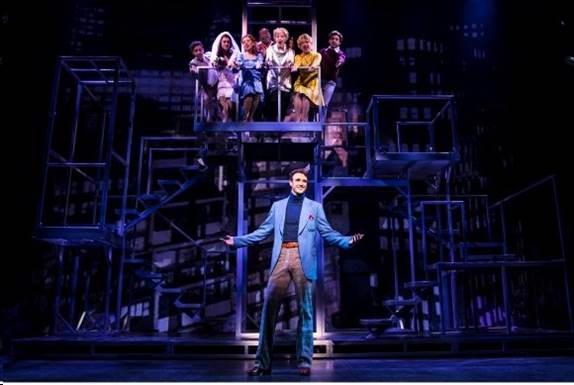 Michael Xavier (center) and the cast of "Prince of Broadway" in the title song from "Company."
Company, A Little Night Music, Kander and Ebb's Cabaret, Kiss of the Spider Woman. By far dollar wise is the Lloyd Webber/Prince commingling, Phantom of the Opera, which, in New York alone has passed its 20,000th performance ten years ago and worldwide has earned over five billion dollars. Do your own estimate on Prince's earnings from this one show. Michael Xavier sings "The Music of the Night" winningly in the course of Prince of Broadway.
Nevertheless, it would be hard to claim that this was Prince's favorite show. Money isn't everything.  And the gentleman won't commit;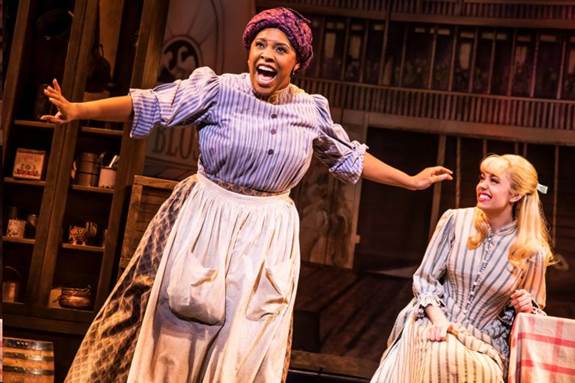 Bryonha Marie Parham and Kaley Ann Voorhees in Prince of Broadway. Photo: Mathew Murphy
He's fond of them all. which in this revue includes selections from Show Boat, Merrily We Roll Along, Parade, as well as all fourteen others, not all Golcondas, but rich in their own right. Overall, it's inevitably a charmer, nudging at our nostalgia, tugging at our heartstrings, clever, delightful, even poignant, a gracious reminder that having Prince in our lives even tangentially has been a blessing.
You really can't go wrong. So go.
Prince of Broadway at the Samuel J. Friedman Theatre, 261 West 47th Street. Tickets: $89-$165. 212-239-6200. 2 hrs, 30 min. Open run.