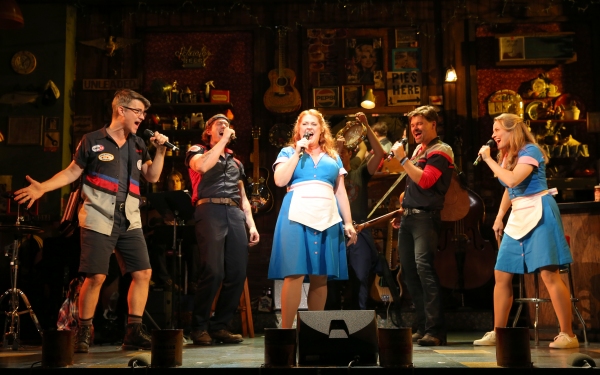 Cast of Pump Boys and Dinettes photos by Joan Marcus
                                               By: Eric Grunin
So far this season, the Encores! Off-Broadway project has given us Jonathan Larson's Tick, Tick...Boom! and Randy Newman's Faust. For the final presentation of their second season we have Pump Boys and Dinettes, at once the least ambitious and most fulfilled of the trio.
From time immemorial, performers and writers short on opportunities have created their own, if not for immediate commercial success then at least as a showcase or calling card. Thus were a thousand one-person shows born, including the original of Tick, Tick...Boom!, and also pretty much any show had an album before it had a script, from Jesus Christ Superstar to Faust.
It was in this tradition that Pump Boys and Dinettes was created back in 1981 by six hungry performers: John Foley, Mark Hardwick, Debra Monk, Cass Morgan, John Schimmel, and Jim Wann. More than a revue but less than a song cycle, it's an evening of tunes with intervening patter for four gas-station attendants (the Pump Boys) and two waitresses (the Dinettes). They play their own instruments and sing about such perennials as life on the interstate ("Highway 57") and what a waitress really wants ("Tips") and/or needs ("Vacation"). The music is basic Country and Western, and you wouldn't have thought there was much of a market for that on Broadway, but after a successful Off-Broadway run someone had the bright idea of putting it into an exceptionally small theater (the now-demolished Princess), at 575 seats just big enough to be classified as full-on Broadway. The men were kind of stiff as performers, but Monk and Morgan were wonderfully appealing--it's probably not a coincidence that only they went on to major stage careers. In the end the show ran a very healthy 573 performances, and even snagged Tony and Drama Desk nominations for Best Musical. (They lost both to Nine.)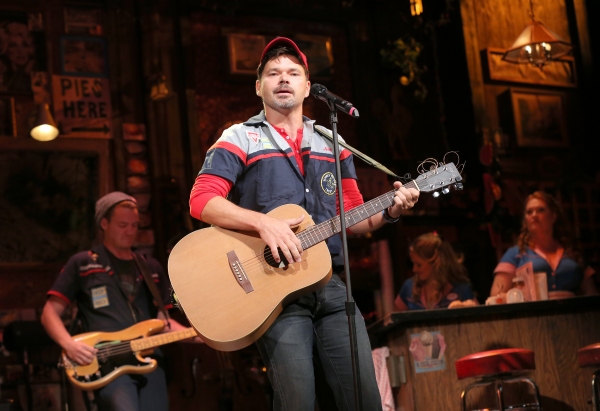 Hunter Foster
There was some chatter that Encores! was making a mistake by putting this on at City Center, almost twice the size of an average Broadway venue and four times as big as the Princess; but Encores! director Lear deBessonet clearly considered this. First, they closed off the balcony; second, the wonderfully cluttered set (by Donyale Werle) was kept very shallow, maybe only ten feet deep, effectively pushing the performers right into our laps.
The production preserves the originals' practice of playing their own self-contained band. The men are Jordan Dean ('Jackson', rhythm guitar), Hunter Foster ('Jim', acoustic guitar), Randy Redd ('L.M.', piano) and Lorenzo Wolff ('Eddie', electric and standup bass). The women are Mamie Parris ('Prudie Cupp') and Katie Thompson ('Rhetta Cup'). Joining them in the shadows was lead guitarist Austin Moorehead, purveyor of tasty and essential fills.
The music, straight-ahead Country & Western, is characteristically simple, with lots of room for the vocalist to strut their stuff, and so they do. A little of this can go a long way, so the creators very wisely put in an intermission in a show that normally wouldn't need it--even with the break it was all over in 90 minutes. But that's not a complaint: as the Dinettes will be happy to tell you, there's an important place in this world for comfort food, and they'll be there for you when you need it.
Pump Boys and Dinettes
Produced by City Center Encores!
131 West 55th St, Manhattan
July 16-July 19, 2014
Running time: 90 minutes, one intermission