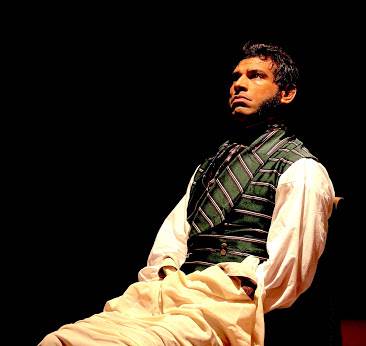 Ian Lessiter                          photos by Carol Rosegg
                           by Arney Rosenblat
Pushkin is a compelling, true-to-life historical blank verse play imagined and implemented by the creative playwright Jonathan Leaf that will both fascinate and spur the researcher in you to find out more about the man who is known as the Father of modern Russian literature.
Though the real 19th-century romantic author, Pushkin, was a master of many genres from poems to novels to short stories to historical dramas to fairy tales to travel journals influencing such writers as Dostoyevsky, Tolstoy and Chekhov, in the Western world, he is best known for what became two operas Eugene Onegin by Tchaikovsky and Boris Godunov by Mussorgsky. His brief complex life cut short at the age of 37 following an ill-advised duel with his brother-in-law, was as intense and theatrical as any of his own writings.
The play focuses on those last few years leading inexorably to Pushkin's demise and, strange as some of the events seem, they cleave close to the known facts of the day. Moreover, thanks to the talent of the author Mr. Leaf, the play about Pushkin, which is presented by American Vicarious at the Sheen Center, could have been written by Pushkin himself as it rings with Pushkinesque verve, although only a very few of the actual lines in the play come from Pushkin's own pen.
When the audience first meets Pushkin he is seated on a chair, a symbolic death bed, in a square within a square conveying a stark white set with flickerings of soft red lighting. The large white square is then elevated by four of Pushkin's serfs and the story of Pushkin's destruction unfolds almost as a memory play, the mood supported throughout by Andy Evan Cohen's effective sound design providing musical compositions from the Romantic era while Christopher McElroen's careful direction interweaves the play's multi-narrative threads and Elivia Bovenzi's costuming provides sharp emphasis between the status of the Russian aristocrats and their serfs. Troy Hourie, as scenic designer with minimal decoration manages to convey the illusion of Tsarist Russia.
In a period of great unrest in Russia, Pushkin's misguided belief in his genius, support of the Tsar and unimportance of his financial and social peccadillos become a formula for disaster. He starts to see his standing in court decline because of his positions on personal freedom and abolishing serfdom (somewhat hypocritical as he himself owned serfs). The favoring of his writing by Russian radicals such as the December Revolutionaries stirs concern in the Tsar and his supporters. His mounting gambling debts and financial extravagances are becoming increasingly annoying to the Tsar who has been lending him funds.
However, it is the romantic dalliances of Pushkin and his wife that ultimately make him the target of politically motivated rumors portraying him as a cuckold, which from his perspective leaves him little option but to defend his honor. His case with dueling pistols haunts scene after scene in the unfolding story. Ironically, he talks of a gypsy prophesy about this final duel resulting in his death which allegedly is based in fact. Being an individual of mixed race background, Pushkin was particularly sensitive to perceived personal affronts. "Alive or dead, a duelist is respected."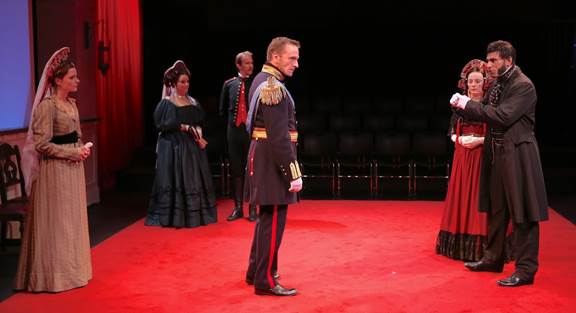 The 11-person cast in Pushkin is generally strong. Among those deserving special note are Ian Lassiter who captures the contradictions of the proud Pushkin character; Gene Gillette who royally embodies the conflicted Tsar Nicholas I; Lou Liberatore whose Machiavellian portrayal of Count Benkendorf, Chief of Police puts the final nail in Pushkin's coffin;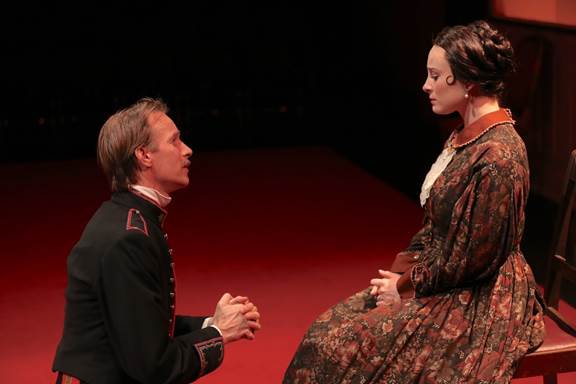 Christopher Kelly and Jenny Leona
Jenny Leona who as Pushkin's wife Natalya deftly tries to help her family navigate through the many court intrigues; and Lexi Lapp who brings a tender naturalism to her role as Alexandra, the sister of Natalya and lover of Pushkin
Though the staging could benefit from some quicker pacing and fewer scenes spent watching the actors' backs, overall the production provides a clever engaging examination of one of Russia's most significant literary figures along with the world that influenced him and was influenced by him. My guess is a large percentage of the attending audience will be motivated to hit the internet to learn more about Pushkin's life after the ninety minutes or so
spent with him at this play.
Pushkin: A Life Played Out
one hour, five minutes plus intermission
Sheen Center,
18 Bleecker, East Village
866-811-4111
closes August 25, 2018