by Arney Rosenblat
Though the original story of Pygmalion is based on a Greek myth in which a sculptor falls in love with his creation finding that it then comes to life, when most people today think of "Pygmalion" they can't help visualizing Lerner and Loewe's "My Fair Lady" (a revival of which is now at Lincoln Center) a musical that debuted more than forty years after Shaw's 1913 biting social satire. As the essential stories are basically the same in the play and in the musical, there will be many an audience member hearing a tune break out in their heads at key moments in the play.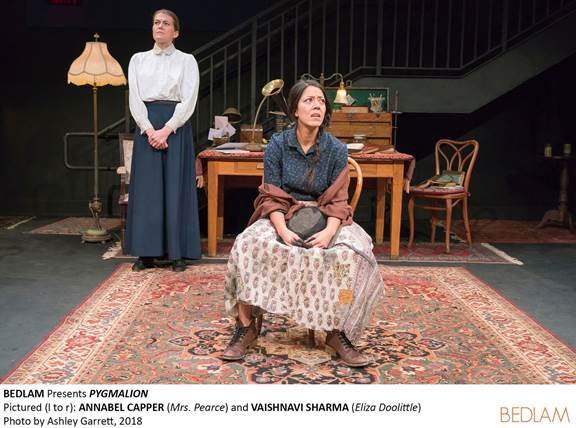 This will not take away from the sheer pleasure of being a part, I mean this literally as the audience is often toe-to-toe with the actors, of the imaginative and thought provoking retelling of Eliza Doolittle's, a flower girl, transformation into a so-called lady and Henry Higgins', a tyrannical linguist, (almost) transformation into a so-called human being.
Bedlam's Artistic Director Eric Tucker not only plays both Henry Higgins to perfection he also directs the production adding a soupcon of change to the text making Eliza and her father Indian rather than Cockney working class. Although we have to speculate at the reason, it might be because race and immigration issues are such timely topics of late, even more so than class, or it might be that Vaishnavi Sharma and Rajesh Bose who portray Eliza and Alfred Doolittle, respectively, do so with such masterful verve and skill that Mr. Tucker felt Shaw wouldn't object to his slight tweek.
When Higgins boasts, "You see this creature with her curbstone English: the English that will keep her in the gutter till the end of her days. Well. in three months I could pass that girl off as a duchess at an ambassador's garden party. I could even get her a place as a lady's maid or shop assistant, which requires better English..." he looks on the challenge as a game.
For Eliza, however, she sees Higgins thrown away jest as a possible lifeline out of her existence as a foreigner living in extreme poverty and she comes to him offering to pay for speech lessons so that she can "talk more genteel."
Her feisty, threadbare yet innocently hopeful demeanor sparks Colonel Pickering, author of "Spoken Sanskrit," who has come to England from India in order to meet Higgins, to pick up the elocutionary gauntlet and take his bet about transforming Eliza from a flower girl into a lady. Nigel Gore's warm steady avuncular portrayal of Pickering is an ideal foil to Higgins' dictatorial bombast.
When it comes to Eliza's father, Alfred Doolittle, he is more than just comic relief for the play but allows Shaw to explore entrenched views of middle class morality when Alfred refers to himself as a proud member of the "undeserving poor" whose needs are just as great "as any deserving widow's." Shaw later shows that even Alfred can't resist the mores of his time when he comes into a sizable financial legacy.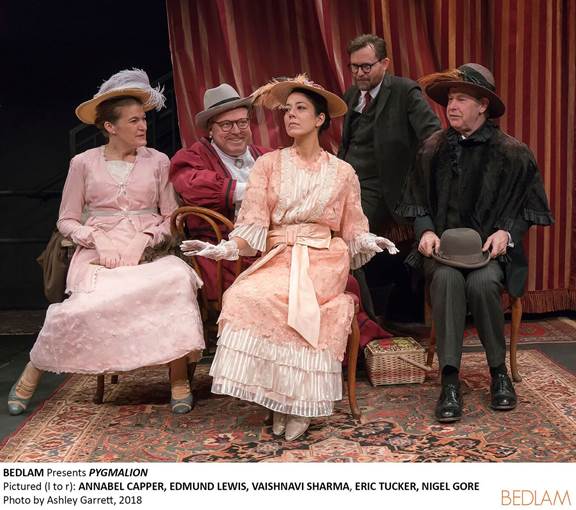 As is typical in a Bedlam production there are more characters in the play than there are actors and Nigel Gore (Colonel Pickering, Mrs. Eynsford-Hill), Annabel Capper (Mrs. Pearce, Clara Eynsford-Hill, Parlour Maid) and Edmund Lewis (Mrs. Higgins, Freddy Eynsford-Hill) capture them through lightening changes in hats, voices, and body language.
Another Bedlam tradition is its gender neutral casting. In this instance, however, with Mrs. Higgins having an essential role in supporting the female perspective in the clash between Henry and Eliza, reminding Henry, for instance, he has provided Eliza with "the manners and habits that disqualify a fine lady from earning her own living without giving her a fine lady's income," by casting a man in the part, no matter how flawless Edmund Lewis' performance was, and it certainly was, it is distracting and seemed a dis-service to the story.
Unlike in My Fair Lady, Shaw adamantly resisted all attempts from professional colleagues and the public alike to give Pygmalion a happy ending instead concluding his play with a sort of detente between Henry Higgins and Eliza Doolittle who has finally found her voice and independence. Yet when Eliza departs to lead her new life, likely as a speech teacher herself, Henry is undone and starting to feel unmoored without her, "I have grown accustomed to your voice and appearance. I like them rather." Mr. Tucker captures that moment poignantly.
Mr. Tucker, a winner of the Wall Street Journal's Director of the Year Award, has brought great ingenuity to the staging of the play, which basically unfolds in a box in a basement, by utilizing wing space, an existing staircase, and available aisles creating a surprising sense of scale to the production. With a red curtain, a desk, several chests, some chairs, a pile of books, a gramophone and several lamps, scenic designer John McDermott transforms this spec of a stage into multi-locations while Charlotte Palmer-Lane's costumes, including Eliza's gown which conveys a sari- look, beautifully advance the plot lines.
Pygmalion
Off Broadway drama
2 hrs. 15 mins.
Sheen Center
18 Bleecker Street, East Village
866-811-4111
Closing date: April 22