Town Hall raises the roof to honor Fiddler on the Roof's 50th birthday, composer Sheldon Harnick's 90th, Folksbein Theater celebrates 100th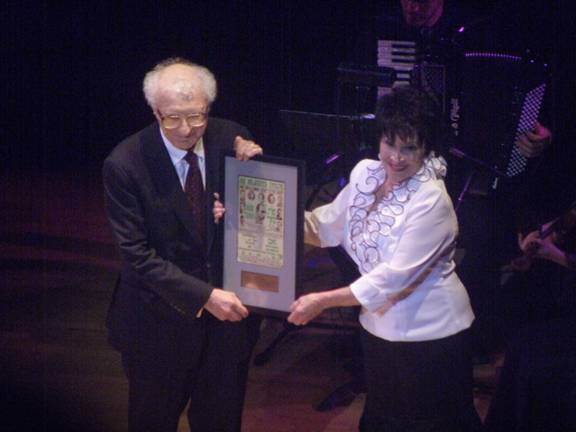 Sheldon Harnick accepting Award from Chita Rivera      photos by Maryann Lopinto
Town Hall raises the roof to honor Fiddler on the Roof's 50th birthday, composer Sheldon Harnick's 90th, Folksbein Theater celebrates 100th
The National Yiddish Theatre – Folksbiene is in its 100th season and celebrated that milestone along with 50 years of Fiddler on the Roof and the 90th birthday of Tony and Pulitzer Prize winning lyricist Sheldon Harnick. Based upon the stories of Sholem Aleichem, Jerry Bock, Joseph Stein and Sheldon Harnick wrote 'Fiddler on the Roof' which turned out to be a mega hit that has played all over the world and been revived many times. This theatrical masterpiece opened on Broadway in September 1964 at the Imperial Theatre and has become one of the longest running Broadway musicals of all time. A very successful film was made in 1971 directed by Norman Jewison who could not attend due to travel problems.

Chaim Topol who starred in the film was there to sing an acapella rendition of "If I Were a Rich Man."
The Gala celebration at Town Hall, co-conceived and co-directed by Gary John La Rosa and Erik Liberman,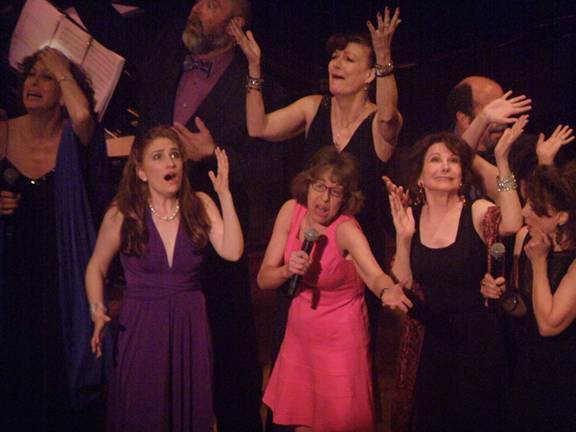 Tevya's daughters from the past singing "Matchmaker"
Featured many of the female members of former casts who came on stage to sing "Matchmaker" and later "Tradition."  The renowned violinist Joshua Bell performed with the orchestra (under the musical direction of Zalmen Mlotek) as the Fiddler.  Ido Aharoni, the Consul General of Israel in NY, spoke eloquently about what this show meant to the Jewish people and creating understanding.
 Hal Prince made a filmed tribute to open and a clip was shown of Zero Mostel, the original Tevye, performing a song from one of his one-man shows. Chita Rivera, the director Jerry Zaks as well as film maven Jeffrey Lyons (who is Sheldon's cousin) talked about what the show meant to them.

One of the many highlights of the evening was Andrea Martin and Sheldon Harnick performing "Do You Love Me?"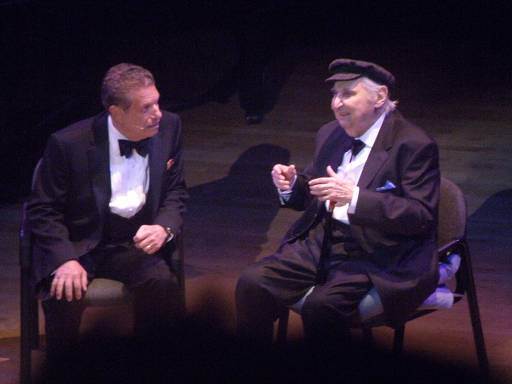 and it was a showstopper! Mike Burstyn and Fyvush Finkel performed the scene in Yiddish with Lazar Wolf talking to Tevya about marrying his daughter. The translation was put up on the screen and it was sensational.
 Bel Kaufman,the 103 year old granddaughter of Sholem Aleichem and author of "Up The Down Staircase, was set to appear but took a fall recently.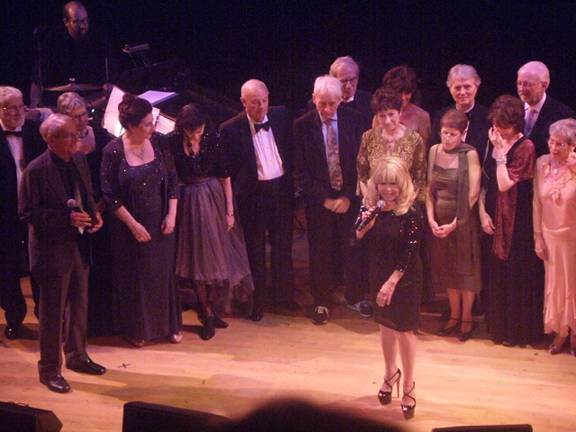 Pia Zedora and the cast at the finale
The National Yiddish Theater has been working on this "Triple Tribute" evening for over two years and it turned out to be a remarkable accomplishment.  NYT was founded in 1915 and will be celebrating its centenary next year in 2015.  It is the longest continuously-producing Yiddish theatre company in the world and its mission is to "celebrate the Jewish experience through the performing arts and to transmit a rich cultural legacy to youth and adults in exiting new ways."
For more info on NYT – Visit: http://www.nationalyiddishtheatre.org