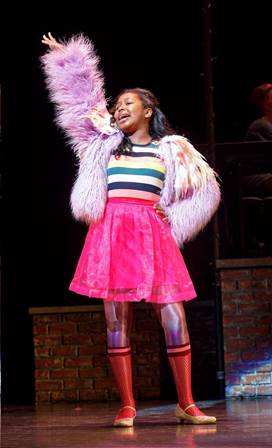 Taylor Caldwell            photos by Joan Marcus
                                  by Julia Polinsky
Encores! Off-Center did a kids show? From the 70s? You could be pardoned for having visions of Sesame Street-level cuteness, updated with a multicultural cast with sass and attitude and pink feather boas. Well, that's pretty much what you'd get, and it's just fine, thank you.
Much of the reason Really Rosie is just fine can be chalked up to the book, written by the late Maurice Sendak, who understood that children's lives are neither simple nor easy. There's a lovely moment late in the show, when the director acknowledges Sendak's impact.
Sendak's Nutshell Library is the foundation of Really Rosie, four short tales that sneak a little education in with the stories: one book teaches the alphabet, one, numbers, that kind of thing. It makes for a plot that feels cobbled together. But more than the patchwork plot, in Really Rosie, Sendak gets dark and reveals the real things kids think about – death, vampires, being very far away from abusive parents.
By wrapping the books of Sendak's Nutshell Library in a cheery, upbeat musical, that darkness gets an appealing frosting. In this staged reading/concert performance of Really Rosie, talented, skilled, terrific kids sing, dance, and act their way through the contrived storyline, with Carole King's songs moving things along.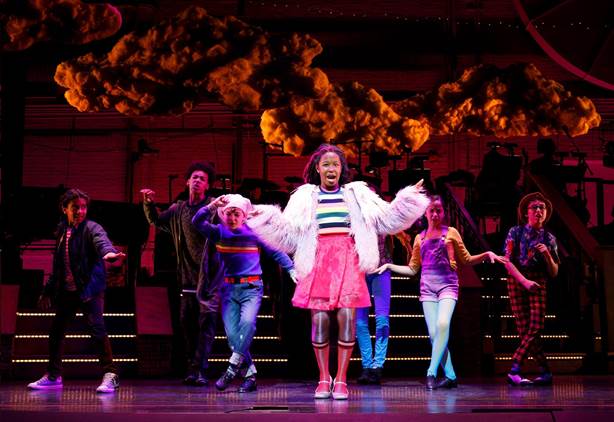 Taylor Caldwell and Company
Really Rosie takes place on the stoops of Avenue P, in Brooklyn, and in the mind of Rosie (Taylor Caldwell) and her friends. The superstar-wannabe Rosie – now, that's an entrance! Such style! Such verve!  -- cons the neighborhood kids into being the cast in the movie of her life. Her rich imagination gives each friend a chance to shine.
Ayodele Casel, Kenneth Cabral
And so, we get the Nutshell Library brought to life.  Alligators All Around gets a number (terrific performance here from Kenneth Cabral as Alligator, with his tapping partner Ayodele Casel), and so does Pierre (Eduardo Hernandez), who doesn't care -- until he is eaten by a lion!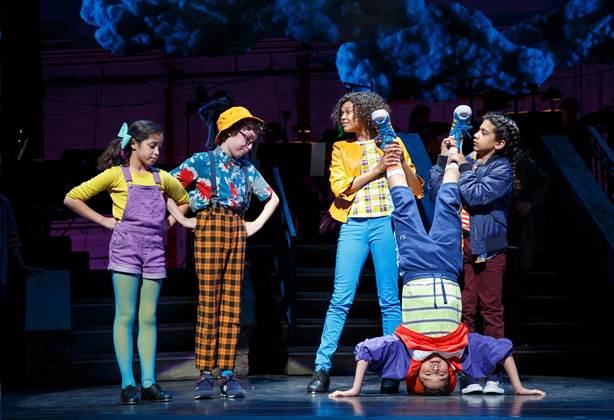 Ruth Righi, Anthony Rosenthal, Eduardo Hernandez, and Company
One Was Johnny gives Johnny, the neighborhood nerd, (Anthony Rosenthal), his moment in the sun. As Rosie's despised little brother, Chicken Soup, the astonishing Zell Steele Morrow leads the ensemble with style and verve in a terrific 11 o'clock number, "Chicken Soup with Rice". Considering he's about 3 1/2 feet tall, that's some impressive performance. Brought down the house.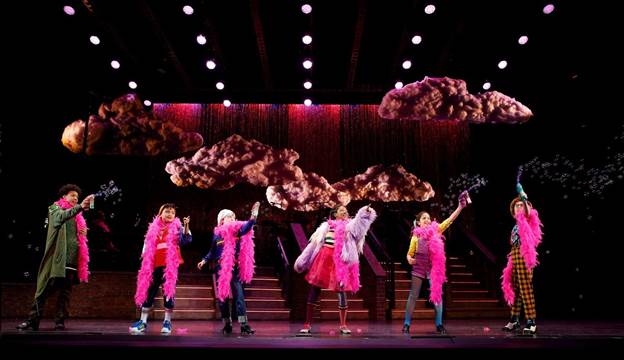 Leigh Silverman's inspired direction sometimes seems like he just let the kids do what they want, offering guidance here and there, which makes for a seamless, easygoing show. Ayodele Casel's choreography lets each of the performers do what s/he does best, so dance styles from tap to hip hop liven the show. Clint Ramos's wonderful costumes and the splendid Encores! Orchestra, led by music directors Mary-Mitchell Campbell and Carmel Dean, fill the huge City Center stage. Nicely abstract scenic design from Donyale Werle and lighting by Mark Barton work like a charm.  
The performers kill it; the audience clap and cheer; a good time is had by all. Seriously. That level of just let go and enjoy it? Hard to beat. Hope the show gets a new mounting soon. It's that much fun.
Really Rosie at Encores! Off-Center
Book and lyrics by Maurice Sendak; music by Carole King
August 2-5 at New York City Center
130 W. 56th Street, New York, NY 10019-3962