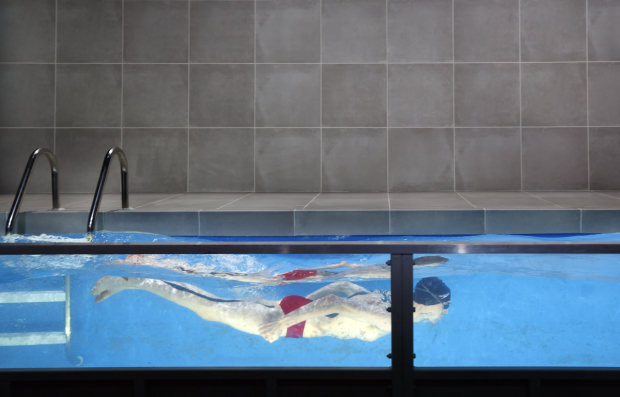 Ray (Alex Breaux) swims a lap in the pool that scenic designer Riccardo Hernandez
(© Joan Marcus)
                                    By Rachel Goddard
The play begins with Ray, played by Alex Breaux (The Real Thing) swimming the length of a plexiglass-walled pool which covers the entire front portion of the stage, the creative innovation of set-designer, Riccardo Hernandez. It's the eve of the qualifying meet for the Olympics and Peter, a lawyer (not to mention Ray's older brother and self-appointed representative) convinces Ray's coach, played by Peter Jay Fernandez, to keep quiet about the performance drugs that were found, allegedly belonging to Ray's teammate. He defends his brother in a lengthy and fast-paced monologue written in typical Hnath fashion; raw stream of consciousness.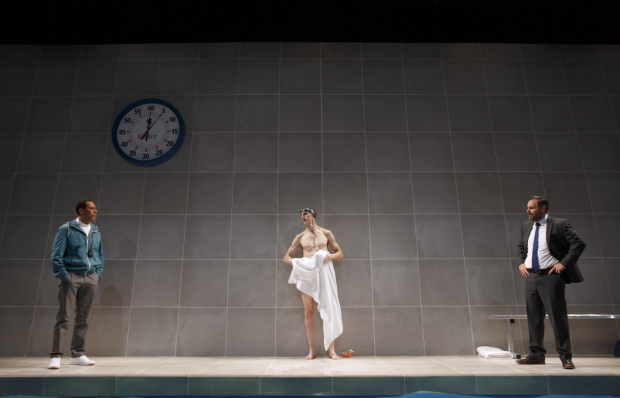 Peter Jay Fernandez, Alex Breaux, and Lucas Caleb Rooney.
(© Joan Marcus)
In the monologue the audience is filled in on the high caliber of Ray's skill and reputation as his brother dangles the prospect of a deal with Speedo if he goes to the Olympics. The stakes rise as Ray reveals to his brother that the performance drugs belonged to him and he needs to find a way to obtain them in order to win. Risking his law career, Peter gives Ray the money for the drugs, but when Ray's ex-girlfriend can't give them to him, Ray begins his downward spiral trying to balance his needs to win back his ex-girlfriend, remain loyal to his brother and get his endorsement with Speedo.
Ray ends up qualifying for the Olympics and is offered his deal with Speedo, except he suddenly gets very ill and in a moment of desperation and fear of dying confesses to his coach the use of his performance drugs. What follows next is a dramatic exchange of bribery as Peter shows no concern for his brother and the coach ignores the offers in order to save Ray. The intensity defuses as the coach discovers what Ray took was cat medicine that he stole from his no longer ex-girlfriend (played by Zoë Winters) leaving the brothers in a more than awkward situation.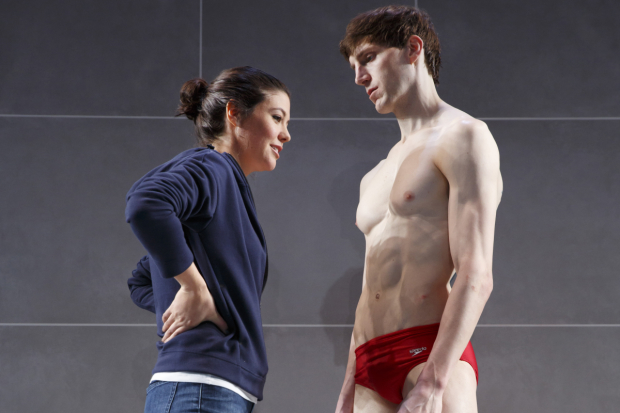 Zoë Winters and Alex Breaux
(© Joan Marcus)
After the coach exits, accusations of betrayal are thrown between the two brothers exploding  in a bloody brawl seeming to the death. We are left with the final image of both men soaked and bloody and Ray says, as if as a warning to the audience, "I'm tired of winning."
Hnath writes Ray as an ineloquent athlete with surprising profundity. As Ray, Breaux plays up the "dumb jock" type, even making the audience chuckle at his simple and seemingly vapid responses. But as the plot unfolds, the script continues to build on the complexities of his character; Breaux handles well the demeanor of an uneducated and seemingly thick-headed swimmer as he wrestles with complicated ethical dilemmas as the play progresses.
The perfectly cast Lucas Caleb Rooney gives a sharp performance as Peter, meeting the demands of a quick and penetrating script. Peter is written with a blunt vernacular with shocking lines like, "Rich people are better" and Rooney plays him in such a sympathetic way that justifies his candor (the monologue following that line is so brilliantly played, the audience is suddenly won to his perspective). Peter has an over-confident yet nervously energetic tone which perfectly contrasted with  Breaux's deliberate and simple delivery.
Peter Jay Fernandez plays Ray's dependable and composed swim coach. Fernandez' performance was precise and steady, capturing the discipline and principles held by his character. Zoë Winters completes this strong cast as Ray's ex-girlfriend gripping the audience with her dry manner and ability to quickly scale to major emotional levels. Director Lileana Blain-Cruz brings stylized flair, especially in the moments actors would seem to look directly at the audience as they spoke to one another, abruptly pulling the audience even further into the story for just a beat.
Much like his recent hit The Christians, Hnash unashamedly dives into discussions on ethics and the complexities of human nature, this time addressing fairness in competition by way of illegal performance drugs. He writes evocative yet unadorned dialogue full of rhythmic, split lines as characters rapidly and nervously finish each other sentences. These sections seemed to go on too long to come across as natural yet they surprisingly heightening the intensity. With precisely crafted arguments, Hnath writes characters that perfectly encapsulate the fears and insecurities of real people in our contemporary world.
New York Theatre Workshop
(79 E. 4th Street New York, NY 10003).