Jayne Houdyshell
                                           by Arney Rosenblat
This JC Lee play is a sharp and compelling foray into the addictive need to both achieve and sustain relevance in life, in this case as an arbiter of the evolving feminist voice.
Relevance is also very much a story about generational conflicts and the inability to establish a viable dialogue even among those individuals with whom we basically agree. The result is a knee-jerk reaction to attack, compete with, and vanquish any one we think might threaten or challenge us, the most popular weapon of choice today being social media. Even the pretense of the now cliched phrase, "I hear you" appears to be gone by the way side when addressing key issues of the day.
At the core of Relevance are two authors who are key forces in the feminist movement. one established and the other a rising star. Both are attending and being honored at a prominent literary conference, the fictional " American Conference for Letters and Culture.". The former is Theresa Hanneck, a force of nature, and brilliantly played as such by Tony-winning Jayne Houdyshell, who is at the conference to receive a Lifetime Achievement Award. The latter is the African American Msemaji Ukweli, portrayed by Pascale Armand of "Eclipse" fame with finesse and complex feeling, who is at the conference to receive the group's most prestigious grant after setting the literary world afire with her memoir "Grace and Virtue" recounting a tough upbringing and the survival of a college rape.
Molly Camp, Jayne Houdyshell, and Pascale Armand       photos by Joan Marcus
What begins as an educational debate quickly devolves into a generational battle over what should be the direction of and who should be the relevant voices for the feminist and post-feminist movement. The clash is heightened by the fact that conference moderator, KellyTaylor, played with nuanced skill by Molly Camp, is live tweeting the proceedings using the hashtag "#LitLadies" and Msemaji has a huge Twitter following. Kelly is herself "the youngest vice-committee chair in the history of this conference."
Theresa who initially dominates, even steam-rolls, the content of an exchange exploring the oppression of marginal people, by virtue of her lynch-pin role in inspiring the current generation of smart, confident female writers, begins to feel she is being made irrelevant to that movement by the very generation of writers she helped to establish, particularly when the young African American writer accuses her of fostering the position of "righteous victimhood.." These feelings are re-enforced when Msemaji twitter followers erupt with an onslaught of negative and nasty comments directed at Theresa.
"What better way to position herself than by turning my Lifetime Achievement Award into a retirement party," seethes Theresa in her room after the panel discussion.
.Pascale Armand
The ability to maximize cyber tools such as Twitter is not the only gulf between these two generations of writers, it's how the language of the feminist movement has evolved over time. as illustrated when Msemaji gives fresh meaning to the word bitches. "I believe in the re-appropriation of language in order to claim ourselves. Bitch has been used to put women in their place for centuries but we should be proud to know our strength invokes fear, invokes comparison to an angry mother dog, invokes the need in others to transform us so that we are not our full potent selves."
There is a real tragic element to this Lee play. The more Theresa misdirects her admirable intellect in an alleged quest for truth and struggles to ensure her continued relevance, the more she destroys her own legacy.
In Relevance, Lee also examines the meaning of "truth" Msemaji, as Theresa discovers, is actually from a privileged not an underclass background as implied. However, she has suffered and has taken that suffering to re-invent herself in order to establish a narrative that will give her relevance in the current feminist movement. "I'm not a fraud for knowing what it took to get here," she informs Theresa, "to win, to be the woman people look to for what comes next."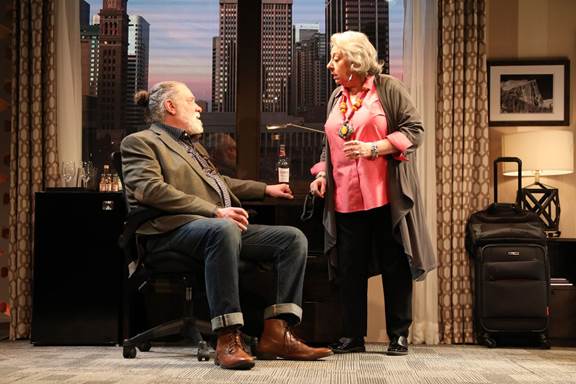 Richard Masur and Jayne Houdyshell
Rounding out the outstanding cast is Richard Masur who portrays David, Theresa's literary agent and former lover with gusto.. At first he brings some much welcome humor to the proceedings but he also has a pragmatic savvy business sense realizing that this is now Msemaji's time in the sun.
Liesle Tommy directs Relevance with a sure brisk hand providing tender touches in the scenes between Theresa and David who have a long and complicated history.
The Cliff Ramos clean opening scenic design is reminiscent of a TED Talk and efficiently transitions between the hotel meeting rooms, Theresa's bedroom and hotel nooks where growing adversaries can plan, bob and weave. Jeanette Oi-Suk Yew's production design spotlighting projected Twitter feeds and You Tube videos significantly heightens the drama of the concluding face-off between Theresa and Msemaji
Relevance
Off Broadway Drama
Lucille Lortel Theater
121 Christopher Street, West Village
90 minutes
Closing Date March 11,1018