Sergey Nagemy
Repulsing the Monkey


†††††††††††††††††††††††††††††††† by Marc Miller


So there used to be this joint at 8th and 46th, McHaleís. The long, sturdy, pockmarked bar was left over from the 1939 Worldís Fair, the side dining room looked like it hadnít been updated since the original West Side Story, the restrooms were unfortunate. Broadway stage crew, Yankee fans, and theatergoers who couldnít afford Orso crammed in there to sample the gorgeously charred burgers and thick steak fries, revel in backstage gossip, and cheer Derek Jeterís latest home run. McHaleís was run by one Jimmy McHale. The land beneath it was sold in 2006 to a developer who replaced it with a tall green luxury condo, which sits largely empty, most of the units having been purchased by corporations to house traveling executives, who arenít traveling much these days. The bar itself is said to still exist, somewhere. The developers, and this is a promise, will burn in hell.
Family businesses, gentrification, trendiness replacing tradition. Such themes permeate Repulsing the Monkey, Michael Eichlerís scattered but thoughtful little comedy, being performed, happily, at the White Horse Tavern, an off-Wall Street hangout whose roots date to 1641. Its third floor has been transformed into Jablonskiís, a working-class Pittsburgh watering hole. Jablonskiís was run unpretentiously and unprofitably for 35 years by a loving husband and wife who recently perished in a car crash, and now its fate falls to their close yet warring offspring, Danny (Sergey Nagorny) and Janey (Kim Katzberg). Itís a hot little piece of real estate in a trendifying neighborhood, and developers come quickly knocking.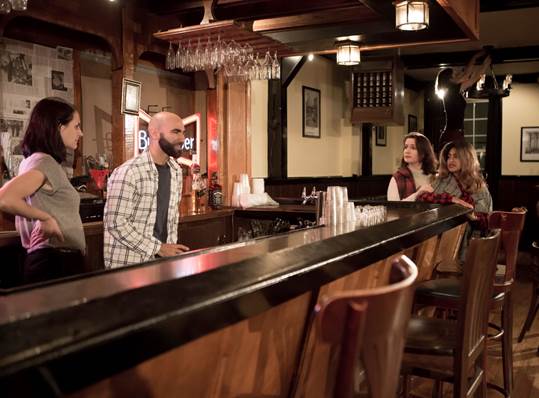 Kim katzberg,† Sergey Negemy, Emily Elizabeth Bennet, Asha Devi
Should the siblings sell out to Ethan (Emily Elizabeth Bennett) and Sophia (Ashi Devi), causey Brooklyn rich kids who envision a combination community organizing center/ bicycle rights advocacy site? Should Jablonskiís go to Dylan (Samuel Barnes Jaffe) and Kylie (Kaila Wooten), airhead, venture capital-backed Californians who envision an Uber-like limo service and tai chi center? And what about Drabik, the unseen local buddy who likes the bar and wants to keep it a bar, but hasnít anything like these two couplesí money?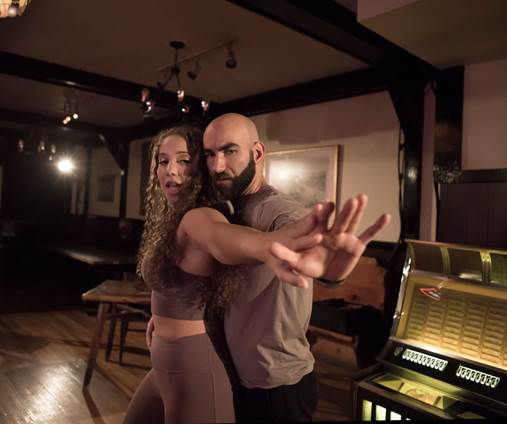 Kaila Wooten & Sergey Negemy††††††††††††††††† photos: Marina Levitskaya
Ripe terrain for social satire, and Eichler often makes the most of it. Most especially with Dylan, hilariously embodied by Jaffe as a New Age dolt whose every other word is ďDude,Ē and Kylie, adroitly personified by Wooten as a West Coast babe with a (not entirely convincing, it must be said) hidden agenda concerning Danny. Bennett and Devi have rather less to play, but Bennett captures Ethanís hair-trigger temper, and Devi gets Sophiaís self-important earnestness.
Nagorny and Katzberg have more of a meal. Underachievers in their 30s with a complex but not unusual history of alternately loving and hating their parents, Danny and Janey are working through a family tragedy while contemplating the possible better life that just landed in their laps. They argue about nothing, bring up family history at inopportune moments, and ultimately support each other with a most convincing combination of resignation and enthusiasm. The actors get the sibling rivalry right, but it might play better if the director, Daniel Leeman Smith, didnít over-choreograph everything. These two leap up over the bar, lie down on the barroom floor for no reason, kick their legs up meaninglessly on chairs, and never stop wildly gesticulating with their hands. Do Polish working-class kids have some St. Vitus Dance issues we donít know about? But when Danny and Janey get down to just hashing out their history and figuring out what to do next, itís a quite affecting scene, and well played by Nagorny and Katzberg.

And what they decide to do next leads to a twist ending, one Iím not sure I buy. No spoilers, but letís say Danny and Janey elect a radical course of action, one that surely will have consequences, and may paint the pair as either heroes or destructive miscreants (I think Iíd go with the latter). It puts an odd spin on what up to then has been a humorous, winning, slightly sloppy evening. Repulsing the Monkey must have been around for a while‑thereís no mention of Covid, and the targets of thoughtless gentrification, clueless Californians, and the uncomfortable mixing of classes are well worn. But whatever the infelicities in Eichlerís mostly felicitous writing, theyíre softened considerably by the venue. All the characters expound extensively on the energy exuded by surroundings, the history wrapped up in walls, the spirit of a place. The White Horse Tavern has that in bountiful excess, and it helps Repulsing the Monkey float over the occasional misstep. Plus, the Malbec is really good.

Repulsing the Monkey
Off-Broadway play
Playing at the White Horse Tavern
25 Bridge St., third floor
RepulsingTheMonkey.com
Playing through March 26
Running time: 1 hour 20 minutes