A Review by Deirdre Donovan
At the end of David Malloy's Natasha, Pierre, and the Great Comet of 1812, the titular comet descends from the flies and comes into twinkling view at center stage at the Imperial Theatre.  It's a stunning spectacle that is matched in grandeur only by the whole emotional impact of this new total-immersion event on Broadway.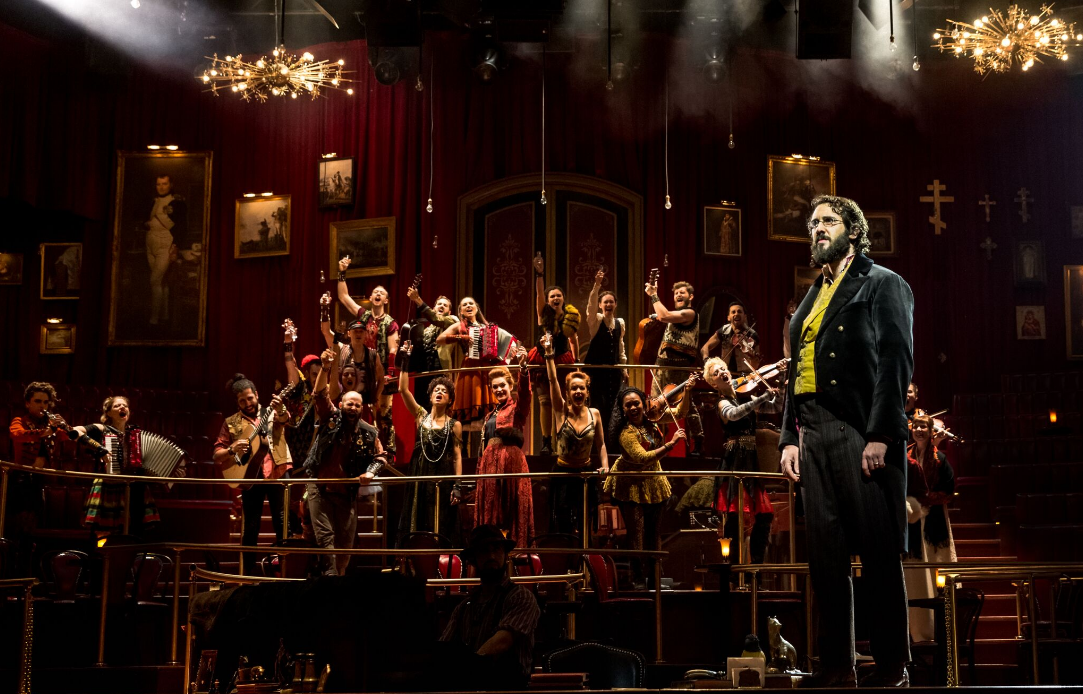 No worries if you haven't read Tolstoy's martial juggernaut.  Malloy has adapted the spiciest swath of War and Peace and made it accessible to modern-day eyes and ears.  In a nutshell, The Great Comet tells the story of the near-elopement of Natasha and the cad Anatole and how the hero Pierre falls in love with Natasha and helps her restore her sullied reputation.  Okay, there's a lot more to this tale than Natasha's fall from grace and Pierre discovering that true love can bloom following his dark night of the soul.  But Malloy purposefully keeps our focus on the three principals, letting the minor characters drift in and out of the story.
The Great Comet, by the bye, began its life at Ars Nova in 2012 and later was reincarnated at the Russian supper club Kazino in the Meatpacking District in the summer 2013.  Just before making its Broadway debut on November 14th at the Imperial, it had its final trial flight at the American Repertory Theatre in Cambridge, where its inventive design was adapted for a proscenium-style theater.  No question this musical has developed muscle over the past four years.  In fact, no matter where this rock musical has surfaced over the past few years, it has created buzz.
Happily, Malloy has not dumbed down this tale of intrigue that is deftly tucked into the voluminous pages of War and Peace.  But he certainly has jazzed it up with his original music and dance (choreography by Sam Pinkleton). Malloy also gives us much more to chew on than we typically experience in a conventional musical.  The action surges on stage, down the aisles, and on narrow makeshift ramps allowing performers to execute their dance routines or feats of derring-do just inches from viewers.  Something else.  A small number of audience members are seated at cabaret-style tables on stage smack in the midst of the action.  In short, the strict boundary between performer and the audience is intentionally blurred here.
Consider indulging yourself with a drink at the orchestra-level bar at intermission (it's well-stocked with Stoli!) and leaving a few sips in your cup for Act 2. There's an opportunity to clink "glasses" with performers during one of the more boisterous scenes near the finale.  Yes, this is total theater that not only whisks you back to Tsarist Russia but occasionally pulls you into the action.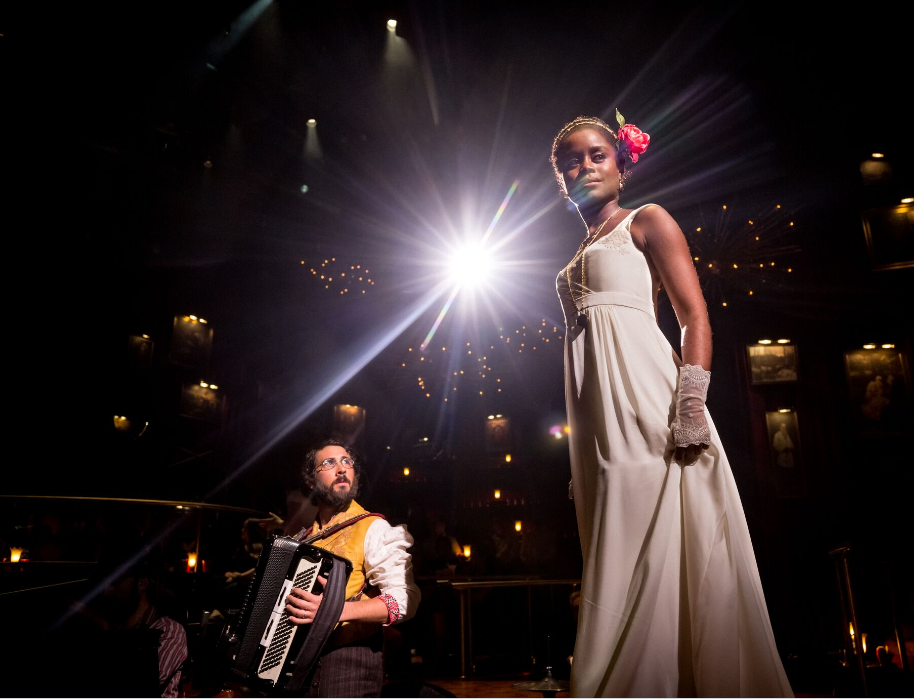 The performing is first rate.  The phenomenal singer-actor-composer Josh Groban is well-cast as Pierre. Groban, who is making his Broadway debut, has true stage presence and looks completely at home on the Great White Way.  His distinctive voice carries to each nook and cranny of the theater, seemingly without effort.  Also in her Broadway debut, Denee Benton hits the mark.  Her Natasha is all fire and ice, revealing the journey of a young woman from dewy innocence to worldly experience.  As the rogue Anatole, Lucas Steele gets the dirty work done with an urbane air.  Steele's voice is crystal-clear and he dances like a dervish, maneuvering himself to practically every physical space at the Imperial.  Steele, who has been with The Great Comet since its earliest days at Ars Nova and Kazino, brings real polish—and a bad-boy edge--to his Broadway performance.  The supporting cast all rise to their dramatic moments on stage.  No slouches in this gifted ensemble.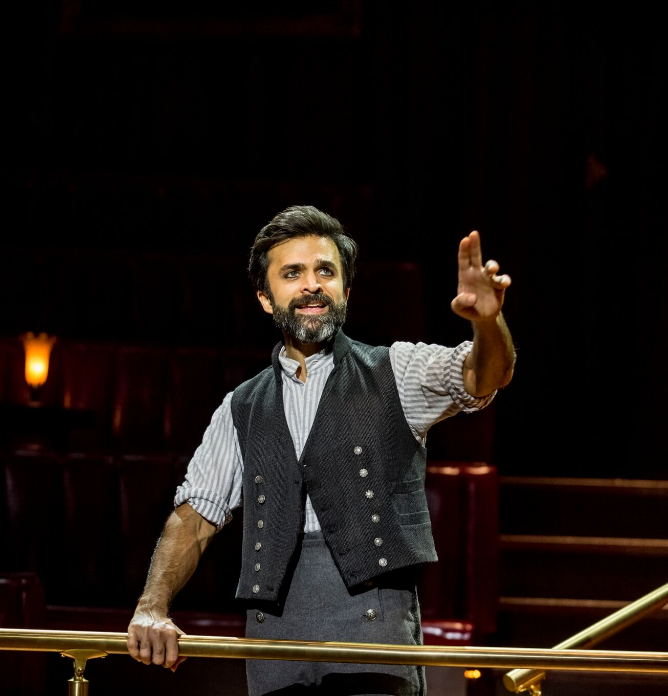 The jaw-dropping set (Mimi Lien) transforms the Imperial into a Russian wonderland, replete with a multi-level stage, star-burst chandeliers, and elegant staircases.  There are various portraits of military bigwigs, grand dames, socialites, not to mention a number of exquisite landscape paintings, lining the theater walls.  Topping off this artistry is an imposing portrait of Napoleon himself on the back wall, firmly anchoring the musical to the 19th century.
Other production values?  Sam Pinkleton's choreography is top-notch, Bradley King's inventive lighting design washes through the entire theater, and Or Matias' musical direction is spot-on.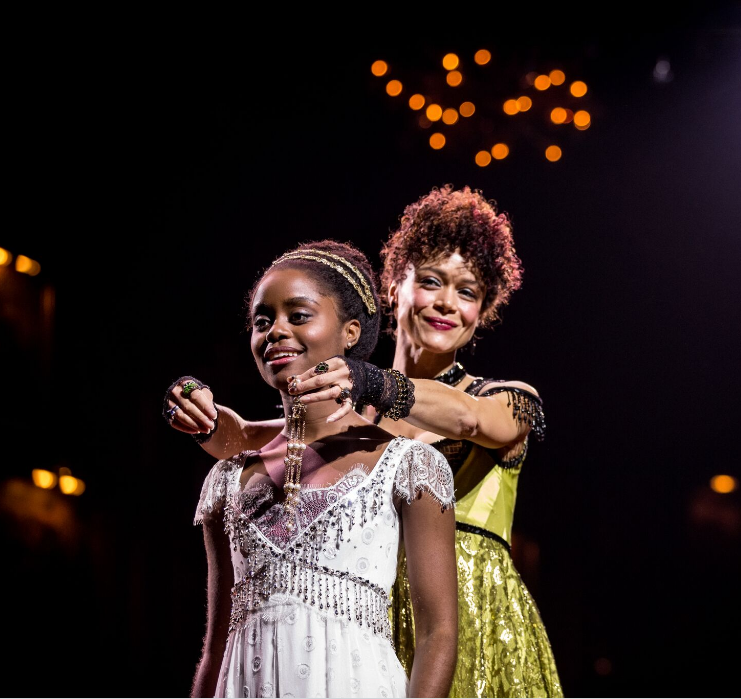 Kudos to Rachel Chavkin, who makes her Broadway debut with Great Comet.  Chavkin proves that she can work on a large canvas without losing the intimate feel that makes this musical distinctive.
Yes, the arrival of Great Comet at the Imperial Theatre is a real reason for celebration this season.  It gives us a bite-size piece of War and Peace that doesn't diminish the potency of the original work.  What's more, it presses past Tolstoy with its electric pop opera rhythms straight into now.
Broadway Musical
Open run.
At the Imperial Theatre, 249 West 45th Street, Manhattan.
For tickets and more information, phone 212.239.6200 or visit online www.telecharge.com
Running time:  2 hours; 40 minutes with one intermission.