David Tennant                            photos by Richard Termine.
                      by Judd Hollander
If one is lucky, the gift of wisdom comes part and parcel with the trappings of power. Unfortunately for far too many, such understanding comes too late. So it is in William Shakespeare's Richard II given an absolutely superlative revival at the Brooklyn Academy of Music's Harvey Theatre, presented as part of the series King and Country: Shakespeare's Great Cycle of Kings, in conjunction with the Royal Shakespeare Company and Ohio State University.
England may seem to be in a time of peace under the rule of King Richard II (David Tennant), but inwardly it is a land rife with dissention, with many just waiting for someone to fan the flame of rebellion. Much of this discontent arises from the mysterious death of the beloved Duke of Gloucester, whose demise is whispered to come from those in Richard's court, perhaps even with the tacit approval of the King himself. There is also the matter of Richard's rather spendthrift ways. He became an ornamental monarch; loving the benefits of the throne, but abdicating the responsibilities that go with it.
Things come to a head when Richard's cousin Henry Bolingbroke (Jasper Britton), the Duke of Hereford, accuses the Duke of Norfolk, Thomas Mowbray (Christopher Middleton) of treason, a charge Mowbray angry denies and one both agree can only be settled on the field of honor. At least that is the plan. Richard, angered that the two could not come to a more amicable agreement, despite his repeated urging, instead banishes them both; Mowbray for the rest of his life and Bolingbroke for a period of ten years, a term Richard soon reduces to six, because of his love for Bolingbroke's father John of Gaunt (Julian Glover), who is also Richard's uncle.
No sooner has this matter has been disposed of, than Richard must make plans to deal with a threatened rebellion in Ireland. The coffers of England are almost empty from Richard's habit of "living large". With the sudden death of Gaunt, he quickly takes the opportunity to seize Gaunt's lands and other holdings to fund his war, thus denying Bolingbroke his rightful inheritance.
When the exiled Bolingbroke learns of Richard's actions, he begins to plot a return to England, ostensibly to regain his property rights and his honor, but in reality for something much greater. That of usurping Richard's place on the throne. A truth which, in an ironic twist, Richard sees far sooner than Bolingbroke does. Bolingbroke quickly finds he has many allies in his cause, chief among them other titled lords who fear for their own land and properties.
A tale of hypocrisy and of loving the crown more than the man who wears it, Richard II shows quite plainly that simply having the power to rule is not enough. One must be also be prepared to use it responsibly, both during war and in times of peace. For if one does not, they will soon face their own undoing. This common warning is in just about every Shakespeare play that deals with political machinations and the precariousness which comes with having ultimate authority.
Caught in the middle of the struggle between King Richard and Bolingbroke is Edward of Langley, (Oliver Ford Davies), the Duke of York, another of Richard's uncles and also the one he trusts to rule in his stead when he travels to Ireland. Yet despite the Duke's outward stance of loyalty to Richard, he find himself giving his tacit approval to Bolingbroke when he and those with him come calling. While Edward may not support Bolingbroke's plans outright, he certainly does nothing to stop them. York's shifting loyalties are further in evidence when, in one breath he proclaims how badly things are faring for Richard, but in the next, when he learns his own son (Sam Marks) is involved in a plot to restore Richard to the throne, he demands Bolingbroke execute his offspring as a traitor.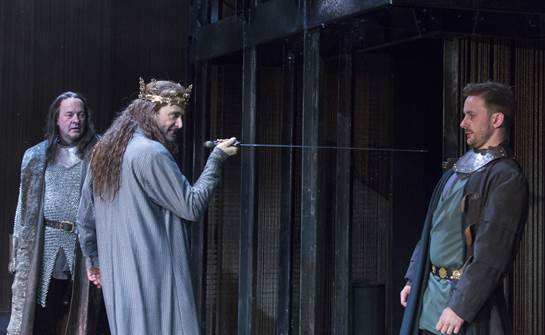 LtoR Keith Osborn, David Tennant, Sam Mark
The entire cast is excellent. Tennant powerfully holds center stage in the title role. His performance imbues Richard not only with a sometimes foolish manner, but also with a spine of steel, thus making him, despite his ever-changing circumstances, someone who is never completely defeated. Add to this a dry wit and some openly cutting remarks - ones that can cut as deep as any sword - and he is quite the formidable opponent. That's not to say Richard doesn't have any regrets for some of the choices he's made. Something he shows quite plainly in anguish when he realizes the scope of his predicament; as well as in the despair on display during what may be his final moments with his Queen (Leigh Quinn).
Britton works well as Bolingbroke, a man who firmly believes himself to be acting in the best interests of the realm, if not always the crown. Originally presented as a very driven and determined man, Bolingbroke's various moments of silence during his conversations with Richard speak volumes of this character who is only now realizing that conquering a country is far different than being able to rule it.
Glover is good as the aging Gaunt, fighting for his son and angered at the internal strife Richard's careless actions have brought to England. Middletown does a nice turn in his few brief scenes as Mowbray. Especially in his reaction when it becomes clear that Richard's court, as well as the King himself, are clearly rooting for Bolingbroke in their planned fight to the death. Davies is intriguing as the Duke of York. Someone who changes allegiances with the shifting of the political winds, and Quinn ably supplies some tender moments as the Queen.
As in many of Shakespeare's works, there are numerous scenes in Richard II that can easily be played for either dramatic or comedic effect. Director Gregory Doran skillfully blends elements of both throughout this production, brilliantly showing how over the top political posturing can sometimes be as various opponents prepare to square off against each another regarding their  involvement in Gloucester's death - the settling of old scores another benchmark of the plays in the Shakespearian cannon. Another scene which goes the comedic route despite the very serious nature behind it occurs when both the Duke of York's son and his mother (Sarah Parks, in a scene-stealing moment) literally throw themselves at Bolingbroke's feet in a plea for mercy. During this sequence, one can't help but see the continual bewilderment on Bolingbroke's face as he begins to wonder just what he has gotten himself into as prepares to assume his new station in life.
Thanks to Stephen Brimson Lewis' sets and Martin Slavin's sound design, the entire production comes off as both very ominous and atmospheric. Not to mention the continual feeling one is watching something steeped in history. Over the decades Shakespeare's stories have been staged in many ways, and been set in many different times and locations. There is something deeply satisfying to see it done in a traditional setting. Credit also must go to excellent music by Paul Englishby and lighting by Tim Mitchell; as well as Stephanie Arditti's costume supervision.
Presented in repertory with Henry I Part I, Henry IV Part II and Henry V, Richard II gets Shakespeare's Great Cycle of Kings off to a rousing and very impressive start.
Also in the cast are Jane Lapotaire, Martin Bassindale, Nicholas Gerard-Martin, Robert Gilbert, Simon Thorp, Jim Hooper, Keith Osborn, Sean Chapman, Matthew Needham, Simon Yadoo, Andrew Westfield, Emma King Evelyn Miller, Joshua Richards, Obimoa Ugoala, Daniel Abbott, Dale Mathurin
Richard II
Brooklyn Academy of Music, Harvey Theatre
651 Fulton Street
Tickets: 718-636-4100 or www.bam.org
Running Time, 2 Hours, 55 Minutes, with one intermission