The company of the Free Shakespeare in the Park production of Richard III at the Delacorte Theater
Photo: Joan Marcus

Richard III

By Deirdre Donovan

It's been 32 years since Richard III has been staged in Central Park. But, at last, theatergoers can once again glimpse that strong ruffian of the York family bustling across the Delacorte as the Public Theater brings back this history play, in celebration of its 60th Season of Free Shakespeare in the Park.

Directed by Robert O'Hara (Slave Play), and starring the unflappable Danai Gurira as the diabolical Richard, this first offering of the 2022 summer season is both entertaining and provocative. Indeed, it holds a mirror up to our current political world and to those who hunger for power in high places.

This theatrical event becomes the first full-audience-capacity production at the Delacorte since the pandemic began. And, on the Thursday evening I attended, the excitement of theatergoers as they settled into their seats was palpable. After all, isn't this the quintessential New York experience to be watching Shakespeare under the stars?

Before parsing the current production, here's a bit of background on the play. Richard III was classified in the genre of "history" in Shakespeare's First Folio and entered as "The Tragedy of Richard III." Sound ambiguous? Well, it is. But, like its protagonist, this play is a chameleon too. Indeed, it starts out as a "history" play, and in turn, morphs into a tragedy and then a comedy. Of course, its comedy is always in service to the tragedy, and its tragedy is enriched by the history—and legend—of the real-life Richard III.

Incidentally, the most recent addition to the history of Richard came in 2012 when an archaeological dig in Leicester, England, excavated Richard III's skeleton. It revealed that the historical Richard likely suffered from scoliosis (curvature of the spine). So that hunchback image that has come down to us over the centuries seems to be more fiction than fact.

Returning to the current production, O'Hara begins his production with a scene out of 3 Henry VI, in which Richard murders King Henry VI. Yes, this invented prologue does provide us with a crucial swath of Richard's backstory and explains why so many characters in Richard III loathe him. Still, for those theatergoers of a certain age who grew up watching the film adaptation of Richard III, starring Laurence Olivier, it seems like heresy not to open the play with the famous line: "Now is the winter of our discontent . . ."

Gurira is well-cast as Richard. She has the exceptional personal force to carry the play. That said, she presents a very nonconventional image of Richard. And, no, it's not just because of her female gender. Although Gurira does distinguish herself here as being the first woman to play Richard III at the Delacorte, the most striking thing about her Richard is her regal upright posture and two equally-proportioned arms. From her first entry onto Myung Hee Cho's elegant set to her last gasp of breath at the Battle of Bosworth Field, Gurira's physique doesn't suggest a whiff of Crookback. In short, we see a Richard who's a "strongman," with no reason to reproach Nature or destiny for being stingy at her birth.

The result? It immediately raises the question just where the deformity lies in Gurira's Richard.
Of course, the easy answer would be to say that it's hidden within the protagonist's morally-depraved soul. But, if this truly is the director's interpretation of the character, isn't O'Hara robbing us of the dumb shows that Shakespeare's text suggests and some of our greatest Richards have performed on stage?

Take the moment when Richard brandishes his "wither'd arm" before Hastings in Act 3. Although he is accusing Queen Elizabeth and Lady Shore of practicing witchcraft on him ("Then be your eyes the witness of their evil./ See how I am bewitch'd! Behold, mine arm/ Is like a blasted sapling wither'd up!"), he actually is in a power-grab for the throne, determined to discredit the Young Princes' legitimacy to the throne. Yes, the flaunting of his "wither'd up" arm to Hastings is not only great theater here, it ironically gains him the "upper hand" over Queen Elizabeth and the Young Princes, who soon he will have murdered at the Tower of London.

Whereas Gurira's Richard has the lion's share of the play's lines, the rest of the company aren't completely in her shadow. The standouts?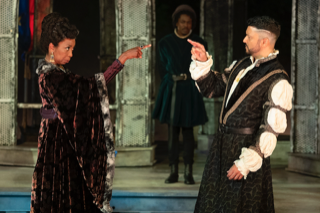 Sharon Washington and Sanjit De Silva in the Free Shakespeare in the Park production at the Delacorte Theater
Photo: Joan Marcus

Sharon Washington, as old Queen Margaret, can raise gooseflesh on your neck as she curses in triplicate and prophesizes the death of so many of the characters in the play's world.

Kudos also belong to Paul Niebanck, who plays George most affectingly. Niebanck's George, who is the first character to be killed in the play, gets offed in the Tower of London and drowned in a barrel of malmsey wine (it's oddly done off stage in this production) in Act 1. But, before Niebanck, as George, departs the world, he recites his famous dream to the Keeper at the Tower of London. And, hands down, it's the best poetry in the play.

The energetic acting of Ali Stroker (Anne), Gregg Mozgala (King Edward IV/Richmond), and Monique Holt (Duchess of York), all who have physical disabilities, keeps audience members in thrall as they place their signature on their respective parts. It's to O'Hara's credit that he casts these actors who are handicapped in his Richard III. But, that said, O'Hara doesn't succeed in altogether integrating their performances into the play at-large. In fact, their presence further accentuates that Gurira's Richard is fit as a fiddle.

Interestingly, across the Atlantic the Royal Shakespeare Company has set precedent this summer by casting the disabled actor Arthur Hughes as Richard III. The 30-year-old actor was born with radial dysplasia, a condition that means he has a shorter right arm. Too bad Shakespeare himself couldn't tuck into a seat at this landmark production.

Although King Richard III demands a large cast, its set, costumes (Dede Ayite), and props (Alexander Wylie) can be the soul of simplicity. To this end, Myung Hee Cho has designed an elegant medieval-like set, with a number of metallic arches to frame the action.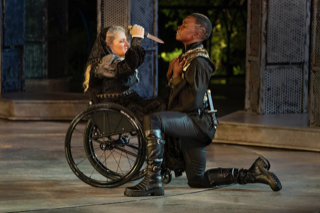 Ali Stroker and Danai Gurira in the Free Shakespeare in the Park production of Richard III at the Delacorte Theater
Photo: Joan Marcus

And, speaking of props, why the fake dagger in Richard's wooing scene with Lady Anne? It makes what potentially could be a scene with gravitas into a cartoon. Yes, it lightens the drama's mood and makes the soon-to-be husband and wife laugh at each other and consider their future. But what gets lost in this seduction scene is its serious psychological undercurrents. After all, why does the widow Anne succumb to Richard's blandishments and agree to marry him? She knows Richard has killed her husband and father-in-law. Is she won over by this "bad boy" because she's a woman alone in court? Or does she see herself as Richard's potential savior who intends to convert this hell-hound after their marriage? Whatever Anne's motivation, Richard's fake dagger, as well as the oversized ring he gives her, seem gimmicky.

All things considered, O'Hara's production is very beguiling—but it doesn't tap into the rich psychological depths of Shakespeare's work. The real ace of the show? No question it's Gurira. Her zesty performance of the monster-villain Richard will amuse and terrify you at once.

Through July 17th.
At the Delacorte Theater
Running time: 2 hours; 40 minutes with intermission.

For more information on Free Shakespeare in the Park, visit www.publictheater.org
As You Like It - August 10 through September 11th.
At the Delacorte Theater in Central Park. The Central Park entrances closest to the theater are at 81st Street and Central Park West or 79th Street and Fifth Avenue.