By Eugene Paul
If you're going to find yourself in a nursing home – oops – an adult living facility, who wouldn't want to take over the whole, pleasant space we see if all you had to do was make yourself poisonous to anyone designated to share those desirable quarters in upscale Bristol Place, a Retirement Center.  Abby Binder (icily aloof Holland Taylor) likes being alone there and was damned determined to stay alone.  She would just drive that too too jolly  old bag Marilyn Dunne (top flight Marylouise Burke) out of HER room just by being as rotten to her as she could be and she could be pretty damn rotten.  In a nice way, of course.  Abby was a lady.  At first.  And when the damn happykins just kept on turning the other cheek – how many goddam cheeks did she have, anyway? –Abby was going to up the ante.  Up the wazoo.
And there you have the framework of playwright David Lindsay-
Abaire's new, acrid comedy commissioned by the Manhattan Theatre Club, his sixth work for that worthy organization which, praise be, has the grace to produce new works, not just reworks of reworks.  However, you gotta take your chances and sometimes you luck out and sometimes you don't.  And this time, it's kind of in the middle.  In spite of everybody  trying so hard. Set designer Alexander Dodge, costume designer Jennifer von Mayrhauser, lighting designer Peter Kaczorowski, and actors Nate Miller, Glenn Fitzgerald, Marylouise Burke, Rachel Dratch, Daoud Heidami working like hell.  Not Holland Taylor.  She's phoning it in. Just another TV sitcom and the hell with it.  And maybe it is, but if she really bit into the role and the show,  there'd be a lot more there.
Playwright David Lindsay-Abaire is no slouch.  Underneath the froth, there's a substantial, sustaining broth but it has to be delivered by the bitter, savagely droll Abby who has chosen these living quarters to eke out the rest of her unhappy days, and we want to know why.  Lindsay-Abaire has set in the hook, he's reeled us in, just so far, and stops?  Why?  Isn't that what this play is really about? Because when he stops, it gives Holland Taylor too much excuse to slack off.  And she does. Why?  In other work I've seen her knock it out of the park. And why does director David Hyde Pierce let her?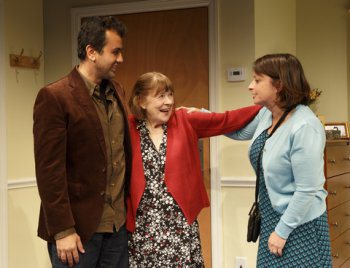 Daoud Heidami, Marylouise Burke and Rachel Dratch
Instead, Lindsay-Abaire ups the fripperies factor he ladles on the TV formula show. These two ladies take their differences to the dirty betting stage: first one to cave in the struggle for possessing that nice room is the loser.  The bet?  That Abby can make irrepressibly ebullient Marilyn lose her temper, that Marilyn can make Abby lose her icy cool.  Petty?  Nutso?  Potential for nasty? You bet.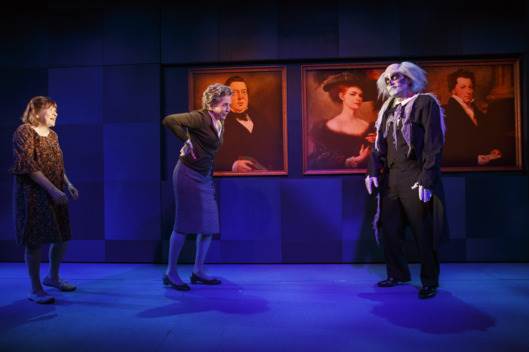 Marylouise Burke, Holland Taylor and Nate Miller  photos by Joan Marcus
And, of course, the battle is staged: one venue, the haunted fun house, all that childish ghoulishness.  Another: the daredevil sky diving competition. And the "gotchas".  Such "gotchas".  Which gives the stage crews lots and lots to do in sheer effort but does not convince us at all because who's going to spend half a million on a couple of scenes to really persuade us? Especially Off- Broadway? No, we're supposed to use our imaginations and if not convinced, well, we just didn't go with the flow.
Going with the flow is problematic anyway, if you don't buy the premise. Playwright Lindsay-Abaire hasn't made his case, which is odd, because he's certainly capable enough.  And not to have one of his leads buy in is another.  True, Abaire hasn't given her enough but she's a big girl, she signed on.  Deal with it.  She almost does in the second act, and then the darnedst thing happens. 
Holland Taylor and Glenn Fitzgerald
She's confronted by a most unwelcome visitor from her past (splendid Glenn Fitzgerald) who tries to leave her a snapshot of a grandchild she never knew she had. And icy Abby thaws. Even that ditz, Marilyn is tolerable. How do we know she thaws?  Abby goes shopping, and empties the shopping bag on her bed.  It's baby clothes. That is the  "Awww" moment. And while she and Marilyn are tenderly folding the little garments, does that send another "Awww" message? Well, yes, but – these are baby clothes.  That grandchild she's bought them for is three years old.  What's going on?
I greatly enjoyed Nate Miller as the caring young nursing home attendant who is convinced he's a good actor, and he is. Marylouise Burke does her ditziness to perfection, making you alternately want to hug her or strangle her.  And there's something deeper underneath which is very enriching. Holland Taylor looks great.
Ripcord. At the City Center. 131 West 55th Street. Tickets: $90. 212-581-1212. 2 hrs. Thru Dec 6.