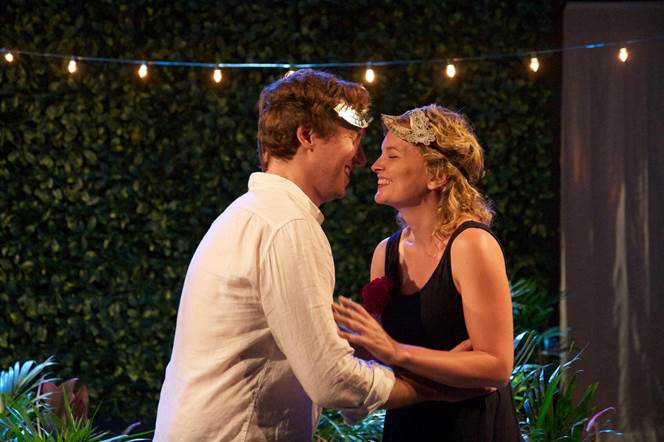 Cary Donaldson (Romeo), woman is Rachel Mewbron (Juliet).   Photo Credit: Matt Harrington
Wheelhouse Theater Company's production of Romeo and Juliet,
                                              By Nicholas Linnehan
With its beautiful set and strong ensemble, it's a shame this production only has limited success!
The problem with doing a well-known play is simple, everyone knows it. Therefore, the audience comes in with certain expectations of what they are going to see. When those notions are altered, it can become unsettling. Unfortunately, despite a strong ensemble, Wheelhouse Theater Companies production of Romeo and Juliet, falls a little short in delivering a show that truly breaks through. It is not a poor production, but neither is it groundbreaking.
What happens when two star-crossed lovers meet on a fated night and fall madly in love? Can their love survive amidst two opposing households? These are the central questions and plot lines in this bittersweet romance. Does love truly conquer all? And what about the excruciating agony we feel when we lose what we love? The irony and pain in this play tug at everyones' heartstrings making it the classic it is.
We all know the classic love story so well that our ideas of what it should and shouldn't be are set.  before we even enter the theater. That makes the production company's job exponentially harder. The problem with cutting the scrip down to 90 minutes, which they do, is two-fold. You lose some of the beautiful signature language in the soliloquy's and the story moves so fast that it gets confusing. When things move so quickly and actors have to double and triple play roles, it becomes chaotic and overwhelming. It gets difficult to follow all the character shifts and we spend too much time trying to figure out who's talking, instead of getting enveloped into the story. The actor playing Tybalt, Benvolio, and Paris is especially hard to follow One minute he is a Montague and the next a Capulet.. Even though the costumes were slightly different for each character, it still looked like the same person and was thus confusing to follow. This is no fault to the actor himself as he copes the best he can with what is required of him.
The cast are a bunch of fine actors. Cary Donaldson plays Romeo. He captures Romeo's youthful exuberance well. And his chemistry with Juliet, Rachel Mewbron is palpable. The two are electric on stage and carry the heart of the story passionately. Brendan Titley is delightful as Friar Laurence and is a scene stealer.
Directors Jeff Wise and Matt Harrington have a clear grasp of the language and the actors speak with conviction, but in normal voices. Sometimes actors give an affected performance because it is classical, often detracting from the beauty of the words. Gladly, that doesn't happen here. Everyone communicates cleanly, honestly, and simply which enhances their performances. They do their best to cope with the mayhem of the play. Brittany Vasta gives us an exceptional scenic design and the set is gorgeous adding the romantic flair to the play. The costumes needed more distinction between characters
Sadly, I could have enjoyed the play a lot more if the theater itself wasn't so unfathomably hot. Audience member were dripping with sweat when the show ended. It is a definite barrier to the production. If you go see this, bring water and wear loose fitting clothes!
Romeo and Juliet plays now through July 9, 2016 at 354 W. 54th St. www.wheelhousetheater.com