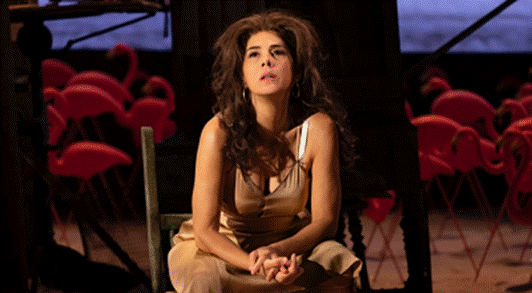 Marissa Tomei                                                 Photo: Joan Marcus
The Rose Tattoo
                                        By Fern Siegel
"There is something wild in the air." The phrase is uttered as The Rose Tattoo opens, a minor play in Tennessee Williams' canon. The story arc is thin, and it's hard to get overly engaged with the characters, though a sultry sense permeates the atmosphere.
There is also an overabundance of plastic pink flamingos on stage, which threatens to upstage the actors, and a votive-candle shrine to the Virgin.
Set in 1950 in a Gulf Coast village, The Rose Tattoo tells the story of Serafina Delle Rose (Marissa Tomei), a lusty Sicilian woman who boasts of her handsome husband and their emotional and sexual compatibility. Theirs is a lusty, primal union.
So when she learns he died at sea, her grief is almost operatic. (Actress Anna Magnani is best known for her earthy performance in the role in the 1955 film version, but Tomei gives it her all.) Draped in 1950s-style ragged clothing, courtesy of costume designer Clint Ramos, Serafina's despair keeps her from the solace of others, specifically, a cacophony of women shrouded in black garb, led by Assunta (Carolyn Mignini), Serafina's older friend.
She comes alive only to warn her teenage daughter Rosa (Ella Rubin) about the dangers of sexual excess.
But the teenage Rosa, enamored of a young sailor (Burke Swanson), who is equally smitten with her, is deaf to her mother's entreaties. It's no surprise: Serafina has become consumed with mourning, only to be disrupted by the appearance of her husband's mistress (Tina Benko), who goes by the name Estelle Hohengarten, as haughty and WASPish as Serefina is ethnic and sensual.
Sex is in the air — both adulterous and hidden. Or at least-semi-hidden. When a banana truck driver (just like her deceased husband) shows up, the production kicks into high gear. Which is to say, the action begins. Alvaro Mangiacavallo (his name means "eat a horse") is said to have a clown face, though actor Emun Elliott is nice looking. He's also extremely emotional.

Emun Elliott and Marisa Tomei     Photo: Joan Marcus
The attentive and desperate-to-be-loved Alvaro is taken with Serefina — and his courting awakens something long dead in her. Their dance with possibility is touching, and they may have a shot at happiness. Either way, it's a slim rod to hang a show on without more dramatic tension or action.
Ironic then, that one of the high points in the Trip Cullman-directed play is visual: Lucy Mackinnon's hypnotic projections of ever-crashing ocean waves. There is tumult in Serefina's world. The external imagery underscores her internal heartache.
Tomei is engaging and credible; her passions anchor this moody, somewhat minimalist effort. Elliott scores as a sweet, awkward counterpart. Oddly, the audience seems to find comedy where none exists. The story is one of sadness and betrayal, so some of the directorial choices, especially in the leads' facial expressions, seem askew. So are the children who run inexplicably across the stage. They are disruptive and pointless.
The last Broadway revival of The Rose Tattoo was 1995 — and it may be because it pales in comparison to Williams' masterpieces: The Glass Menagerie and A Streetcar Named Desire.
American Airlines Theater, 227 West 42 St. Through December 8.
Running time: 2 hours, 25 minutes
Tickets: www.roundabouttheatre.org/get-tickets/2019-2020-season/the-rose-tattoo/performances