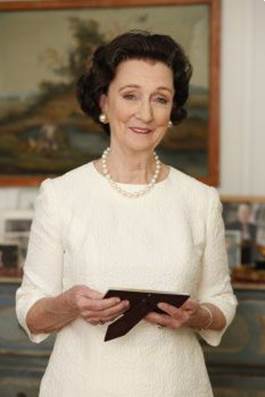 Kathleen Chalfant plays Rose Kennedy 
              Photo credit: Carol Rosegg)
                                      by Deirdre Donovan
Laurence Leamer's Rose , a new one-woman bio-drama about the Kennedy matriarch, is a theatrical confection. And, with the excellent Kathleen Chalfant inhabiting Rose, we learn how the grande dame managed to brave the political winds and personal tragedies of the Kennedy clan.
Set in late July 1969, at the Kennedy Compound in Hyannis port (think of it as the real-life equivalent to the fictive plantation "Tara" in Gone with the Wind), one can practically taste the salt in the air.  It is the week after Teddy Kennedy's Chappaquiddick incident that resulted in the death of Mary Jo Kopechne--and Chalfant invites us to be her house guests during this time of crisis: "I know you're interested in our family, but I'm surprised you'd come now.  But, please, that's all right, just stay. I don't…I really don't want to be alone. …oh just sit there for a while. They've all gone, everyone, all the family except for Joe, of course. He's upstairs."
A stoic and genuinely pious Catholic woman, Rose rules her home with a steel fist in a velvet glove.  She's 79 years-old here, telling us her story as only she can tell it.  Rose shuttles back and forward in time.  She mentions early on her courtship and marriage to Joseph P. Kennedy, an investor and stockbroker who made a fortune on Wall Street.  Later, he became politically prominent when President Franklin Roosevelt appointed him the United States ambassador to the United Kingdom on the cusp of World War II.  His outspokenness and contrary political views, however, put him out of favor with Roosevelt and he resigned under pressure. 
Their prestige lost, Rose still would live to see each of her four sons' stars rise in the political world, and as we well know, tragically witness three of their untimely deaths in war or by mad assassins.  Rose speaks briefly but sensitively about each major tragedy, including Teddy's accident on Chappaquiddick, which serves as the central incident upon which the play turns.
Chalfant couldn't be a better fit to play the great woman.  She exudes authority. Dressed in a white couture pantsuit with pearls (costume design by Jane Greenwood) and immaculately coiffed in 60s style, Chalfant has the patrician look and manners of a Kennedy as she crosses the boards.  She reveals Rose as a woman caught between that mythic Scylla and Charybdis, knowing that duty must always trump personal happiness.  Rose tells us that she continually had to compromise her own life so that her husband and sons could realize their own ambitions.  Beneath her cool outer veneer, however, Rose discloses that she chafed inwardly.  And we see her fiery Irish temper at times as she recalls her repeated submissiveness to the men in her life as well as to the Roman Catholic clergy (including their family friend, Cardinal Richard Cushing of Boston).
Leamer's portrait of Rose isn't mawkishly sentimental.  It goes very close to the bone and gives us a real slice of the Kennedy legacy.  Leamer, in fact, had access to 40 hours of taped interviews that Rose made as she created her ghostwritten memoir (Times to Remember).  And he artfully has gerrymandered them here into a coherent narrative.  Okay, it might be too talky for some and trail off in too many directions at once.  However, the anecdotes and events shared by Rose always carry the weight of history and are never boring.
Perhaps the saddest tale in the show involves her daughter Rosemary, who was mentally "slow."   Her husband arranged for Rosemary to have a lobotomy, which further damaged her already-impaired brain.  Once they realized that Rosemary's mental disability was worse, they placed her in a Catholic-run sanatorium.   Rose discloses that Rosemary's condition so deeply pained her that she kept away and distanced herself from her daughter (Rose would emotionally distance herself from her other daughters as well.)  And who can doubt her grief over Rosemary?
The play's brighter moments are when she remembers her childhood in the North End of Boston.  Her father John Fitzgerald was the Mayor of Boston and nicknamed "Honey Fitz."  Rose proudly recalls that he could "out-talk" and "out-promise" any politician in Bean Town.  And, according to Rose, his rendering of "Sweet Adeline" was just divine.   
Directed by Caroline Reddick Lawson, and with Anya Klepikov's set and projections (including photos of the Kennedys that capture their peak and not-so-peak moments), Rose is a riveting piece of theater.  If you have ever wanted to know the secrets of the Kennedy clan as viewed through the eyes of its no-nonsense matriarch, this is your show.
Through December 13th.
Theatre Row at the Clurman Theatre, 410 West 42nd Street.
For tickets and information, phone Telecharge at 212-239-6200 or online www.telecharge.com.
Running Time:  90 minutes with no intermission