Robert Cuccioli as Mayer Rothschild
                                        by Eugene Paul
In a rich and moving reworking of the well remembered Bock/Harnick musical, The Rothschilds, new ground has been plowed which gives book writer Sherman Yellen reason to make positive changes in his original book, the astounding story of that family, baring the bite that was carefully muted last time, 45 years ago: the utter vileness of treatment afforded Jews, and what it took to overcome such treatment by this exceptional family.  And how that treatment has mostly changed, but the vileness remains.  Strong stuff, especially pungent in a musical.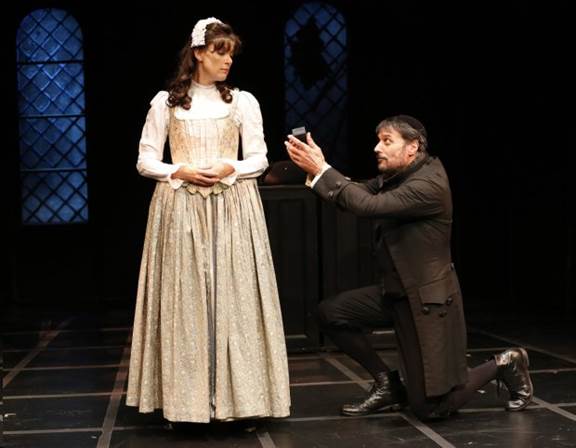 Glory Crampton and Robert Cuccioli
Mayer Amschel Rothschild (simply splendid Robert Cuccioli) is rushing to his home in the Jewish ghetto of Frankfurt, Germany where he was born in 1743.  The town crier has called curfew time.  The gates will be locked.  Of course, he is harassed, of course, he is extorted, but he gets inside to find his sweetheart, Gutele (equally splendid Glory Crampton) still awake, waiting to hear: can they  get married? Only twelve Jews a year are permitted to marry.  Mayer has not only permission, he has attained a connection at the court of the Prince of Hesse, their local Lord, as money changer. Mayer is not yet twenty  years old, a fire within him. He must make his way.  He needs sons.
Gutele gives him five sons, more than he dreamed and he trains them and trains them in banking,  in business, in tenacity, infusing them with his fire, and twenty years later, he is able and confident enough to offer them as his collateral for pursuing a large loan the Prince of Hesse wishes to make to the King of Denmark, a loan his own bankers cannot fulfill.  He spurns the Rothschilds, then tests each son, then, desperate, – gives them a grudgingly qualified try.  Which means he has to declare them official.  The House of Rothschild has begun.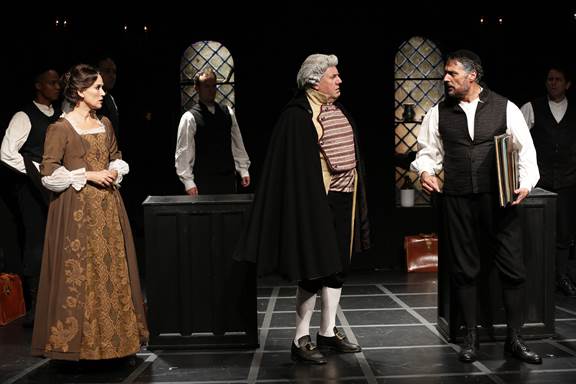 Photos by Carol Rosegg
Gutele, who would have been happy in "One Room", has raised a family that wants  "Everything".  Mayer Amschel is determined that his sons will be free, the equals of anyone in the world, and to achieve that freedom, they have to become rich, so rich they will have to be respected, even for their money alone.  To succeed at this huge task, they must be not one banking unit but a family of six bankers, all over Europe, each a separate success, all of them working together.  And, as the world knows, Mayer Amschel succeeded beyond even those wild dreams. Today, the Rothschilds are invulnerable, their name their currency around the globe. Other great Jewish banking houses, the Ephrussis, the Barings, have vanished.  Not the Rothschilds.
Director Jeffrey B. Moss, working with librettist Yellen and lyricist Sheldon Harnick, has crafted a swiftly moving, involving story line with a greatly reduced cast – eleven, lots of expeditious doubling – the intensity of their story never lagging. James Morgan's handsome, ingenious atmospheric scenic design  helps enormously as do Carrie Robbins' costumes ( how do they change them so fast?), along with Kirk Bookman's attention directing lighting.
Mark Pinter has a sly, sardonic time as the Prince of Hesse, as Herries, and as Prince Metternich. Glory Crampton as Gutele, matriarch, inhabits her role with such humor and understanding you find yourself happily surprised each time she sings so beautifully.  She is a delight in her newly emphasized importance in the revamped book.  And Robert Cuccioli is unmistakably an award contender in his fervor and strength as Mayer Amschel.  The five sons, Jacob, Salomon, Amschel, Kalman and particularly Nathan (David Bryant Johnson, James LaVerdiere, Nicholas Mongiardo-Cooper, Curtis Wiley and Christopher Williams) were individually and as a team just fine and not at all half bad in a clutch of other roles as well.
What stays with you is, however, a lagging fear.  History has a way of repeating itself if you're not careful.  Mayer Amschel was careful, very careful.  I'm not so sure about us.  His poignant song, "In My Own Lifetime" thus carries a sharper edge than once it did.
Rothschild and Sons. At the York Theatre, 619 Lexington Avenue at 54th Street.  Tickets: $67.50. 212-935-5820. 1hr,50 min. Thru Nov 8.