By Ron Cohen
The Royale is a taut, sometimes harrowing depiction of racism in America circa 1900, which unfortunately still resonates powerfully today. It's also inventive drama, directed with élan and acted with incandescent fury.
As a program note tells us, Marco Ramirez's play is based on the life of Jack Johnson, who in 1908 became the first African-American world heavyweight boxing champion. Johnson was also the inspiration for The Great White Hope, the 1967 award-winning play by Howard Sackler, which centered in large part on his relations with a white woman. The focal point for Ramirez is Johnson's success in getting James J. Jeffries, the retired world heavyweight champion who refused to fight a black man during his career, back into the ring for what in 1910 was dubbed "The Fight of the Century."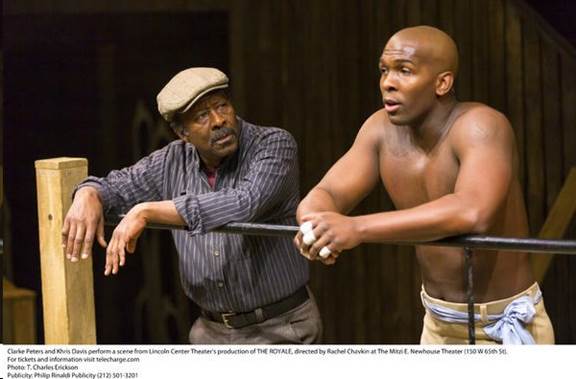 In Ramirez's scenario, the Johnson character -- called Jay Jackson -- lures Jeffries -- renamed  Bernard Bixby -- out of retirement and into a match for the world heavyweight crown by agreeing to his demand for 90 percent of the gate. Until this point, Jay carries the title of Negro heavyweight champion. His need to challenge Bixby, he says, "ain't about bein' no heavyweight champion of the White World. It's about bein' champion of the world, period."
The play is so tightly written and the staging so stylized, it almost registers as a parable, but nevertheless one with great dramatic impact. Carrying out the staging detailed in Ramirez's script, director Rachel Chavkin has imbued the production with a breathtaking precision. This a play about boxing, in which boxing matches happen, but no fight director is credited. The boxing is depicted in almost ballet-like fashion, the punches suggested by stance, isolated movement, hand clapping and foot-stomping against the wooden platform that serves as the boxing ring. Important blows are punctuated by bursts of sound and bright light. (The set is by Nick Vaughan, and the lighting and sound by Austin R. Smith and Matt Hubbs, respectively.)
At the same time, Chavkin has guided her actors into highly compelling performances, allowing them to give both nuance as well as high-octane energy to their characterizations. A likeable braggadocio frequently lightens the impressive machismo of Khris Davis' portrayal of Jay. And when his emotions catch up with him, it is galvanizing.
Montego Glover brings intelligence and depth to Jay's concerned sister Nina, while Clark Peters is a reassuring figure as Wynton, Jay's coach. There are welcome moments of humor from McKinley Belcher III  as the amateur fighter with enough talent to be hired as Jay's sparring partner, while John Lavelle contributes mightily to the momentum as Max, Jay's fast-talking manager, also doubling as the reporters at Jay's press conference.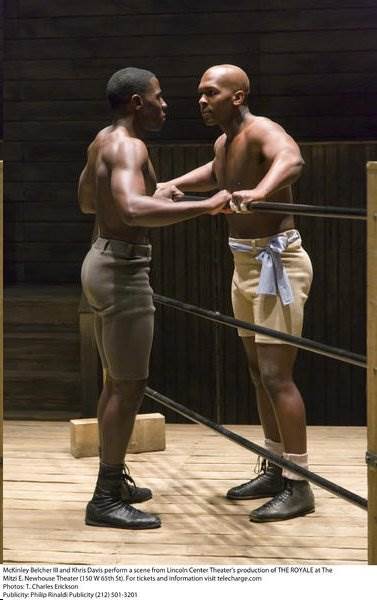 The toxicity of the racism comes to the surface in many forms. There are blatant questions put to Jay during a press conference: "Don't you think your people have a predilection for fighting?" There's the white Max trying to explain away Bixby's refusal to fight with a black man: "It ain't like he's a bigot, He's got no problem with 'em, Likes 'em fine, His driver's a negro."  There are the fears expressed by Jay's sister of the violence that could erupt if Jackson should win over Bixby, and the violence that does indeed come. There's the chilling recollection by Wynton of an event staged for a group of "men in suits"-- an entertainment called The Royale -- in which black boys would be blindfolded and then box each other to bloody pulps. The reward to the last boy standing was gathering the coins the men had thrown at them.
Finally, Jackson comes face to face with the original happening that spurred his need to be victorious: an incident from his youth in which the soul-destroying effect of being black in a white world takes nightmare form.
This happens as Jay meets Bixby in the ring. But in Ramirez' s strikingly original climax, Bixby does not appear on stage. Jay Jackson is slugging it out with his own personal demon, in an increasingly intense conclusion that could well leave you on the edge of your seat  .
Playing at Lincoln Center Theater's Mitzi E. Newhouse
150 West 65th Street
800-840-9227
lct.org
Playing through May 1.