Photo by Bjorn Bolinder
Review by Julia Polinsky
Broken Box Mime Theater has crafted an evening of terrific stories out of nothing but their bodies, their mime-mask faces, and a couple of boxes. Even if the prospect of an evening of mime, mime, and more mime makes you cringe, give it a chance and go to Broken Box Mime Theater's Skin. You will be so, so glad you did.
So often, the expectation of Mime is some guy with a white face, in the park or on the street, interacting silently with passersby. Yeah, not with Broken Box. The ensemble makes considerable eye contact with the audience, far more than is usual in theater. Their mission statement says that they want to activate audience imagination, and boy does that ever happen. You need to pay close attention to what's going on; Broken Box shows you the story, and then it's up to you to connect the dots and bring it fully to life.

Photo by Bjorn Bolinder
Broken Box's Artistic Director, Becky Baumwoll, has taken a group of gifted young actors, forged them into a community, and, it seems, turned them loose to work among themselves to create story after story. Some stories are very, very short; some last quite a few minutes – fifteen or so stories told over an hour and a half. Some are funny, some satirical. Some explore memory, consent, perception; some, love, loss, expectation. They're all good.
The show's title, SKIN, speaks to ideas running through the stories; are we what we look like? Can we revise ourselves? Is there really rebirth, physical, emotional, spiritual?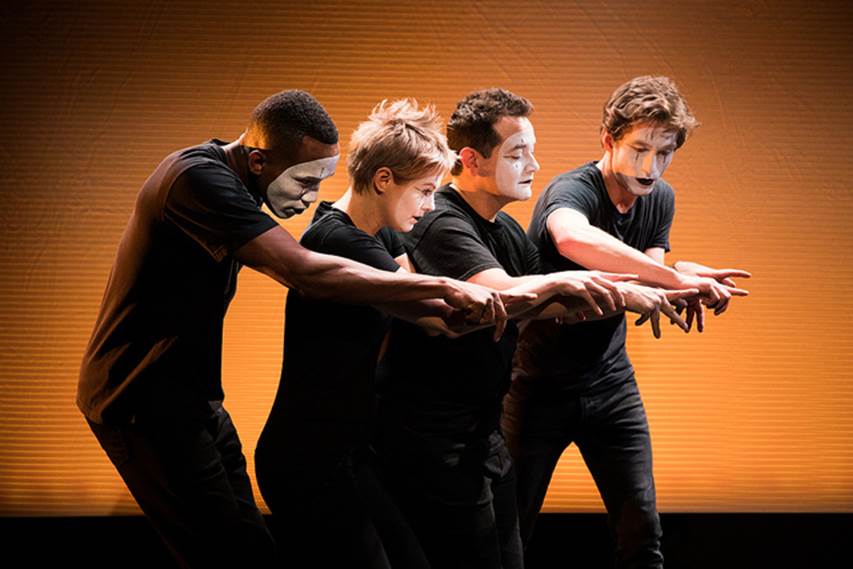 Photo by Bjorn Bolinder
Broken Box uses humor, often, to poke at these ideas. You can see how that works in just some of the evening's stories. Would You Put A Hat on a Ball of Sunshine? Naw, Cuz It's Too Damn Hot (which wins the longest-title award), targets race in an unexpected place; Regan Sims' performance, in particular, makes it both funny as hell and an uh-oh moment. Hashtag may not be funny the same way, but it paints a beautiful, poignant picture of a first date. Another first-date story, Variable, cuts very deep.
Actually, several of the stories cut pretty deep. At first, you may get a kick out of the boy-band parody, Boys Syde, with all the cheesy choreography and posing you'd expect, until things take a dark turn. Very dark. Love Song shows us parents and children, love and loss and protection. [UNTITLED], the story of a sculptor and her work on a block of stone, appears in more than one part, through the evening; from vision to completion, we watch the sculptor age, as she designs, works, completes her work. It's a masterful performance,  touching and profound. The fanciful and lighthearted Planet Earth also appears in several parts. And Lake and its culmination, Skin, bring home the joy of living freely and jumping in.

Photo by Bjorn Bolinder


The ensemble -- Nick Abeel, Becky Baumwoll, Duane Cooper, Blake Habermann, David Jenkins, Marissa Molnar, Joél Pérez, Regan Sims, and Matt Zambrano – give uniformly terrific performances, and you can feel the smashing success of a group of people who know how to collaborate deeply and well.  
Each story has musical accompaniment, some of which were purpose-built for their plays, others from collaborating musicians. Nick Abeel gets credit for choosing music and arranging the sound. Jamie Roderick's lighting design and projections from Jacqueline Reed work like a charm.
"Charm" is the word, here; Broken Box Mime Theater's SKIN will charm you. Catch it while it's around, and keep an eye out for more work from this terrific ensemble.
SKIN
Through Sunday, February 3
Wednesday-Saturday at 7pm; Sunday at 2pm
A.R.T/New York Theatres
502 W. 53rd, at 10th Ave
Tickets $25 in advance, $30 at door
800-838-3006
www.brokenboxmime.com