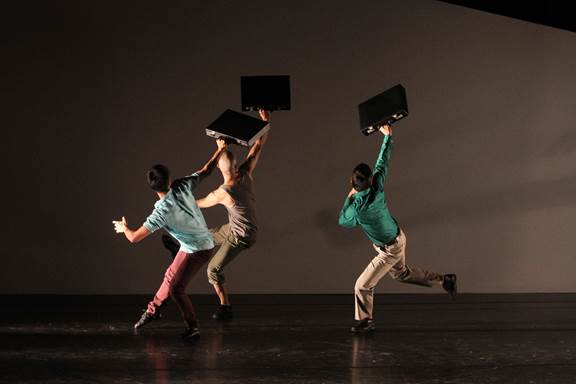 Hideaki Takeuchi, Naoya Oda, Yu Saito
                                          by R. Pikser
Shuji Onodera was trained as a mime. Perhaps this is what gives precision to his choreography.  This piece, said to be inspired by Mr. Onodera's experiences work with students at the Metropolitan Otsuka School for the Deaf, considers desire, thwarted desire, communication, and lack of it.  The piece is also a meditation on perspective:  literally, and in the mind of the actor, not to say the mind of the director.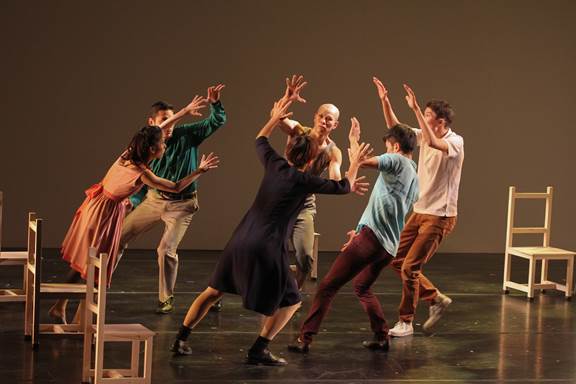 : Left to right: Mai Nagumo, Yu Saito, Momoko Fujita, Naoya Oda, Hideaki Takeuchi, Maki Yamada                           photos by Julie Lemberger.
We see the same movements and scenes enacted with tiny toy chairs and in human sized chairs, and projected onto screens.  Sometimes the manipulator of the chairs seems to be God, making the humans act out what she does with the props.  Sometimes we see the action viewed through a video camera, as though we were God.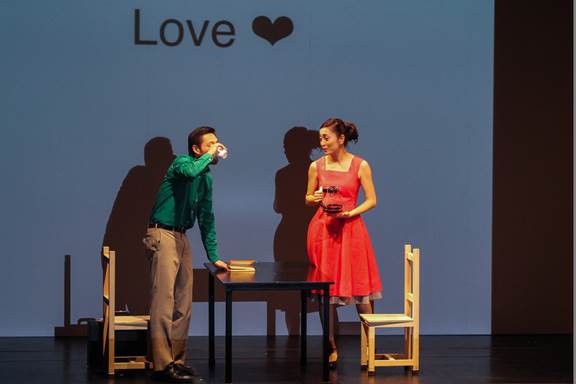 Man: Yu Saito; Woman: Kyoko Miyashita
The scenes that we see are contiguous and sometimes they interconnect.  A waitress, who may be an actor, or perhaps, as she tells us, a famous writer, serves coffee to a man whom she is flirting with or who may be her husband.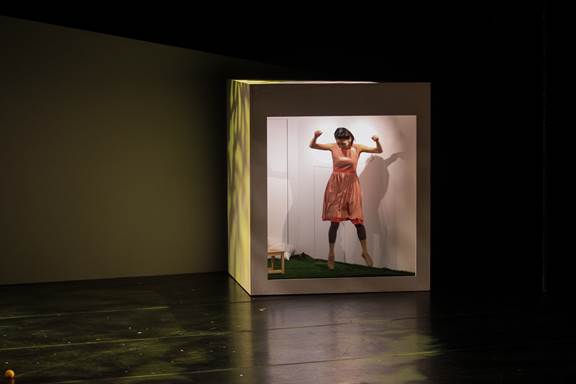 Mai Nagumo
A girl peers out from the glass wall of her tiny house, longing for the Orange of Desire and is thwarted by her mother, or perhaps her lover, when she tries to pick it up.  A man falls off a chair.  Maybe he has been murdered.  Cats wander through the scenes.  Each of the scenes has its own series of movements and these movements are taken apart and reconstructed elsewhere in the piece.  Because the elements are not put together linearly, we are only sure of what we are seeing, not of any story, though the stories are suggested as the piece continues. 
Humor is provided by moments of self-awareness, as when the waitress/writer speaks about her story of a young girl, possibly the one shut in the room.  The woman's words projected onto the side of the structure housing the girl's room.  But a man, not a girl, comes onto the stage.  He looks at the words on the screen, listens to the woman, realizes he is not the right person, becomes confused, and leaves, only to reappear in a few minutes.  The little scene is funny.  What we learn from it is not clear. 
The actor/dancers move well and fluidly.  Their lines are clean.  They look at each other and react to each other and to the situations they find themselves in.  But the central idea of the piece is structural, about the repetition of images; it is not emotional. Thus, though we may be interested, we do not become involved.  We have nothing at stake.  This piece is excellent in its genre, so carefully is it put together.  But we are indeed spectators.
November 13th and 14th, 2015
Japan Society
333 East 47th Street (First and Second Avenues)
New York, NY
Tickets $30; $25 for Japan Society members
212 715 1258 (M-F 11:00 a.m.-6:00 p.m.)
japansociety.org