Condola  Rashad                                                         photos by Joan Marcus
                               by Deirdre Donovan
George Bernard Shaw's Saint Joan is a comedy, tragedy and romance wrapped into one powerful drama. Over the years, it has been staged in strikingly different ways from the raucous to the subdued.  As the Manhattan Theatre Club presents it (at the Samuel J. Friedman Theatre), it is a sober and direct play.  Although it suitably chimes with the ideas and morality of the Middle Ages, it fails to say anything new about the old classic or speak with any immediacy to our culture.
So what's missing from this show that keeps it from elevating?  In a word:  passion. To keep Shaw's dramaturgy airborne, there really must be an urgency that is palpable on stage.  After all, the historical Joan was a world-class upstart, and to mute the passion in a Saint Joan production is to deprive the piece of its soul.
Shaw's play unspools in six acts.  It dramatizes the life of Joan, a village girl from Lorraine, born around 1412, and burnt as a heretic in 1431.  It presents Joan as a visionary, a teenager who hears mystical "voices" and has visions of Saint Catherine, Saint Margaret, and the archangel Michael, which led her to undertake nationalistic campaigns and fulfill her holy destiny.  Though she would first impress the rulers with her courage and military acumen, they soon grew wary of the lass who dressed like a soldier, heard heavenly "voices," and could converse with a peasant and king with equal ease.  When the statesmen and ecclesiastics realized her political influence was growing, and that her engaging personal character made her popular wherever she set foot, they set out to destroy Joan.
What we get in the current production is a musty replication of Shaw's' play.  Although Daniel Sullivan, who directs, has pared down Shaw's epic play to two hours and 45 minutes (uncut, it can run well over 3 hours), it still feels drawn out.  We follow Joan's journey to the Castle of Vaucouleurs, her raising of the siege of Orleans, the coronation of the Dauphin Charles (Adam Chanler-Berat) at Rheims, her capture at Compiegne, the trial and execution at Rouen, and the surreal epilogue that illuminates her rehabilitation in history.  While it's easy to get the gist of Shaw's story here, the stodgy presentation makes this Saint Joan little better at times than listening to a high school history lesson on the Maid of Orleans.
Sullivan, who has an astonishing track record for inventively mounting Shakespeare plays, seems to stumble with Shaw's tragedy.  Indeed, it is puzzling that he should stick to such a traditional approach with Saint Joan and not employ his characteristic innovations to a warhorse.  After all, who can forget his smolderingly good Merchant of Venice (with Al Pacino) in Central Park's Delacorte Theater that later transferred to Broadway that same year?   Most recently, Sullivan deftly directed John Lithgow's Stories by Heart on the Great White Way, not to mention his last season's The Little Foxes.
The current Saint Joan is performed by a large cast with the likes of Broadway veterans John Glover and Patrick Page as well as Walter Bobbie, who's back on stage after a 20-year hiatus.  Rashad, however, is the real star turn here.  Rashad, who brought us a compelling performance last season in A Doll's House, Part 2 on Broadway, proves with this latest performance that she is still in her ascendancy.  Rashad has a genuine gift for portraying young women who have a sure sense of their identity and can't be rattled by their superiors.  Her Joan has bite—and is altogether convincing as she encounters friends and foes alike, leaving a lasting mark on each principal.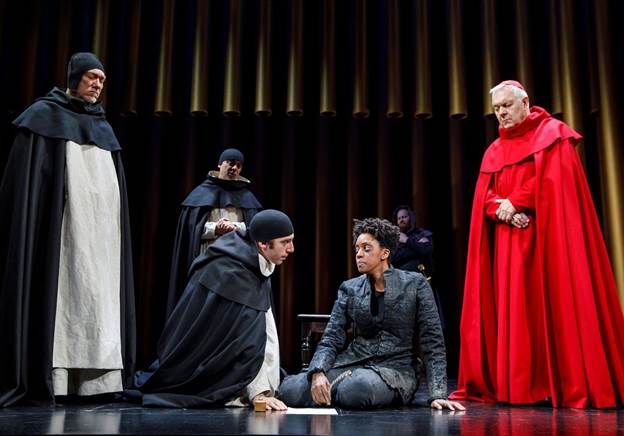 Patrick  Page,  Howard  W.  Overshown,  Max  Gordon  Moore,  Condola  Rashad, Walter  Bobbie
Yes, a few other actors deserve mention:  Page, doubling as the nobleman Robert de Beaudricourt and the Inquisitor, is excellent in the former role as he meets Joan and sizes her up in Act 1; in his latter role, Page comes through as the epitome of the pious churchman who coldly sticks to the letter of the law.   Adam Chanler-Berat sensitively inhabits the Dauphin like a spoiled child who enjoys his creature comforts but wants nothing to do with the bloody battlefield.  And Walter Bobbie as the French Bishop of Beauvais ably projects the dilemma of an ecclesiastic who must adhere to the church's rigid rules and yet still try to remain a man of compassion.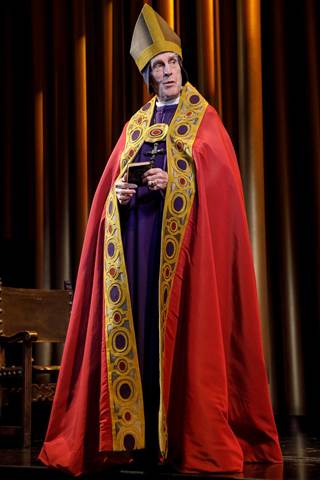 John Glover 
The last time I encountered a production of Shaw's Saint Joan in New York was at the Lynn Redgrave Theatre in the East Village where the then-fledgling Bedlam Theatre Company was mounting Saint Joan and Hamlet in repertory in 2014.   Directed by Eric Tucker, their Saint Joan (Andrus Nichols performed Joan) didn't have the handsome look and feel of the current Broadway production.  But it really packed an emotional wallop.  Even though we knew at all times the outcome of the story, a feeling of suspense coursed through each and every scene, and we experienced the play as a real cliff-hanger.
That said, this current production doesn't have the same suspense or intimacy of the Off Broadway venture.  The theatergoer is distanced, not only in a physical, but emotional sense from the stage.  Perhaps if the performers had at times used other parts of the theater beyond the stage proper to execute the action, the production would have felt less wooden.  But as the play is presented, all the performers literally remain on the boards, totally ensconced in their 15th century world. 
No complaints with the creatives.  Scott Pask's set, which looks like the interior of a giant pipe organ, lends elegance to the piece, and Justin Townsend's radiant lighting brings a touch of faith to the goings on. Jane Greenwood's period costumes summon up a picture of the gruff and the glorious, with a mix of soldiers' armor, ecclesiastics' vestments, and a royal's robes.  And let's not forget, Obadiah Eaves' original sound design that tonally blends in with the ambience of the Middle Ages.
Although Sullivan's staging is far from a definitive St. Joan, when it comes to the acting, Rashad is heaven-sent.  Rashad, not only joins in the distinguished ranks of her predecessors, (think Judi Dench, Zoe Caldwell, Eileen Atkins, Maryann Plunkett, and more), but adds her own signature to the part.
Through June 10th.
At the Manhatttan Theatre Club's Samuel J. Friedman Theater, 261 W. 47h Street, Manhattan
For tickets and more information, phone 212-239-6200 or 800-447-7400 or visit www.manhattantheatreclub.com
Running Time: 2 hours and 45 minutes with one intermission