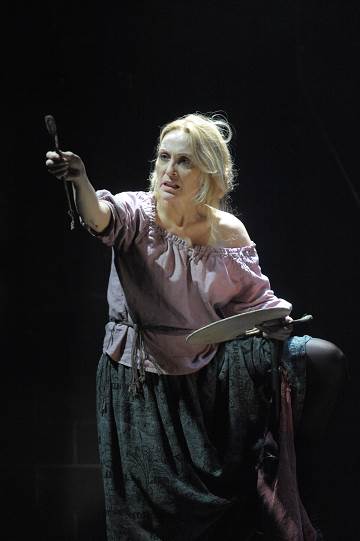 by Deirdre Donovan
The artist, the state, the church, and the critic are all alive and kicking in Howard Baker's Scenes from an Execution, now in a potent revival at Atlantic Stage 2.  And with Jan Maxwell leading the cast, who could ask for anything more?
If you are an aficionado of Baker's canon, you hardly need a nudge to head downtown to catch this latest iteration of his play, under the aegis of Potomac Theatre Project (PTC).   As directed by Richard Romagnoli, it pushes the theatrical envelope and debates the big questions on art and the artist, the state and its use (and abuse) of power, and the church and morality.  And, oh yes.  The critic is crucial in this play—and the one in the real catbird seat.
Scenes began its life as a 1994 BBC radio play, with Glenda Jackson.  Based loosely on the life of female artist Artemisia Genteleschi, Baker morphed the real painter into his fictive Venetian artist Galactia, who is commissioned by the State of Venice to create an artwork that would immortalize their great victory at the Battle of Lepanto.
Barker makes Galactia a firebrand and iconoclast.  And then he ratchets up everything by having the free-thinking artist commit a glaring faux pas:  She honestly paints the naval battle but doesn't interpret it as the government officials had hoped.  Instead of the canvas illustrating the Venetians' courage in battle, she paints the great historic event as a raw scene of human carnage.  Unsurprisingly, the powers-that-be are outraged, and use their political power to destroy Galactia.
Jan Maxwell is no stranger to the Barker canon or the Potomac Company.  She recently performed in the PTP/NYC's 2013 premiere of Castles (Drama Desk nomination).  And, in 2008, she performed Galactia in Scenes (Drama Desk Award nomination) with this politically-aware company.  She now returns to the prickly part with much gusto.  Her Galactia wears no make-up and projects a devil-may-care attitude toward love and life.  Maxwell fully realizes the sensual self-centered artist, and doesn't neglect conveying that she is also a genius.
Be prepared for some nudity.  The opening scene has Galactia sketching her lover Carpeta (David Barlow) in the buff.  It is intentionally jolting, and very true-to-form for a Barker play.  Barker, who coined the term "Theatre of Catastrophe" for his work, continually rips away the veil of convention in his plays.  Indeed he invites the audience to rethink their views on art and the responsibilities of the artist in society.  No, this is not your grandmother's play.  But it will force you to think about the intersection of art and morality, and the difficult questions that an artist must wrestle with to create something of integrity.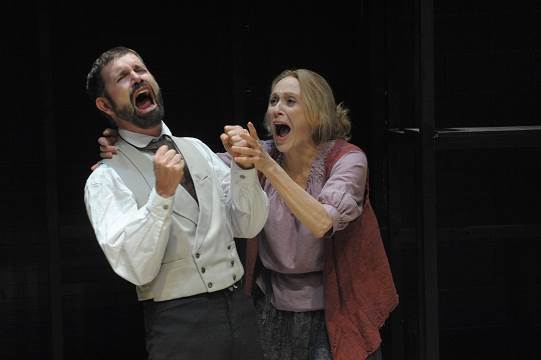 Jan Maxwell and David Barlow                              photographer Stan Barouh
While this is clearly Maxwell's star turn, the rest of the ensemble passes muster.  David Barlow plays Galactia's married lover and painter who specializes in pious paintings (think Christ as the Good Shepherd) convincingly.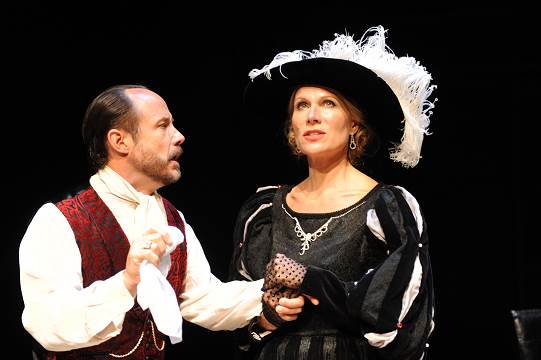 Pamela Gray and Steven Dykes
Pamela J. Gray, as the promiscuous and combative critic Rivera, is intriguing to watch as she goes toe-to-toe with Galactia.  And Steven Dykes, as the Cardinal Ostensible, gives new proof that ecclesiastics are not immune to political wheeling-and-dealing.
The creative team does much with a little.  Hallie Zieselman's scenic design is spare and uncluttered.  Mark Evancho's clean lighting ensures that the performers' facial expressions and all the action comes into focus.  And Mira Veikley's period costumes evoke the 16th century just fine.
While the British dramatist Barker indisputably has made his mark in theater history, his plays aren't for those who like their theater neat and tidy.  Barker gives us characters that embody disturbing paradoxes.  So park your prejudices at the door—and forget the old traditions.  Barker is well-known for turning conventional ideas inside-out, and he boldly does just that in Scenes.
Incidentally, Jan Maxwell recently shared in a Time Out interview that she is bidding farewell to her acting career with this production.  If your jaw just dropped down in disbelief, you are not alone in your reaction.  Maxwell has had a remarkable career, with five Tony nominations, and glowing reviews for her theater efforts over the decades.  But don't completely despair over the news.  Perhaps the right play will come along, and woo her back to the stage.  In any case, it seems like a premature retirement for this 58 year-old performer.
That said, if Scenes turns out to be Maxwell's last hurrah, you have a very good reason to postpone your Hamptons vacation and head down to the Atlantic Stage 2 to see her give a sterling performance in an intimate performing space.  You won't regret it.
Through August 9th.
At the Atlantic Stage 2, located at 330 West 16th Street, Manhattan.
Tickets can be purchased online at ptpnyc.org or by calling 212-352-3101 or 866-811-4111.  For more information, visit ptpnyc.org.
Running time is 2 hours and 10 minutes with an intermission.