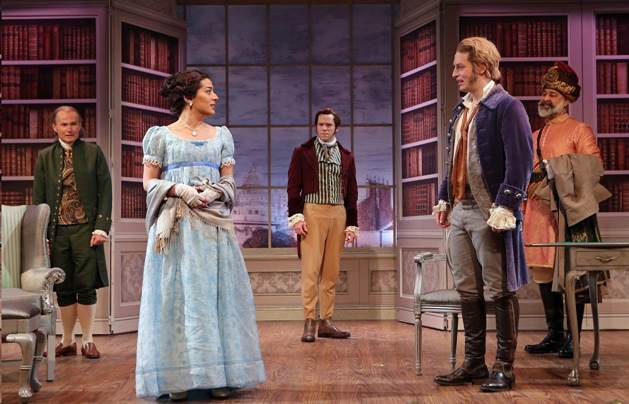 (from Left to Right): Henry Stram, Nadine Malouf, Christian Conn, Christian DeMarais, Ramsey Faragallah                                                               Photo Credit: Carol Rosegg
                            by Deirdre Donovan
Pssst!  There's a scandal brewing at the Lucille Lortel Theater.  And anybody who wants to learn who the latest victim is--deserved or not—should head downtown and catch the wickedly delicious revival of The School for Scandal, courtesy of the Red Bull Theater Company.  Richard Brinsley Sheridan's comedy of manners gets new legs and a fine cast that gloriously kicks the dust off the old classic.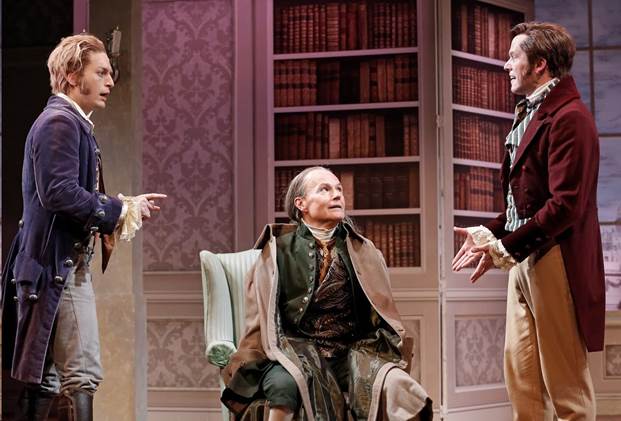 :Christian DeMarais, Henry Stram and Christian Conn
The plot revolves around scandal with a capital "S" -- and those scandal-mongers who create it, circulate it, and, oops, sometimes become its latest casualty.  We meet Sir Oliver Surface (Henry Stram), returning home after living 16-years abroad, to test the moral character of his nephews, the supposedly upright Joseph (Christian Conn) and the reprobate Charles (Christian Demarais).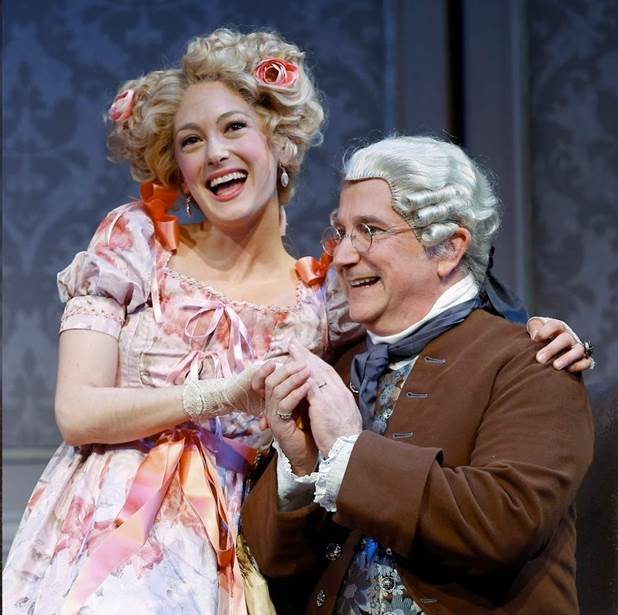 Mark Linn-Baker and Helen Cespedes,
We also rub shoulders with his old friend Sir Peter Teazle (Mark Linn-Baker) and his new young wife Lady Teazle (Helen Cespedes), country-born but who takes to high society like a duck to water.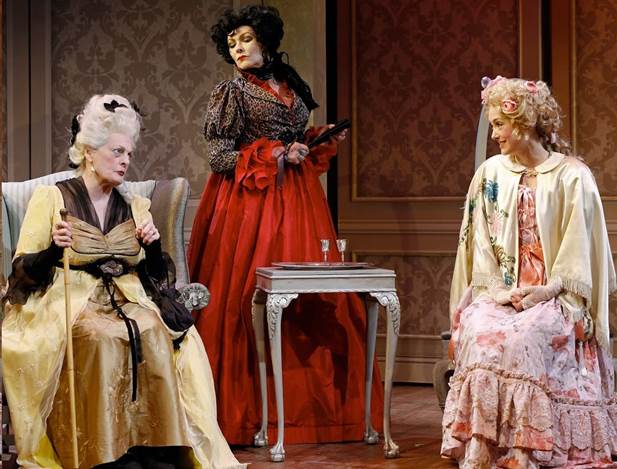 (from Left to Right): Dana Ivey, Frances Barber, Helen Cespedes
There's also the young widow Lady Sneerwell (Frances Barber), her hireling Snake (Jacob Dresch), Lady Candour (Dana Ivey), Sir Benjamin Backbite (Ryan Garbayo), his uncle Crabtree (Derek Smith), Careless (Garbayo again), Sir Toby Bumper (Bradley Gibson), Midas (Smith again), and Trip (Ben Mehl), all who live up to their slick and slithery names.  Add in the heiress Maria (Nadine Malouf), Master Ranji (Ramsey Fargallah), Rufus, William and Hastings (Mehl again) and you have all those in the swim of this whirling fishbowl world. 
The action zigs and zags through London, starting at Lady Sneerwell's house, shifting to Sir Peter's house, onward to Charles Surface's house and Joseph Surface's library, before doubling back to Sir Peter's.  But no matter where scandal is lighting down for a spell, or which of the characters are indulging in its poison, one can expect to be privy to the backstairs work in this back-biting world—and gain some wisdom on human nature to boot. 
Like gossip, the labyrinthine plot doesn't so much proceed as explode with revelations about the various characters.  And who holds the moral high-ground—and who doesn't--lends the play its ever-fluctuating dramatic energy.  The real fun, of course, is witnessing the rug being pulled out from beneath the feet of several principals and seeing through the hypocrisy of their faux virtue.  True, the plot is at times difficult to follow.  But even if you temporarily get confused, no worries.  You can always pick up its thread in the next beat or two.  No doubt the play carries the stamp of Sheridan's genius and is studded with his brilliant language that will pull you in time and again.  
By all means, don't neglect to thumb through the program.  It's a treasure trove of information on the author, his 1777 masterpiece, and the 18th century world he inhabited.  Among other things, you learn that Sheridan was born in Dublin in 1751 and arrived in the world in the same decade as Alexander Hamilton, who was born in the West Indies in 1755.   And it's no accident that the title of Sheridan's comedy echoes Moliere's The School for Wives (1662).  Sheridan was actually nodding to his predecessor's notable accomplishment and at the same time carving out his own niche in theater.   And if you want an instant snapshot of Sheridan as a playwright, look no further than James Gillray's cartoon artfully included in the program's timeline of events that span from 1751 to 1816.  It caricatures the playwright as a bottle of sherry that when uncorked, bursts forth invectives and puns.
Marc Vietor, who directs, assembles a cast that obviously feels right at home with comedy a la Sheridan.   Special notice belongs to Mark Linn-Baker, as the graying Sir Peter Teazle, and Helen Cespedes, as his young country wife Lady Teazle.  Both are splendid playing opposite each other, deftly revealing their character's quirks and the inherent pitfalls of being in a spring-autumn marriage.  Other actors who pull their dramatic weight are Frances Barber as Lady Sneerwell, Dana Ivey as Lady Candour, Jacob Dresch as Snake, Christian Demarais as Charles Surface, and Nadine Malouf as Maria.  Not only do they ably impersonate their respective characters, but they have them dish out the dirt with bite. 
The creative team ensures that Sheridan's masterpiece retains its vital ingredients without making it come across like a museum piece.  Andrea Lauer's set evokes the 18th-century with a few quaint pieces of furniture and décor.  Andrea Lauer's period costumes are a mix of buttoned-up and starchy suits for the men, petticoats and lace for the women, with a more rakish outfit for the prodigal Charles.  When it comes to be-wigging the dramatis personae, Charles G. Lapointe comes through with stylish curls and waves that look right for Sheridan's day.  In short, the creatives bolster the plot, reinforce the action, and underscore the play's central themes of hypocrisy (think Joseph Surface), defamation of character (nobody in the play's world is immune from malicious tongue-wagging), and steadfast integrity (think Maria).
What else to say?  Just that Sheridan's School for Scandal is an oldie but goodie.  Don't miss this opportunity to see this hugely entertaining classic where injurious gossip is the game--and goes on and on and on.  The play was an instant success when it opened at Drury Lane Theatre on May 8th, 1777.  And, as currently reincarnated by the Red Bull Theater company, it's just as intoxicating today.
Through May 8th.
At the Lucille Lortel Theatre, 121 Christopher Street, Manhattan.
For more information, phone(212) 352-3101 or visit online www.RedBullTheater.com
Running time:  2 hours; 20 minutes with intermission.