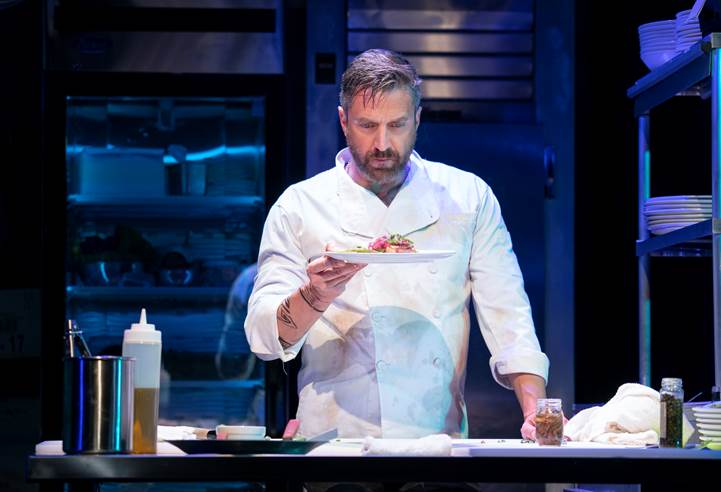 Raul Esparza                                    Photos by Joan Marcus
Seared
                  by Arney Rosenblat
Currently running at the MCC Theatre on West 52nd Street, Seared is a cautionary tale of what can happen when the art and commerce of cooking collide.
The first thing the audience notices upon entering the theater house is that they have a front row seat to an actual working restaurant kitchen, with gas burners, running water and sharp knives which has the potential of being the domain for a meal or perhaps a life altering culinary experience depending on the chef at its core. The creative force at the heart of this kitchen is Harry, an over-bearing, self- righteous man-child genius perfectly embodied by Raul Esparza.
Also a part of this restaurant domain is Harry's partner Mike, an empathetic, reality-grounded David Mason, whose financial investment and commitment to details have kept this small 16-seat Brooklyn restaurant afloat for two and a half years allowing Harry his flights of creative genius. The link between kitchen and patrons and the salve between the conflicting personalities of Harry and Mike is their waiter and jack-of-all-trades Rodney, a pragmatic and amiable W. Tre Davis, who in a pinch ultimately reveals that he really knows how to step up to the plate.

W. Tre Davis
When the restaurant finally catches a break in the form of a positive nod from New York Magazine for a scallop dish Harry created, Mike believes they are at last out of the woods. That is until Harry adamantly and arbitrarily refuses to prepare the scallops ever again despite the flood of customers drawn to their establishment for the dish, though Harry does still manage to distract and satisfy most of their customers with other tasty entrees smoothly delivered by Rodney. "I'm not feeling the scallops," advises Harry reacting in part to the fact that he doesn't see how he can obtain the quality ingredients needed in the volume required to make it a signature dish at the restaurant and in part to the fact he has a self-destructive streak.

with Krysta Rodriguez
In an effort to save the restaurant (and his sanity), Mike hires Emily, a consultant and publicist, who he actually encounters in the restaurant enjoying Harry's offerings of the night. Krysta Rodriguez is flawless in the role. With just the right blend of consultant speak and sincerity, she manages to secure buy-in as well from Harry for her efforts to enhance the restaurant's profile and profitability.
Out of his ear-shot, however, Emily shrewdly assesses Harry's persona and the challenges ahead of her, " Every reasonably talented guy out there has been told he's a fucking genius at some point in his life and...they all believe it and they've been believing it since they were four which is frankly when they stopped developing psychologically..that's not to say that Harry isn't actually special: clearly I think he is, or I wouldn't be here. But being special and knowing that you're special and also having an attitude about the fact that you're so special -- that ultimately makes you a little less special..."
Emily is first-rate at her job. In no time, she's cut through bureaucratic red tape to secure outdoor seating so as to expand restaurant capacity, created industry buzz to build traffic, delivered a free set of top-of-the line Japanese knives for Harry's use and even coaxed a modicum of increased cooperation from Harry. However, when Emily manages to pull off a PR coup by arranging a full restaurant review with a critic purported to be from The New York Times Harry heads towards a melt-down.
Thanks to the expert pacing provided by director Moritz von Stuelpnagel (his skill also made Hand to God one of the most biting and funny plays ever produced), the frenetic activity of an authentic restaurant kitchen is beautifully balanced with the singular creative culinary artistry that makes that kitchen work while Tim Mackabee's scenic design likewise supports the reality of this culinary world making the audience feel that we too can almost taste the resulting dishes. Each of the characters also provide wonderfully nuanced flourishes during the unfolding of the play such as Harry's nearly orgasmic expression when he first uses the premier Japanese knives Emily secured for him.
Though Theresa Rebeck's writing here offers little insight into why Harry, Mike, Emily and Rodney are who they are, she has given the audience a group of characters strong and interesting enough to hold our attention and spark our curiosity as to how the entwining stories of this battling quartet will resolve. In fact, I believe the essence of the play can be summed up in an engaging scene which opens Act 2 wherein Harry in a virtual culinary ballet sans dialogue amidst the sounds of a humming kitchen creates a new signature dish of seared wild salmon with what is dubbed Bengali onion chutney served with so-called fresh spring asparagus that Emily calls "amazing" but Harry rules as "It's getting there."
Ms. Rebeck is a talented writer who has frequently explored the conflicts between artistic expression, often tinged with self-indulgence, and commerce and did so in consort with Mr. von Stuelpnagel most recently in her powerful 2018 play Bernhardt/Hamlet.
In the end, Seared is a parable which illustrates that in the real world art and commerce must survive side by side and that no one, even the most creative geniuses among us is indispensable.
Seared
The Robert W. Wilson MCC Theater Space
511 West 52nd Street
Running time: 2 hours and 15 minutes
www.MCCtheater.org
646-506-9393 box office
212-727-7722
Closing Date: December 22, 2019