Seawall/A Life
                        by Arney Rosenblat
Academy Award nominee Jake Gyllenhaal and Tony Award nominee Tom Sturridge made their Public Theater debuts in an unforgettable and incredibly intimate evening of theater. Sturridge in his third collaboration with Tony and Olivier Award winner Simon Stephens (The Curious Incident of the Dog in the Night) performs Sea Wall, a compelling monologue about love, death and the human need to know the unknowable. Gyllenhaal continues his artistic collaboration with Olivier Award-nominated playwright Nick Payne (Constellations) in A Life, an emotional examination of how sons become fathers and the transformative power of love. The works are sensitively directed by Carrie Cracknell utilizing an almost bare two level stage set effectively designed by Laura Jellinek which focuses the audience's attention on the raconteurs and the impact of their stories Peter Kaczorowski's spot on bleak lighting completes the background mood.
Sturridge who opens the paired monologues in Stephens' Sea Wall last appeared on Broadway in 2017 in a gripping revival of "1984" In Sea Wall he portrays a photographer and young father named Alex trying to come to terms with an incident so overwhelming that he's compelled to acknowledge that "people tell me that....you appear to have a great big hole running right through the middle of you." Sturridge in his touchingly nuanced performance makes you all but see that hole.
A haunted Alex haltingly recounts his story of personal tragedy frequently digressing into non sequiturs, perhaps as a way of delaying the ultimate moment of sharing the loss that upended his life, which can at times make the thread of the story a bit difficult to track. Initially, we learn of Alex's blissful love of his wife, Helen, and joy in the birth of his daughter, Lucy, as well as his admiration for his father-in-law, Arthur, a retired British soldier with a seaside home in the south of France.
Then we learn that when his daughter was eight, the family joined his father-in-law for a family vacation which began pleasantly enough with Alex learning to dive for the first time. When he encounters the sea wall he's surprised by how precipitously it drops. "It drops down hundreds of feet. I had no idea that the bed of the sea was built like that," he observes, " I thought it was a gradual slope..And swimming there, with the sun, even bright as it is above us, ...Even then the darkness of the fall that the wall in the sea reveals was as terrifying as anything I've seen." Not surprisingly, the sea wall is also a metaphor for the way life can randomly and unexpectedly drop from beneath our feet so when the shattering incident occurs, both Alex and audience share in that loss.
As Alex tries to make sense of life and who to blame for the random tragedies it imposes, he seeks answers in God, yet, he seems no where to be found. "every time we think we've located where he must be, then we find out something else and we realize that God can't be there....(but) just because we don't know doesn't mean we won't know. We just don't know yet."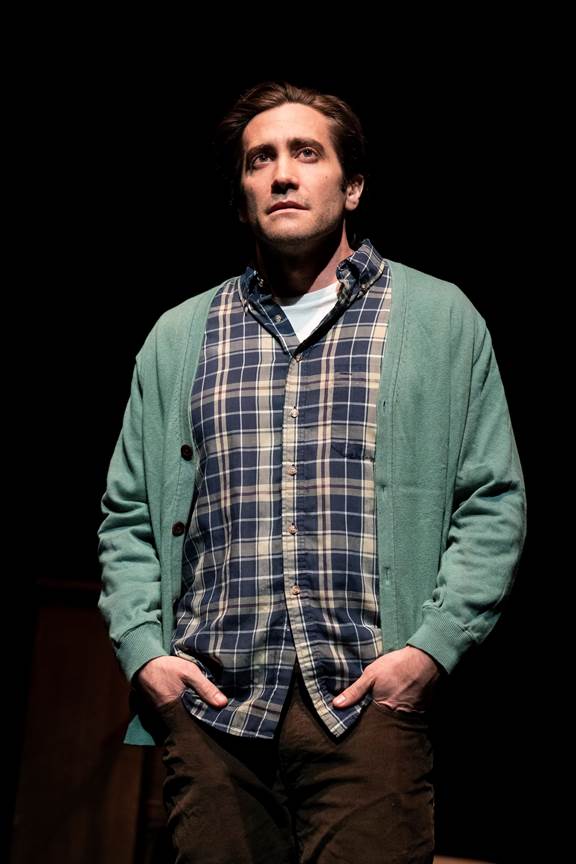 Photos by Joan Marcus
Mr. Gyllanhaal, who was a smashing success several years back in Sunday in the Park with George, bookends the pairing in Payne's A Life bringing at least a few lighter moments to the proceedings. He too is a young father, named Abe, but this time one who is nervously preparing for the birth of his first child while recounting the death of his father to heart disease some years earlier. As he toggles flawlessly between the two narratives, he raises some thought provoking observations on the circle of life, "I don't understand why we prepare so..wonderfully and elaborately for birth and yet so appallingly and haphazardly for death."
The details of his wife's labor, with their spat about names, her demand for Skittles and the nurse trying to coax her to release her "inner animal" are at least several moments of much needed relief from the tragic losses that overlay both stories. As Abe remembers the news of his father's final passing, he shares, "They tried for fifteen minutes to resuscitate him...It sounds to me both like an incredibly long time and not nearly long enough."
The apparent randomness of and search for meaning in death is a current that flows through both narratives but it is Abe who highlights one of its most overlooked facets in that "there are three kinds of deaths..The first is when the body ceases to function. The second is when we bury the body...And the third is the moment...when our names are said..for the last time."
This perfectly executed double bill reminds us how ephemeral the circle of life can be. and as the author Eudora Welty once observed, "The events in our lives happen in a sequence of time, but in their significance to ourself, they find their own order."
Messrs. Sturridge and Gyllanhaal can also be seen together in the movie Velvet Buzzsaw currently streaming on Netflix
Sea Wall/A Life
Running time: one hour and 45 minutes
The Public Theater
425 Layfayette Street
Closing Date: March 31
212-967-7555