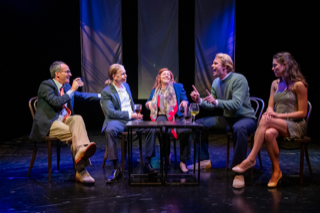 The Company of "Hot Fudge", as part of PTP/NYC's 35th Season at Atlantic Stage 2
Photo:Stan Barouh

PTP/NYC's 35th Season: Sex, Grift, and Death

By Deirdre Donovan

The PTP/NYC (Potomac Theatre Project) repertory season is back! In a limited run at Atlantic's Stage 2, the company celebrates their 35th Anniversary Season at Atlantic's Stage 2 with two programs: "Sex, Grift, and Death" and "Reverse Transcription."

First up was British playwright Steven Berkoff's "Lunch." And indeed, the very vehemence and savagery of this short play has something incredibly comic about it. In it, we meet a Man (Bill Army) and Woman (Jackie Sanders) on a beach anywhere. Although supposedly complete strangers, they find themselves sexually attracted to each other and yearning for some kind of connection. But how do they break the ice? No, it's not immediately with conventional dialogue but with that time-worn theatrical device called asides, courtesy of Churchill. Indeed, we get to eavesdrop on their passionate thoughts, their fears, their dreams. In short, we get to see what makes them tick. And, indeed, the Man is summoning up his nerve to introduce himself to the Woman. Interestingly, he can readily quote lines from "The Love Song of Alfred J. Prufrock." This narrative poem, by the bye, with its entrenched angst, becomes the perfect metaphor for the Man's own misgivings and loneliness. Although the Woman feigns indifference to the Man early on, she slowly lets down her guard and engages in a real conversation—and more—with the Man before the play's ends. Berkoff's language is terse, sexually-charged, richly poetic, and funny. Prepare to be blown away by the twists and turns in this piece. Boldly directed by Richard Romagnoli, this provocative pas de deux uncovers some profound truths about being a human being.

Next up was British playwright Caryl Churchill's four-scene piece "Hot Fudge," Although it originally was written to be a companion piece to "Ice Cream," this work stands alone just fine. Theatergoers familiar with Churchill's play Serious Money will discover that "Hot Fudge," with its financial entanglements, is its close cousin. The plot? In this alcohol-saturated work, we go on a whirlwind tour of an amoral world. Its first scene takes place in a pub at 7 p.m., where we meet Matt (Gibson Grimm), Sonia (Molly Dorion), Charlie (Chris Marshall), June (Danielle Skraastad), and Ruby (Tara Giordano), a shady bunch who seem to thrive on listening to each other's illegal dealings. Sonia and Matt are defrauding banks, Ruby runs a prospering travel agency, Jerry's (Terry Best) a global manager, and Hugh's (Chris Marshall) an estate agent. Churchill artfully employs non sequiturs and overlapping dialogue to point up the chaotic mind set of this greedy quintet. Scene Two fast forwards us two hours to a wine bar, where Ruby and Colin (David Barlow) are on a first date, swapping life stories and learning about each other's respective jobs in travel and the media. In spite of the laughter that punctuates their conversation, one continually wonders whether they are telling the truth or lies. The work gets zanier in Scene Three, where we see Ruby and Colin in a club at 11 p.m., accompanied by the energetic Jerry, Grace (Wynn McClenahan), and Hugh. Scene Four, set in Colin's flat, is the real zinger, however. Colin's ex-wife arrives on the scene creating a ménage à trois. And that's all I'll say here or risk being a spoiler. Directed with zest by Cheryl Faraone, "Hot Fudge" is a noir comedy that teaches us that self-invention can be a slippery slope indeed.


The program wraps up with Churchill's three-scene piece, "Here We Go." Set at a party after a funeral, the play's breezy title is actually a euphemism for death. Although one might think that this subject is a bit heavy for summertime, Churchill's treatment of it makes it right to watch anytime. The play is not only a heart-felt tribute to a deceased man but a vibrant portrait of him. We learn from his mourners that he lived through a war and three marriages, that he had an extraordinary mind that embraced both literature and science, and that he could tell a joke. This opening section surreally segues into a kind of confessional for the mourners. Lastly, there's a flashback to the final days of the deceased man's life, ending with a dumb show in which his caretaker repeatedly dresses and undresses him.


Reverse Transcription

Reverse Transcription invites the audience to visit the pandemics of yesteryear (The HIV/AIDS Crisis) and today (COVID), with the pairing of two plays, Robert Chesley's "Dog Plays" and Jim Petosa and Jonathan Adler's "A Variant Strain."

Robert Chesley, who wrote his "Dog Plays" in the two-years following his AIDS diagnosis in 1988, was a playwright of wit, observation, and sound craftmanship. The current revival of his "Dog Plays" is particularly meaningful because they serve as a prologue for Petosa and Adler's "A Variant Strain."

In the first vignette of "Dog Plays," entitled "(Wild) Person, Tense (Dog)", we meet the 45-year old San Francisco gay man called Dog (James Patrick Nelson). At the opening of the play, he addresses the audience: "I've just seen a ghost. But he ain't dead." The ghost, of course, is Buck (Joshua Mallin) and when he materializes on stage, Dog has a difficult time looking at him. As the moments pass, however, Dog and Buck do engage in a serious conversation on the impact of AIDS on their gay community and how the virus is now ravaging their own bodies. Yes, there's so much more to say about their lives. But Buck vanishes from sight, leaving Dog to his own thoughts. Directed by Petosa, the piece gets off to a slow start but gains traction as the action unfolds.

If the first scene is ghostly, the second piece, "The Deploration of Rover," is haunting as well. It presents the 40-something Fido (Jonathan Tindle), an overweight gay man who directly addresses the audience as he takes a toke of weed. He ruminates about the parties that once happened on Castro Street, where the beautiful gay men would gather. His reverie is interrupted when he suddenly catches sight of a display window with a memorial picture of a handsome gay man named Rover, who he once had a crush on. Fido sadly sighs:" Oh! So you're dead too, now?" Dog shortly enters the space, and seeing the picture of Rover, confesses that he too was infatuated with Rover, remembering him as The Golden Shower Queen of All Time. This piece, also directed by Petosa, gives one an authentic and disturbing look at the early days of the AIDS crisis.

The "Dog Plays" come full circle with the vignette, "Hold." Set in Dog's apartment in Buena Vista Park, San Francisco, the character Lad (Trey Atkins) is in bed, naked, suffering from full-blown AIDS. The character Dog also has AIDS—but presently he is more preoccupied with Lad's condition, including his dementia. In fact, Lad recently went missing for two days, prompting his room-mate to call Dog, and then the police. While Dog worried if Lad might be suicidal, the police fortunately found Lad at the end of a dirt road in Marin. There are lighter moments in this dark piece. For instance, Lad is obsessed with describing his recent dream about the stars to Dog, in which he regains all his friends who have passed away from AIDS. Lad digresses a moment, however, and asks Dog to look out the window at the Dog Star. With both of them gazing at it, Lad draws an imaginary line from it to the San Francisco General Hospital and then to Dog's chest, forming a triangle in the process. It's all an illusion, he tells Dog, referring to the stars that can seem so close, yet are light years away. But, illusion or not, this moment of tenderness between Lad and Dog is moving.

A Variant Strain

Jonathan Adler and Jim Petosa's two-act play, "A Variant Strain," is set in New Dog's New York City apartment. The time is a few days before Thanksgiving, 2020. No question it borrows motifs from Chelsey's "Dog Plays." But why not? As Adler and Petosa say in their program note: "There is a common maxim that history does not repeat itself, but it often rhymes. For us, the contemporary rhyme with the world of Robert Chesley's play is urgent and provocative."

The play begins with the character New Dog (Francis Price) getting a blow job from a Hook Up Guy. After the trick leaves, New Dog mindlessly scrolls through his phone. Not finding anything that holds his interest, he turns and directly addresses the audience, using them as his confidante. He attempts to explain to us his isolation and his need for human connection. But no sooner does he begin his speech than he is interrupted by the signal alert on his phone. Yes, it is Old Dog (James Patrick Nelson, who needs to be let into his apartment. Unlike the Hook Up Guy, the character Old Dog is talkative and has opinions on everything and everybody. New Dog and he engage in conversation. New Dog tells him that he is a nurse at Mt. Sinai and that he's been off work on quarantine for Thanksgiving. Old Dog remarks: "They say we're going to have another Roarin' '20's on the other side of all of this." New Dog immediately retorts: "I know, but I think it'll be more like gay liberation, but for everyone." A Variant Strain" is a sensitive, intergenerational two-act play that investigates the pandemic through a gay man's lens. Its best moments are when it picks up resonances from Chesley's "Dog Plays" and teaches us the importance of humility when facing forces larger than ourselves (think AIDS and COVID). Or as Old Dog aptly puts it: "Draw an imaginary line from you up to the Dog Star. Then draw another line down from the Dog Star to me. And draw a line from me back to you. Do you see the big triangle? You, the star, me, to you. . .do you?" Directed by Petosa, this play vividly speaks to our world today. While we can't watch it with the same kind of distance that we can bring to the "Dog Plays," "Reverse Transcription" still provides us with an invaluable perspective on our current pandemic.

Indeed, the 2022 PTP/NYC repertory season brings New York theatergoers a lot to chew on. Although not all the plays offered this summer are going to please everyone, there's surely a wide variety of dramas, pertinent subjects tackled, and excellent acting on view.

Through July 31, 2022
At the Atlantic Stage 2, 330 W. 16th Street, Manhattan.
For more information, visit www.ptpnyc.com
Sex, Grift and Death running time: 1 hour; 55 minutes with one intermission.
Reverse Transcription running time: 1 hour; 40 minutes with one intermission.