JOAN MARCUS
Laura Benanti and Zachary Levi in a new production of "She Loves Me."
 By Eugene Paul
Swollen with pride after fifty years of producing practical product for Broadway—and rightly so – the Roundabout has restaged in sentimental ardor their first restaged musical of a sentimental delight, She Loves Me. And blew it up far beyond its sentimental, intimate charms.  There isn't a subtle moment left, outside of exquisite Laura Benanti's exquisite comic timing, a surprising , major highlight of her gifts. Instead of allowing you to find the pleasures in this old fashioned  treasure, director Scott Ellis goes with his tried and true: he bops you over the head and demands: "ENJOY!"
In his determination to overwhelm us, he has the full cooperation of set designer David Rockwell who has transformed Maraczek's Parfumerie shop from a charming little bijou into a stage hands' extravaganza of wondrous labors, turning littleness into bigness, inside out and back again. In living candy colors, a confection gigantica.
JOAN MARCUS/©2016 JOAN MARCUS
Gavin Creel and Jane Krakowski take center stage.
 Ellis has hired stunning Laura Benanti to play mousy Miss Amalia Balash, brought in amazing,  gorgeous Jane Krakowski and her proven backlog of tricks to be not so mousy miss Ilona Ritter, who is having an affair with another one of the perfume shop's employees, and brought in tall, dark, handsome, funny, charming, matinee idol Zachary Levi to be shy, dull assistant manager Georg Nowack, who writes "Dear Friend" letters anonymously to an equally shy respondent. Little does he know that his darling correspondent is Amalia, right there, in the shop.  Nor does dear Miss Amalia realize that her unknown "Dear Friend" is practically beside her in that very same shop! An " Awww,c'mon" moment if ever. And director Ellis doesn't stop.
Maraczek's parfumerie in downtown, impoverished  Budapest, 1934  -- a hangover of a city if ever there was one – was the absolute inspiration for the Jerry Bock-Sheldon Harnick genius for purveying delicious, digestible schmaltz music, full of nostalgia and calories. Ellis had the bonus security of leaning on the effective, proven romantic sentimentality of the Joe Masteroff book for the show as well, so it's just good biz sense to pour on the schlock. And don't they just, enthusiastically, all of them enter into the spirit. Not the show's original spirit, small, sweet, tender, touching, no, the big new spirit: Bop, bop, bop.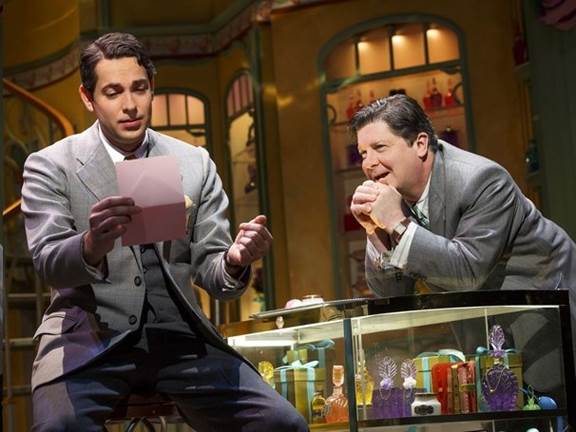 Zachary Levi as Georg and Michael McGrath as Sipos i
For instance, when delicate maiden Amalia finally, finally agrees to meet her "Dear Friend" at the charming, little, intimate Café around the corner, it turns into the notoriously swank Café Imperiale, hangout of the rich and illicit, liaisons at every table, heavy breathing, close, very close dancing, a floor show and a camp sur maitre d'hote (the damnedest Peter Bartlett) who hams beyond ham keeping a kind of kindly eye on little lone her. And when Georg, shy, dynamite Georg, sneaks in –nudged by older, wiser, Sipos, (Micheal McGrath on top of his game) to see at least what his "Dear Friend" look like, it's enough to make anyone gassy.  Pass the bicarb.
Of course, not to lay that on director Ellis.  It's where wistful Amalia in the little café sings the achingly beautiful waltz, "Dear Friend", and you are supposed to melt and you do.  But dear Laura  -- I mean Amalia – has this big, fantastic voice, and, of course, she's miked, so it's belted out, to rounds of applause, I might add,  end of first act. Lay that on Ellis. He knows that Benanti can do anything. Even submerge.  Does he ask for that?  Is the Pope Catholic?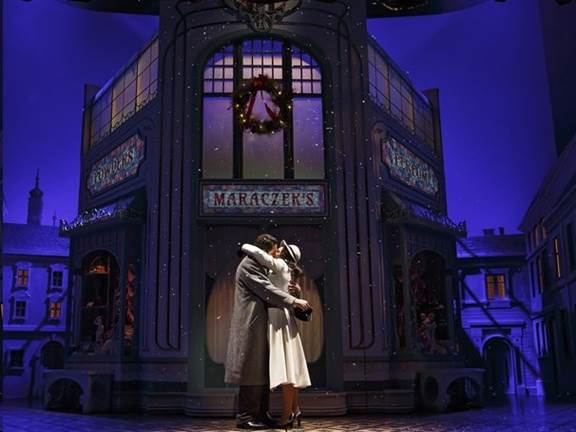 The second act has a full complement of big songs "She Loves Me", "Vanilla Ice Cream", "A Trip to the Library" and more, and every number is sold, big. Mr. Maraczek (dapper Bryan Jennings who surprises with his big voice) has lousy aim shooting himself, Ilona's sweetie, Steven Kodaly, God's gift to Budapest's women (ditto Gavin Creel) two times her too much and lots of loose means to tie up but everything ends the way it should, doesn't it?  Only bigger and better.  The Ellis way.
She Loves Me. At Studio54, at 54th Street near 8th Avenue. Tickets:$53-$157. @hrs, 20 Min. 212-719-1300. Thru June 24.