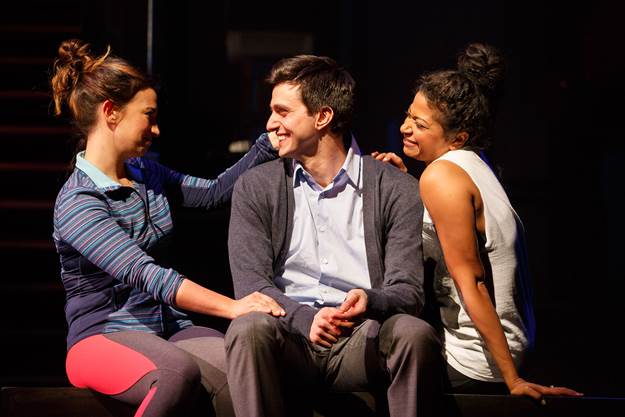 Sas Goldberg, Gideon Glick, and Rebecca Naomi Jones                  photos by Joan Marcus
                                                 By Ron Cohen
"I'm almost twenty-nine years old and no one has ever told me they love me. That's like a problem, isn't it?" says Jordan Berman, the hero of Joshua Harmon's angst-ridden comedy, Significant Other, which has come to Broadway after an acclaimed Off-Broadway run at the Roundabout Theatre Company.
Jordan has other problems as well. His three closest friends, Kiki, Vanessa and Laura, are one by one getting married, leaving him, a hapless gay guy, alone to brood over his encroaching loneliness. And boy, does he brood, to the very end of the play when he's holding back a torrent of tears at the wedding of Laura, the last of the three gal pals to marry and the very best of his best friends.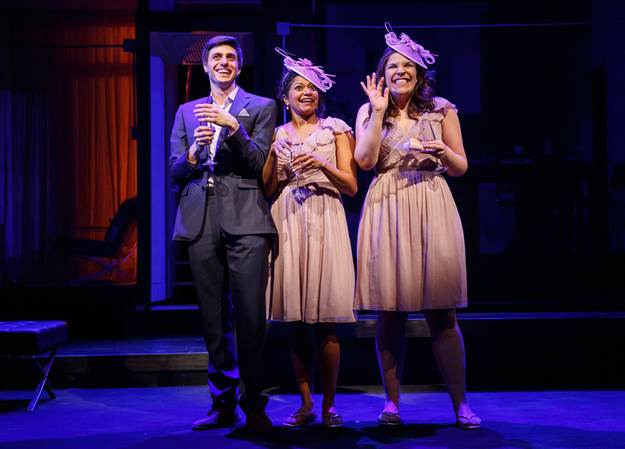 : Gideon Glick, Rebecca Naomi Jones and Lindsay Mendez.
It's an orgy of self-pity that somehow is made breezily entertaining through Harmon's smart, laugh-provoking dialogue and the fluid direction of Trip Cullman. Also helping quite a bit is the soul-baring, goofball charm that marks Gideon Glick's stellar turn as Jordan, complemented by the distinctive identities of his three BFFs. They are the clownish and loquacious Kiki portrayed by Sas Goldberg with a notable assortment of grimaces; Vanessa, played by Rebecca Naomi Jones, who comes across as the most girly of the three, and Lindsay Mendez's Laura, the deepest and most sensitive. Laura and Jordan were once platonic roommates, and as Jordan reminds her, when she had the flu, "I even cleaned your armpits."
There's no pretense of these women being glamour girls or fashion plates in the motley assortment of clothes provided them by costume designer Kate Voyce. But supporting the adage that "all brides are beautiful," they all look radiant in their wedding gowns.
The play takes place in such time-tested New York rom-com venues as discos and bars, the ad agency where Kiki and Jordan both work, neat-looking apartments and even the Museum of Modern Art.  There are also the far-flung destination weddings. All the locales are reasonably suggested on Mark Wendland's multi-level unit set, artfully lit by Japhy Weideman. 
Jordan's fear of mounting solitude certainly merits some degree of audience sympathy, but to be truly heart-rending, playwright Harmon's quartet of friends might have to be a little more consequential than they are. We're told what jobs they hold, and they seem to be proficient enough to earn at least adequate livings. But when they get together, the conversation rarely veers beyond the ins-and-outs of personal relationships, dwelling in large part on the pleasures and pains of gay man-straight woman friendship and, naturally, how to find the right mate for Jordan. We see some of Jordan's aborted attempts to do just that, and it's as if there's nothing else going on in their self-absorbed world.
Some intimation of mortality, though, is brought into the mix with Jordan's recurring visits to his loving grandmother, played by Barbara Barrie. They examine old photographs, recount the family's history, and, in a timely exchange, express admiration for the courage of their immigrant forebears. She likes to ask her grandson about his "social life," which on most occasions, he says is "fine." She talks about the ways she could kill herself, but assures him that it's "just talk.' These scenes give the play a welcome and somewhat deeper tone, set by Barrie's embodiment of the grandmother, dispensing affection in a graceful, non-gushing manner.
Rounding out the cast are John Behlmann and Luke Smith, both of whom deftly take on varied personalities and looks as the husbands of the three new brides and the men who drift in and out of Jordan's radar.
On balance, Harmon's play misses being greatly significant, but it provides an engaging look at straight and gay millennials working through the thorns and thickets of love versus friendship.
Broadway play
Playing at The Booth Theatre
222 West 45th Street
212-239-6200