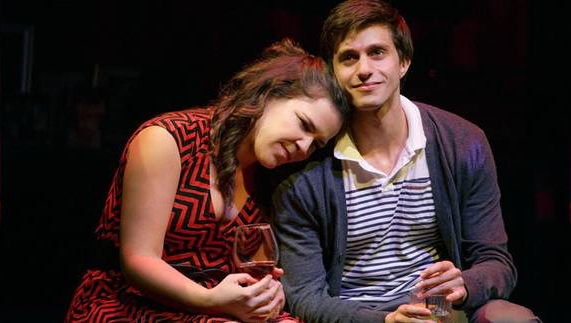 †Lindsay Mendez and Gideon Glick photos by Joan Marcus
By David Schultz
Jordan Berman (Gideon Glick) is stuck in a rut. In his late 20ís, this gay gent is filled with inherent emotional longings, almost operatic in their intensity. He wants a true romance, a boy friend, not just a hook-up. His complete and utter failure in finding this ephemeral man of his dreams makes this gangly neurotic Jewish boy pine endlessly away with mostly disastrous results. In a bid to distract himself and channel his passions elsewhere, he frequently hangs out with his gal pals who prove to be his safe haven; at least for a while.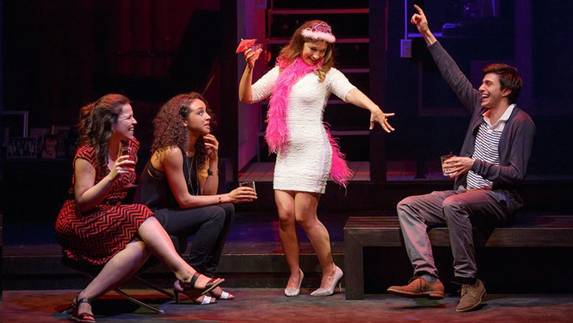 †
(From left) Lindsay Mendez, Carra Patterson, Sas Goldberg and Gideon Glick
Playwright Harmon imbues his play with sharply etched characters. The framework of the play is heavily schematic, with all three women given their due, as each of them dates, then mates, then marries, one after the other. The falling away of Jordanís relationship to the girls and their respective husbands gives a compelling sense of loneliness mingled with his heightened sense of despair. Kiki (Sas Goldberg) high strung, saying the most outrageous things with no thought of the consequences. Vanessa (Carra Patterson) cool, collected, cynical, shot through with faux ennui. Laura (Lindsay Mendez) is the more emotionally resonant with a bond that almost bespeaks of a soul mate with Jordan. They both know better, but their intimate connection gives them both a calming respite from the dating world at large; until she also finds a man and swiftly gets married.
Jordan has his flirtations, which prove to be awkward and hopeful simultaneously. The new guy at the office is a strapping, muscle-bound chiseled man that makes Jordan weak in the knees. Will (John Behlmann) is nonchalant and uber-cool to Jordanís administrations. That Jordan actually works up the nerve to ask him out on a date is extraordinary, that he accepts is doubly so. The date at a movie theater proves to be a turning point for Jordan; as his overactive mental capacity for obsession goes into hyper drive. It is obvious, from the spectator view that these two are not a match, but the not-knowing-for-sure-where-this-is-leading-to makes this Jewish boychick shaken to his core. The heaping pile of phone texts sent to Will, culminates in an overly excessive needy email, pleading for a possible continuation of their friendship with the hope that it would blossom into something more solid. The girls all in unison, beg him to NOT send this missive to his intended target.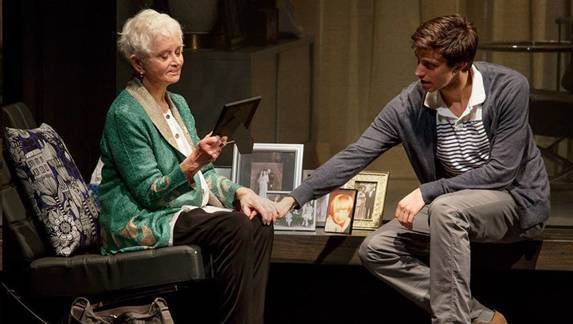 †
©2015, JOAN MARCUS
Barbara Barrie and Gideon Glick
Intermingled with this hunt for finding ďThe OneĒ, Jordan makes his weekly visit to his beloved grandmother, Helene (Barbara Barrie), They obviously love and adore each other, and go through a repetitive ritual of chatting, she asking about who he is dating, going over the myriad collection of old photos. It is a soothing haven of finding peace from within, the sense of the history of their family moving toward the future. The unease and jarring sentiment of Helene finding that she, at times might want to end her life, to ease her pain, gives Jordan a disturbing peek into the dusk of life.. Shot through with sly humor, the undertow of sadness, the realization that the finding of true ever-lasting love might never come to fruition is just lying underneath all the witty banter.
Director Trip Cullman gives the production a fluid sense of momentum. In an unusual move, he gives triple duty to Mr. Behlmann, as he essays all of the intended grooms/husbands in addition to his hunky persona of dreamboat Will. It is jarring, but funny and perfectly apt to the proceedings. Set designer Mark Wendland has brilliantly encased the performers in a cubist series of box-like environments to perform in at least four or five separate individual spaces within the stage setting. The simple, yet chic construction highlights the various scenes to great effect. Lighting effects by Japhy Weideman complement the actors and give depth to the performance space with finesse. Costume designs by Kaye Voyce are au courant; special mention to an assortment of garish bridesmaidís gowns that are amusing and odd to the eye. The final scene, with an emotional blowout with one final bride takes Jordan to a new level of potential understanding
Harold and Miriam Steinberg Center for Theatre/ Laura Pels Theatre
111 West 46th Street
roundabouttheatre.org
212-719-1300