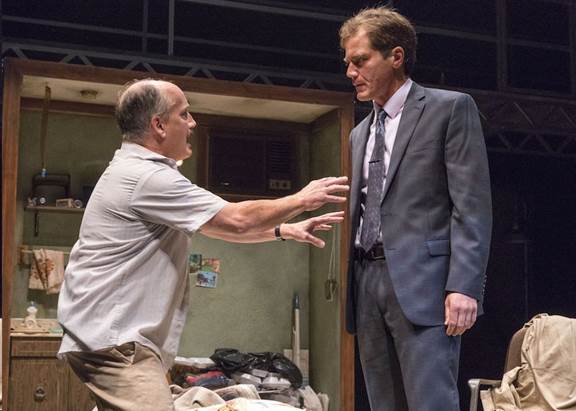 Guy Van Swearingen, Michael Shannon               photo by Richard Termine
                                   By David Schultz
A Red Orchid Theatre's production of Sam Shepard's 1994 play has been revived onstage at The McCarter Theatre in Princeton NJ. Filled with his typical characters, this excessively plotladen tale spirals in endless circles until it collapses under its own weight. All the performers are committed to their roles and each of them imbue their idiosyncratic quirks with relish.
There is much to savor in small moments that seem to be heading somewhere "important", but regretfully leaves one hanging until the next improbable development. This film noir homage to the films of the 40's and 50's is filled with misfits trying to pull their lives back into some semblance of order and respectability. The plot is dense with many set changes and time shifts back in forth, to give a prismatic view, slowly revealing the haunted past of these wounded souls.
The plot commences in a seedy motel room in Cucamonga, California. Carter (Michael Shannon) nattily dressed, visits his old pal Vinnie (Guy Van Swearingen).  Fifteen years have passed since their shady criminal scheme…not much is revealed early on as to what had transpired. But eventually plot points turn to a box of very incriminating photos that Carter wants, and needs Vinnie to return to him, for a handsome price. Carter is a wealthy horse breeder who resides in Kentucky and years ago ran off with Vinnie's wife. They are now married, unhappily with unresolved issues. Vinnie never got over that transgression and harbors anger within. To salve his pain Vinnie frequently pretends to be a private investigator to impress any woman that may strike his fancy. Vinnie has an infatuation with a checkout woman at the local supermarket. The woman Cecilia (Mierka Girten) actually has possession of the pictures…Vinnie in his attempt to impress her gave her the snapshots in an envelope to hold onto for safekeeping. Carter, naturally wants the pics and makes a beeline to her apartment to obtain them.
The storyline becomes even more convoluted with Cecilia traveling in her off-season Kentucky Derby finest outfit to confront a former horse racing kingpin Simms (John Judd) who has ….go figure …a shady past, what with his name change and a connection to those highly coveted snapshots that everyone seems to either want to sell or buy. While all this is going on, alternate timeframes then show Vinnie revisiting his ex wife Rosie (Jennifer Engstrom) with those photos in hand, hoping to rekindle their lost relationship, and steal her back from Carter.
 The final scenes culminate with a feverish dreamlike episode with Carter and Vinnie back at that seedy motel with what appears to be a reversal of their identities. Its an allegorical scene that works….or does it?  It might even be an imaginary nightmare of one of the men. Both are onstage, but Shepard always leaves a lot for the viewer to discern and unscramble.
The set design by Grant Sabin has a fluid movement throughout. An overhead scaffolding hangs above the stage, and lowered for dramatic effect at one point. Small wedges of scenery glide on and off to reveal different locations and various timeframes. Costume design by Christine Pascual hits all the right notes and saves her best outfits for the women. Her Sunday Kentucky Derby outfit for Ceccilia is a visual hoot. Directed with a knowing eye by Dado, this talented craftsman lets each scene move in cinematic fashion. But the fact is that his well-honed cast, even with all their brio can't give this play much fuel. The play stumbles and lurches from scene to scene. The immense bite and danger that Shepard is capable of is sorely lacking in this play. Much nonetheless can be savored in the interplay with the performers as they bounce off each other with seeming abandon. The expected payoff never comes which leaves the end of the play open to interpretation.
Playing at the McCarter Theatre
Princeton, NJ
91 University Place
609 258 2787
mccarter.org
Playing through October 15th, 2017