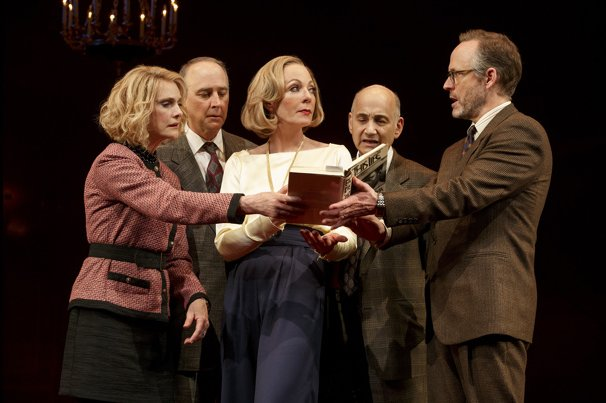 Photos by Joan Marcus
                                                                    By Marc Miller
How au courant, how up-to-the-minute Six Degrees of Separation seemed in 1990. John Guare's serious comedy, based on a then-recent true incident that happened to two of his friends, served up a tumult of contemporary issues in its 90 tightly packed minutes: race; sex; rich vs. poor; privilege vs. none; The Catcher in the Rye. Guare's well-spoken central couple, Flan (here John Benjamin Hickey) and Ouisa Kittredge (Allison Janney), are the sort of well-off, well-meaning liberal Upper East Siders in which a substantial portion of the audience will see itself. And the story of how Paul (Corey Hawkins), a charismatic young stranger, insinuates himself into their lives is, first and foremost, a rattling good tale. How well has the property, which inspired a movie and whose title became a modern catchphrase, aged in 27 years?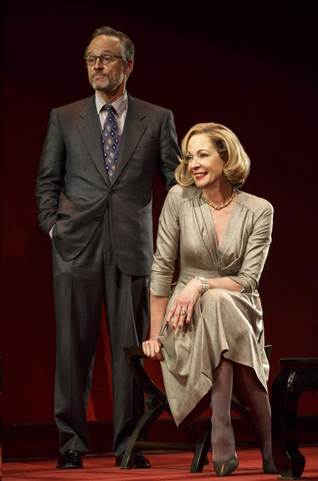 John Benjamin Hickey as Flan and Allison Janney as Ouisa
Pretty well, though the revival at the Ethel Barrymore, directed a bit tentatively by Trip Cullman, doesn't outrage and astonish as did the original. Overfamiliarity, perhaps, but also a noticeable sanding down of the original's hard edges. Flan, an on-the-rise art dealer, and Ouisa, his bright, questioning wife, both seem curiously mild-mannered and reactive here; eventually both explode, but it's a long wait. When, in the sad denouement, Ouisa declares that they're a terrible match, it doesn't ring true, because Janney and Hickey have spent the whole evening playing functional helpmates. And when they're not the focus of attention, we tend to forget them.

Corey Hawkins
The Kittredges' bafflingly passive nature shines the spotlight that much harder onto Paul, and Hawkins is wonderfully up to reveling in it. As the putative Harvard classmate of the couple's children who shows up at their Fifth Avenue digs one fateful evening, dripping with blood and telling how he was mugged in Central Park, Hawkins varies his stage rhythms splendidly (he has a number of challenging monologues) and paces about the stage with an eagerness and ambition entirely in keeping with Paul's persona. He's Sidney Poitier's son, he explains, and was supposed to meet his dad, who's coming to town to discuss directing a film version of Cats, tomorrow morning. The Kittredges are thoroughly taken with Paul, as who wouldn't be, and put him up for the night and loan him money, utterly unaware of the surprises to follow.
Guare stuffs his dialogue with ideas and philosophies, most prominently Ouisa's discovery that "every person is a door opening onto another world." He also creates a detailed, populous look at a certain type of New York lifestyle, aided by a large stack of supporting characters: art associates, the Kittredges' ungrateful kids (Colby Minfie and Keenan Jolliff are hilarious; one of Guare's subthemes might be, Don't have children), their classmates, well-bred friends. It's an intricate narrative, and Guare alternates so gracefully between constructing and tearing down the fourth wall that you're not even aware of it for a while. Until it's firmly destroyed, and characters are routinely approaching the footlights and narrating for great stretches, and you want to say to the author, please, show, don't tell.
Mark Wendland's somewhat minimalist set doesn't do a great deal to convey the Kittredges' world, and Clint Ramos's costumes feel at once contemporary and '90s-retro. But Ben Stanton's lighting, heavy on the red, helps establish a wary, foreboding climate in which Paul can flourish with his evasions. Social media aside—today, he'd be tweeting and Facebooking and Instagramming to further his cause—it's a narrative that still feels relevant and possible, and still raises troubling questions about black-white and gay-straight dynamics. Why does Ouisa remain captivated by Paul, even after all the damage? Is it partly a way of saying to the world, Look, I'm a white woman of means and I'm not prejudiced? And what other avenues exist for a smart, opportunistic striver like Paul? Could he ever hope to advance without a diabolically clever angle?
Such questions still resonate, but a little less forcefully than they did the first time around. In 1990, Six Degrees of Separation seemed like an omnibus exploration of all the vital issues affecting a city of people from all walks of life all trying to inhabit the same limited turf. In 2017, it's entertaining, it's witty, it's thoughtful, and it's refreshing to see a stageful of so many actors, mostly on their game. But the you-have-to-see-this atmosphere that pervaded the Mitzi Newhouse has largely evaporated.
Broadway Play
Playing at the Ethel Barrymore Theatre through July 16
243 W. 47th Street
Sixdegreesbroadway.com/212-239-6200