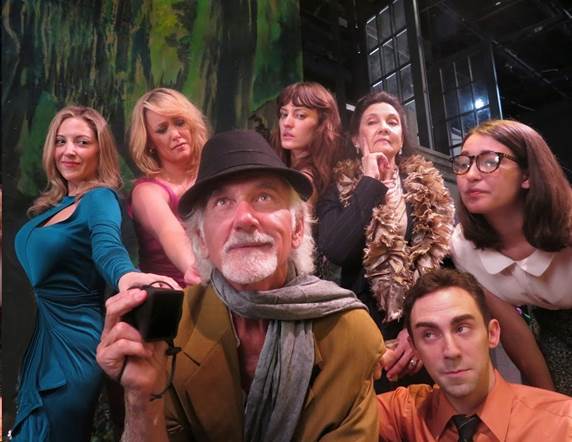 by Deirdre Donovan
Years before Mario Fratti and Maury Yeston's collaborated on the Broadway musical Nine, Fratti had already done its theatrical spadework with his Six Passionate Women, written in 1977.  Like Nine, this earlier venture is a thinly-veiled study of Italian film maker Federico Fellini.  And though it doesn't have the gorgeous music to embellish it, this comedy still captures the soul of an artist who feeds on women and lives for his art.
This is a no-frills production.  But with Fratti's long-time collaborator Stephan Morrow at the helm, the essence of the work remains intact.  Set in Venice for Act 1 and Rome for Act 2, it revolves around themes of infidelity, revenge, and the battle between the sexes.  Its protagonist Nino (Dennis Parlato), who tellingly wears a Fellini hat, is romantically involved with several beautiful women, each who serves either as his muse or wife.  And though the egotistical Nino realizes he needs each of his romantic partners, as the scenes unfold, it is clear that he is an artist first, and husband and lover second.
Aside from the romantic rigmarole, there's a Candid-camera motif that makes this play highly original.  Nino's victimized women soon join forces with an American producer Mrs. Gunmore (Ellen Barber), who decides to create a film about the philandering artist that will expose his extramarital affairs.  This scheming producer plants a camera in Nino's bedroom and studio to get footage of his affairs.  And, as you watch this film-within-a play being slyly created, you can see the tables being turned gradually, with the exploited becoming the exploiters.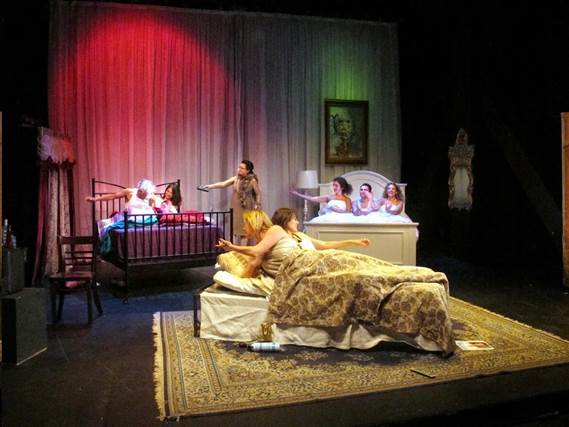 Photos courtesy of Jonathan Slaff
There's' no doubt that the lead actor playing Nino makes or breaks the show.  And, fortunately, Dennis Palato makes it here.  He inhabits the Fellini figure, if not with a swagger, an unshakeable confidence.  He may well be the most mature actor to play the Nino character, who the playwright imagined as in his late 30s (Palato looks a decade or so older).  But, as this production reveals, the part is elastic enough to accommodate Palato's interpretation.
Looking beyond the principal, Kevin Sebastian performs Nino's screenwriter (and his woman stealer) William with just the right amount of savoir faire.  And the rest of the ensemble carries their parts with the necessary blending of cunning and boldness.  All six female actors—Marianna (Coleen Sexton), Anna (Laine Rettmer), Valia (Donna Vivino), Sonia (Giulia Bisinella), Mrs. Gunmore (Barber), and Franca (Carlotta Brentan)--know how to adopt a male posture or just hold their ground, when necessary for the plot's demands.  In fact, this play nods to the women's liberation movement, then in full swing in American society, each time one of its female characters gets behind the camera.
This is far from a flawless production!  Still, Morrow manages to block the scenes well and to integrate the subplot of the women filming this Fellini figure.  But his staging would certainly benefit from a set (set design by Mark Marcante) with more Italian flavor and sharper lighting (Alexander Bartenieff). Fratti meticulously described in his script how the set design and lighting should appear on stage, and corners obviously have been cut here.  That said, Morrow manages to get all the play's major points across, and so what if the polish is less than perfect here.
If you are a Broadway musical maven who has enjoyed Nine (or its revival), and would like to see the play that inspired its music, then go to the revival of Fratti's revenge comedy in the East Village.  You won't get bowled over, but you will get something better:  a real slice of theater history.
Through October 26th.
At Theater for a New City, 155 First Avenue, Manhattan.
Tickets: $12. Phone (212) 254-1109 or visit www.theaterforthenewcity.net
Running time:  90 minutes with no intermission.