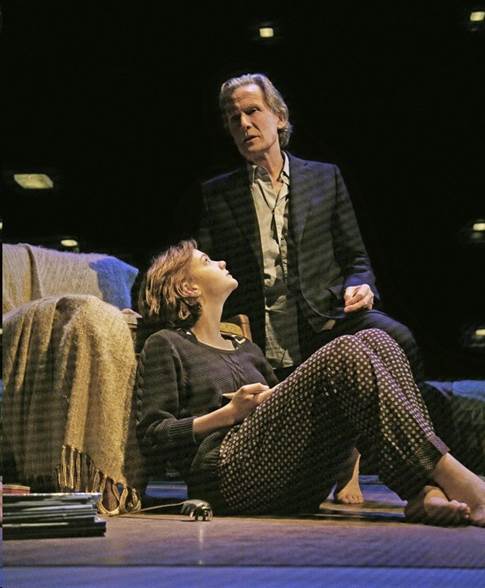 Bill Nighy and Carrie Mulligan                             Photos by John Haynes
                                              by Deirdre Donovan
"I mean, to be a teacher, the only thing you really have going for you … there's only one thing that makes the whole thing make sense, and that is finding one really good pupil."
Kyra, the schoolteacher character who is devoting her life to teaching disadvantaged kids in Northwest London, speaks those words at the play's close.  And if her career choice smacks of heroism, well, there's no doubt she does emerge in David Hare's Skylight, now in a potent revival at the Golden Theatre, as a modern heroine.
Just in case you haven't heard the buzz, this current Broadway production of Skylight has crossed the pond following its 2014 hit run in the West End.   The terrific cast includes Bill Nighy as the middle-aged rich restaurateur Tom Sergeant, Carrie Mulligan as the devoted 30-ish schoolteacher Kyra Hollis, and Matthew Beard (a Broadway newbie) as Tom's 18-year-old son Edward Sergeant.  And even if you swear that the 1997 Broadway staging of Skylight can't possibly be bettered, Stephen Daldry's (An Inspector Calls, Billy Elliott) mounting is clearly going on record as a mighty fine one.
On the surface, the play is about two "old flames," Kyra and Tom, connecting one evening in Kyra's rundown London flat.  Tom has unexpectedly dropped by her place, and Kyra can't resist inviting him in for a spell to catch up on his life in general.  Years ago, Kyra had worked for Tom in his posh restaurant business, moved into his homestead, and became a family friend of his wife and adolescent son.  For six years, Kyra was also Tom's mistress.  But when his wife found out about the relationship, Kyra abruptly left the Sergeant home and began a new life for herself.
Although the play really revolves around Kyra and Tom (now widowed a year) as they debate the possibility of rekindling their past relationship, there's a strong political thread interwoven into the repartee between the pair.  Skylight keenly captures England in its post-Thatcher days. And those theatergoers who recall that period will easily catch the references to the "Poll Tax" and other Thatcher-isms that pepper Hare's language.  In fact, much of this play's appeal is that it is not only a tale of two "old flames" connecting again but a glance back to a very different decade and a vanished state-of-mind.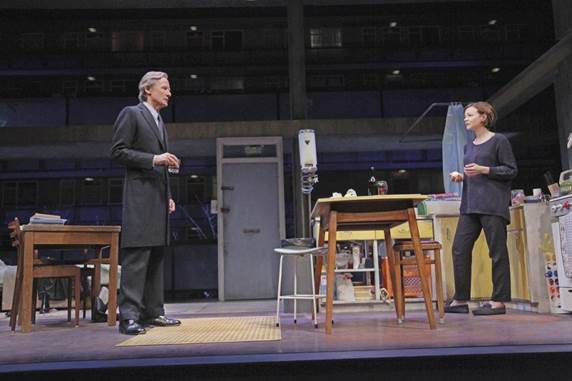 Crowley's set is just right for a gritty and virtually heatless London flat.  It has the look of working class digs, complete with an old stove, a small fridge, and threadbare furniture.  This dinginess is counter pointed by Natasha Katz's poetic lighting, which sometimes casts a preternatural glow over the stage at crucial moments.  
Incidentally, there's a real spaghetti dinner cooked on stage in this production.  And if you sit in the front rows of the orchestra, you can really smell the homemade meal in process, complete with tomatoes being pureed into sauce and some garlic for seasoning.  It brings an incredible realism to the staging and definitely adds a warm human dimension to the goings-on.
While the cooking add ambience, the real ace here is the acting.  Those who caught Nighy in The Vertical Hour on Broadway in 2014 will be pleased to see him in fine fettle here.  He inhabits his restaurateur character with swash and buckle, and often infuses a droll humor into his lines.  Mulligan is simply flawless as Kyra, balancing her idealism with a worldly savvy.  Matthew Beard performs Edward as if he was born for this part, and brings a refreshing spontaneity to his filial role.  Although he's in a supporting part, he's unforgettable at the close of the play as he postures as a waiter and serves a gourmet breakfast to Kyra in her chilly flat.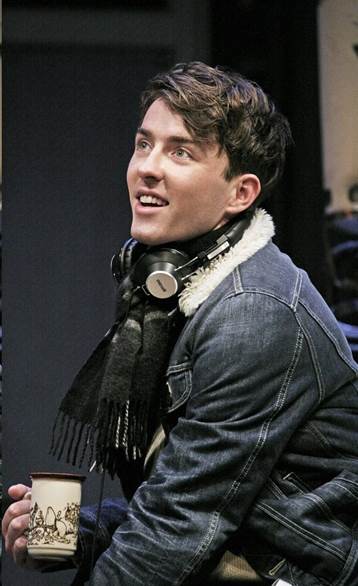 Matthew Beard
Skylight is educative art at its best.  Never preachy, ever fascinating, it is a serious look at two ex-lovers who cross paths again and take an inventory of their lives to date—and wonder about their future.  Tom and Kyra's hearts are plumbed, their ideologies are explored, and their minds and hearts continually spar during this 2 hour-plus piece.
This play will make some sigh, others cry, and everybody become more conscious of the fact that love is a mystery that is impossible to fathom.
Skylight
Through June 21, 2015.
At the Golden Theatre, 252 West 45 Street, Manhattan
For tickets, visit https://www.telecharge.com  For more information, go to www.skylightbwy.com
Running Time:  2 hours; 20 minutes with one intermission.