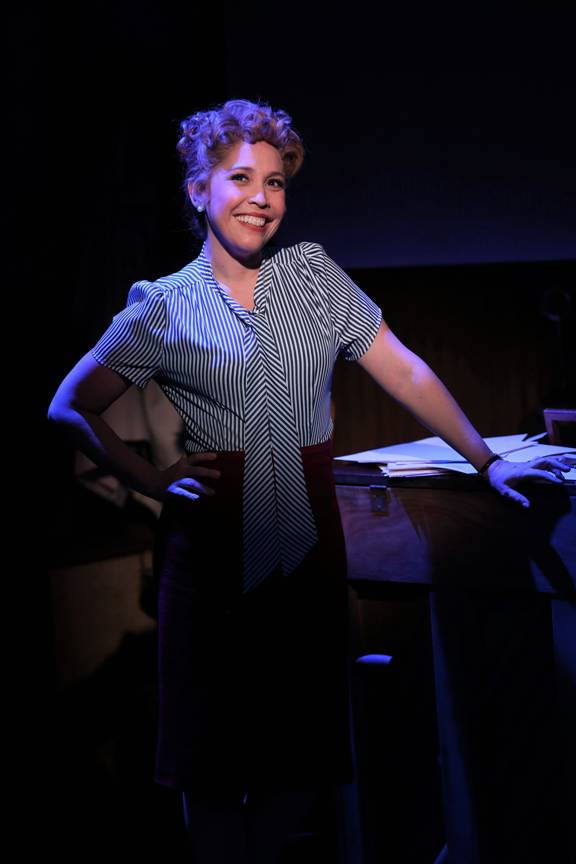 Andrea Burns
Smart Blonde
                                By Ron Cohen
"Beloved Star of Stage and Screen." Probably no one deserved the accolade more than Judy Holliday, whose innate intelligence, vulnerability and womanliness gave depth and magnetism to the dumb -- or at least flighty -- blonde persona that marked most of her roles. She catapulted to Broadway stardom in Garson Kanin's Born Yesterday, then won an Oscar reprising the role on film, went on to bring sensitivity and comedy to a mixed bag of movies, and then late in her career conquered Broadway again in the musical Bells Are Ringing, created for her by her long-time friends Adolph Green and Betty Comden. She starred in the film version as well, and it was her last film. She died of cancer in 1965, just before her 44th birthday.
In the aptly titled Smart Blonde, playwright Willy Holtzman has put together an affectionate, often affecting sketchbook of Holliday's life.  It's a traditional bio-play telling, in which the character at a crucial point in life looks back at all that came before. It gains some additional heft in its intimations of the conflicts that can arise between a performer's stage persona and real identity. And in its 90 minutes or so, it's fairly cluttered, but then, so was Holliday's life.
Of course, a lot of the show depends on the actress metaphorically fitting her feet into Holliday's shoes, and Andrea Burns, who won plaudits playing Gloria Estefan's mother in the Broadway musical On Your Feet!, does a highly commendable job. She pretty much captures the New York-inflected, high girlie tremolo Holliday affected – an octave higher than Holliday's own voice, we're reminded more than once during the course of the play. Burns apparently had a good warmup for the role by playing Billie Dawn not too long ago in a production of Born Yesterday at a theater in Florida. Furthermore, that production was directed by Smart Blonde's director Peter Flynn. (The signature gin card game scene from Born Yesterday is replicated to good effect.} 
When it comes to looking like Holliday, well, for that you may have to squint a bit at first to affect more than a passing resemblance. But eventually you may be content to just let Burns' interpretation with its coiffed blonde wig take on its own reality.
A framing device for the narrative is a recording session where Holliday is making an album with the last love of her life, jazz saxophonist Gerry Mulligan. Holliday is singing on the album and has written the lyrics for some of the tunes. She is also tensely awaiting the results of her cancer treatments, and the tension turns on the voices in her head that take her back to many other key times of her life.
L-R: Andréa Burns, Jonathan Spivey, Mark Lotito, Andrea Bianchi     photos by Carol Rosegg
There are plenty of them, including her start in show business with a cabaret act where her colleagues were Comden, Green and Leonard Bernstein; her career-escalating meeting with Kanin; her first unsuccessful foray into Hollywood; her fending off the advances of movie mogul Daryl F. Zanuck, and her gaining rapport with another such mogul, Harry Cohn, who produced most of her films. There are also her close friendship with the ex-cop Yetta Cohn, the breakup of her marriage to the recording executive David Oppenheim, her love for her son, and the influence of the many members of her leftie family. And most tellingly, there is her appearance before a Congressional committee investigating Communist infiltration, and how she got away without naming names by affecting her dumb blonde persona on the witness stand. Even so, we're told, Harry Cohn had to buy her name off the Hollywood blacklist to continue using her. Through it all is the frequent note that Judy Holliday is really Judith Tuvim, a brainy Jewish girl from Queens, who occasionally has a weight problem. 
Sounds like a cast of thousands, doesn't it? But other than Burns, the cast numbers just three and they work like Trojans, playing a momentous array of characters with little change in look but enough different definition to generally keep things from dissolving into a blur, as one scene slips into another.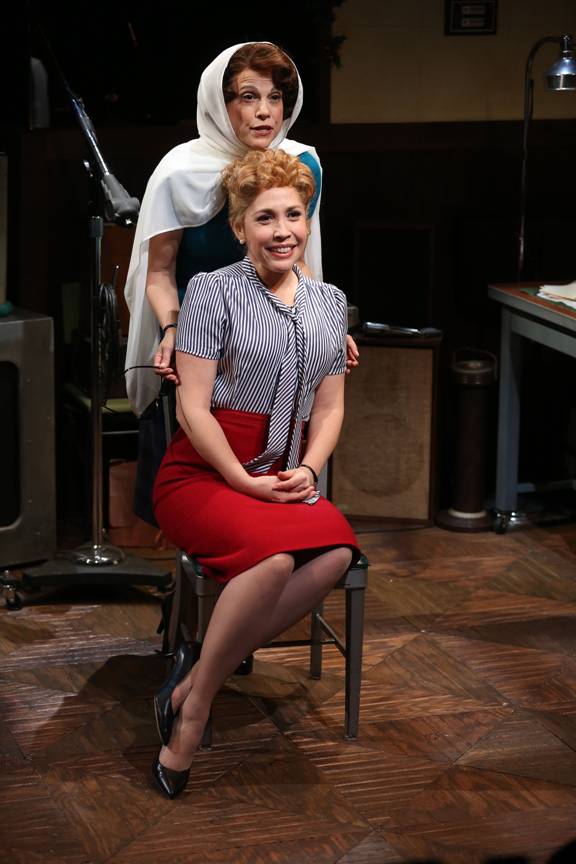 L-R: Andrea Bianchi, Andréa Burns
Mark Lotito fairly well convinces in a spread of characters ranging from Holliday's nimble chum Adolph Green to her self-involved husband Oppenheim and the empathetic Mulligan, with many others in between.  Andrea Bianchi deftly embodies such personalities as Kanin's wife, Ruth Gordon; an imperious Ethel Barrymore accepting the Oscar for Holliday, who's in New York appearing on stage in Born Yesterday, and a breathy Marilyn Monroe, who visits Holliday in her dressing room. For good measure, Bianchi also plays Yetta Cohn; Holliday's spacey mother; Betty Comden, and more.
Jonathan Spivey's retinue of characters includes, among others, both Hollywood moguls, Zanuck and Cohn; an elderly depiction of famed Yiddish theater actor Maurice Schwartz, and a youthful Jack Lemmon, Holliday's co-star in two of her films. Spivey also sits down from time to time at the piano, and his duet with Burns on the Ted Koehler/Harold Arlen standard "Let's Fall in Love" is one of the show's biggest applause-getters.
The show is studded with songs, and Burns scores with a very moving rendition of Irving Berlin's "What'll I Do" and some lively boop-boop-be-doing in "I Wanna Be Loved By You." In fact, the show seems like it's almost yearning to be a musical. You may get the feeling at time that you're watching a budget-strained workshop production for an incipient musical. Tony Ferrieri's set design fairly well replicates a recording studio, but there's little differentiation in look for the multitude of flashback scenes as well as little change in Michael McDonald's costumes to mark the passage of time or assist the constant character-shifting of the cast.
Peter Flynn's staging uses the tight space adroitly, and Alan Edwards' lighting neatly focuses various playing areas. Burns wears a red skirt suit with a striped blouse. For some scenes, she takes off the jacket. You get to know the suit pretty well by the time the show is over. The male cast members also keep busy taking off and putting on their suit jackets or donning an occasional hat, and Bianchi covers her head with a scarf to hide her dark hair when playing Monroe.
The production's bare-bones feeling doesn't detract irretrievably; on the positive side, you could just say it's all a coup de théâtre . But in the play's naturalistic style, the sparsity of players and the seemingly makeshift physical production values are all too apparent, diminishing clarity and dramatic effect. Holtzman's writing and, particularly, Holliday's story deserve more.
Review posted March 2019
Off-Broadway play
Playing at 59E59 Theaters
59 East 59th Street
646-892-7999
Playing until April 13