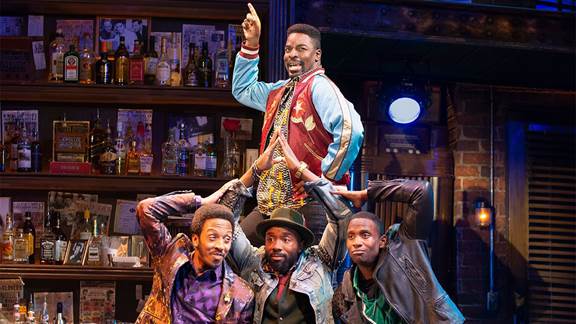 Kyle Taylor Parker, Dwayne Cooper, John Edwards and Jelani Remy. Photo: Gary Ng
Is It OK to enjoy a musical without a message? Yes!!!


                  By Jeanne Lieberman

Imagine you are home alone back in the 50's or 60's, your parents have gone out, you turn the radio to your favorite rock 'n roll station and crank up the volume, and suddenly songwriters Lieber & Stoller invade with wall to wall sound and you are free to dance with abandon ("Kansas City", "Jailhouse Rock"," Hound Dog"), just sit back and swoon over love songs ("Loving You"," Spanish Harlem", "Falling") or weep to the ballads of heartbreak ("I Who Have Nothing", delivered with intensity by John Edwards, "There Goes My Baby", "I Keep Forgettin'"). Or you can just feel silly ("Love Potion #9', "Yakety Yak", "Poison Ivy").
You can do all that, minus the dancing, at the newest version of the 1995 hit, Smokey Joe's Café, currently raising the roof at Off Broadway's Stage 42. It hosts a roster of 9 top notch performers, who delivery 40 songs in just 90 nonstop minutes with nary a word in between. But Jerry Leiber and Mike Stoller's songs don't need interpreters. There is nothing subtle in their blues infused catalogue of mid century songs. The emotions, so many and varied, so transparent, go right into the bloodstream.
The original Broadway production hardly wowed the press in 1995, but it ran for nearly five years anyway and has had many successful revivals globally. To say that the beauty of this revival is that it is so far removed in time from the original airing of these musical gems that they seem fresh but that is not really true as many of these songs never went away. They are so iconic they are constantly being performed somewhere.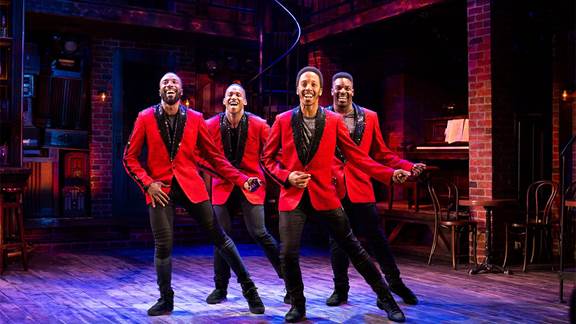 John Edwards, Jelani Remy, Dwayne Cooper and Kyle Taylor Parker. Photo: Julia Russell
"On Broadway" has become just as much an anthem as "Give My Regards to Broadway". "Hounddog" and "Jailhouse Rock" elicit a knee jerk response whenever Elvis Pressley is mentioned.
What is fresh are the talents of Dwayne Cooper, Emma Degerstedt, John Edwards, Dionne D. Figgins, Nicole Vanessa Ortiz, Kyle Taylor Parker, Jelani Remy, Max Sangerman, Alysha Umphress, and the band (musical director Sonny Palandino).
The cast members are uniformly superb, whether in close harmony, duets or radiant solos. Their nonstop energy and enthusiasm pervades the house and indeed they do run into it from time to time. The same goes for the very talented musicians who are motored on and off the stage from their side spot in the wings, each getting solos in their well deserved moment in the spotlight.
Director/Choreographer Joshua Bergasse has infused each number with exciting movement so that each is a polished vignette. Beowolf Borit and Alejo Vietti have kept their scenic and costume designs comfortably unobtrusive so as to not detract from the star of the show - the music.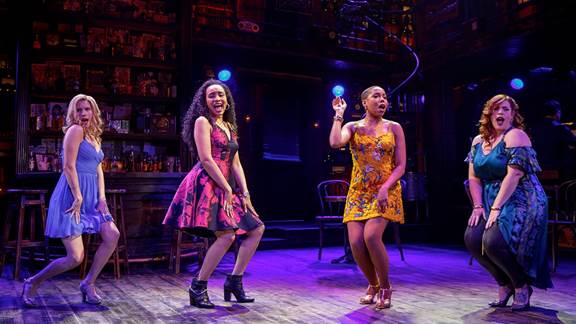 Emma Degerstedt, Nicole Vanessa Ortiz, Dionne D. Figgins and Alysha Umphress. Photo: Joan Marcus
And who can say there are no messages in the show? The defiant, empowering "I'm a Woman" (perhaps the first of the women's liberation songs?) is certainty a forerunner of today's "I Will Survive" and "R-E-S-P-E-C-T".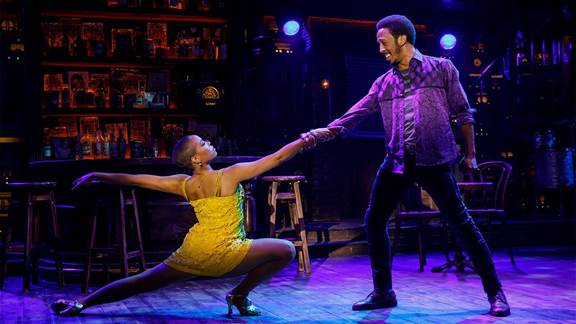 Dionne D. Figgins and Dwayne Cooper. Photo: Joan Marcus
However, equivalency is realized in the tongue in cheek "You're the Boss" coyly delivered by Dionne & Dwayne.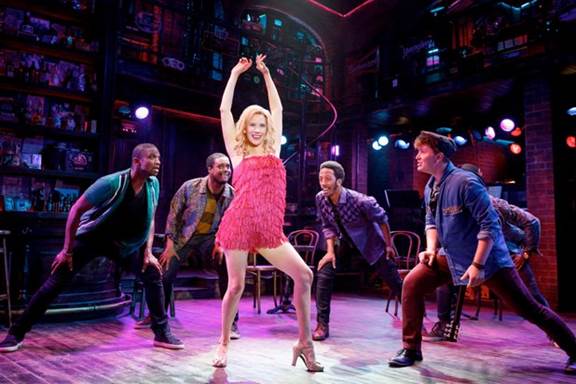 Emma Degerstedt with Jelani Remy, Shavey Brown, Dwayne Cooper and Max Sangerman. Photo: Joan Marcus
And when Emma Degerstedt tosses those fringes in "Teach Me How to Shimmy" one can only hope the "Me, Too" movement won't call this sexist.

In these days of rap, be it misogynistic or just plain angry, there seems a hard edge on the very emotions that Lieber & Stoller evoke from a softer, perhaps happier age, surely one that reaches your heart with melody and context, that makes your body pulse, not vibrate. Indeed the emotions of passion, unrequited love, longing, exultation are still effective to those of us whose hearts can be directly touched by these songs.
The show is launched by the evocative "Neighborhood" and closes with the rousing "Stand by Me", which had the audience clapping along in rapt unison, then topped off with the religious, down home fervor of church choir gospel in "Saved", embracing the audience with those magic music makers onstage.
Perhaps there's a message after all.
Smokey Joe's Cafe: The Songs of Leiber and Stoller
At Stage 42; 212-239-6200, smokeyjoescafemusical.com. Running time: 1 hour 30 minutes
.