Andrianna Hicks, (center, l) J. Harrison Ghee (center, right) (Photo: Matthew Murphy)
Some Like It Hot
By Fern Siegel
The Billy Wilder's 1959 movie classic "Some Like It Hot" remains the top comedy on the American Film Institute's list. And for some cinema purists, turning it into a musical comedy on Broadway was met with trepidation.
After all, who could replicate the sheer delight of watching Marilyn Monroe, Tony Curtis and Jack Lemmon?
Happily, the writers and producers of the Broadway musical Some Like it Hot, now at the Sam. S. Shubert Theater, haven't tried to duplicate its legendary status. Rather, they pay it an homage, while delivering a 21st-century twist, thanks to a marvelously funny and insightful book by Matthew Lopez and Amber Ruffin and a zippy, melodious score by Marc Shaiman and Scott Whittman, known for Hairspray.
This iteration of Some Like It Hot is a fun, high-voltage traditional musical, a jazzy, toe-tapping extravaganza. It's The Producers for 2022.
The story, set in Prohibition-era 1933, remains the same. Two musicians, Joe on sax (Christian Borle) and Jerry on bass (J. Harrison Ghee) witness a mob killing and have to flee Chicago. Mob boss Spats Colombo (Mark Lotito) puts out a hit on the duo, who fashion a novel escape. They pretend to be women in an all-girl band, Sweet Sue and her Society Syncopators, and board a train headed West in the lively "Vamp!" number.
Once ensconced with the group, the men, now Josephine and Daphne, meet Sugar (Adrianna Hicks). Monroe played the sexy siren who always got "the fuzzy end of the lollipop" as a sultry, wide-eyed sweetheart. A nice girl with a passion for saxophone players, she mused: "Then one morning you wake up and the saxophone is gone and the guy is gone, and all that's left behind is a couple of chipped reeds and a tube of toothpaste, all squeezed out."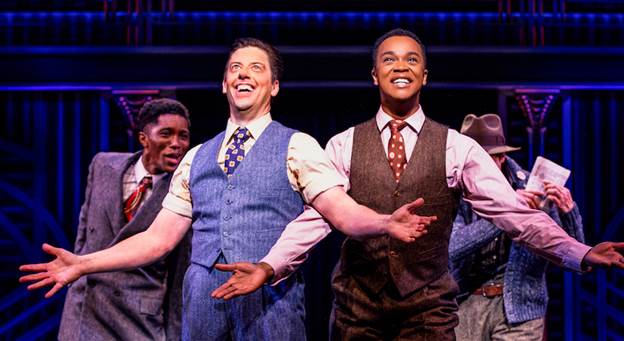 Christian Borle (left) and Harrison Ghee (Photo: Marc J. Franklin)
But because Hicks is black, the writers have introduced a racial theme that keeps Sugar center-stage as a singer, but eliminates the overt sex-kitten aspects associated with Monroe. The song "At the Old Majestic Nickel Matinee" underscores the racial divide in a moving way. The film was a radical exploration of gender expectation — ultimately, an education for Jerry and Joe. As women, they went through the looking glass and experienced, firsthand, what it meant to be female.
"No men?" asks one bandmember sarcastically. "But who's gonna talk over us?"
In the theatrical version, the issue of gender is less about stereotypes and roles and more about channeling the inner female. Gender fluidity wasn't an issue in 1959. Now, it's a subject that can be addressed, as Some Like It Hot makes clear, with humor, charm and understanding. Ghee is a marvel, imbuing Daphne with strength, awareness, vision and sass.
"I feel like I fit in. These girls get me. They actually listen to what I have to say. Maybe make friends with some of the other gals instead of just mooning over Sugar," Jerry/Daphne tells Joe.
Little wonder that a newly revamped Osgood (a fantastic Kevin Del Aguila) is captivated by Daphne's newfound confidence. Their plot twist is perfect, a potent reminder that one can hew to memorable characters yet reimagine their fates in new and provocative ways. And Osgood's "Fly, Mariposa, Fly" is especially touching, recognizing we often wear masks to disguise our true selves.
Of course, what keeps the show moving at a fast clip is the electric choreography by Casey Nicholaw (The Book of Mormon, The Drowsy Chaperone), who also directs. Much of the stage business is old-school — slamming doors and stylized chases — which is ideal for the Art Deco set design by Scott Pask and costume design by Gregg Barnes.
All are in service of stellar performances by Borle, Ghee and Hicks, who make a dynamic trio. In fact, the entire cast is top-notch. NaTasha Yvette Williams as Sue, Angie Schworer as her No. 2, Minnie, and the women who comprise the Society Syncopators hit all the right notes.
There are several love stories here — and Ghee and Del Aguila supply some singular moments. But the most telling may be the playful chemistry between the two leads. Together, they discover that real friendship is a bond that cannot be broken.
Some Like It Hot – Sam. S. Shubert Theater, 225 W. 44 St.
Running Time: 2 hours, 30 minutes, one intermission
Tickets: somelikeithotmusical.com/tickets/