Solea Pfeiffer, Mykal Kilgore, Shoshana Bean, Colin Donnell
                    by Julia Polinsky
Jason Robert Brown made a name for himself with Songs for a New World, back in the day. It was an off-Broadway moment as they were crafted in the 90s: a collection of Rent-like music, put together by a talented, energetic 25-year-old and his collaborator, Daisy Prince. They conceived the show, worked on it for ages, finally gave it an over-arching theme: people on the cusp of experience, headed into the unknown. About to explore a new world.
Really, it's an amazing feat, when you consider it. An unknown composer manages to get the attention of a director with vast Broadway connections, and between them they cobble together a show of nothing but the unknown composer's unknown songs. That kind of story keeps theater-kid wannabes pounding New York City pavements, hopeful of the big break that will make their work and themselves famous. Ok, well known. Ok, produced.
And produced it was; Songs for a New World saw a brief off-Broadway run, before it gained a substantial afterlife in community theaters and college and university theater programs. You can see why; the songs are sing-able, in a blandly post-Sondheim way, and if they're not overwhelmingly exciting, at nobody has to memorize lines.
Wait, what? No book? Nope. None to speak of. The sung-through score of Songs for a New World stands, or falls, on its merits as a collection of examples of Brown's songwriting skill and the performances of his singers, and boy, does the show need those singers to sing the hell out of Brown's songs.
Most of the score is songs for actors; they need to be Acted, not just sung. Two of the singers in the Encores! revival step up to the plate and absolutely kill it, in smashing performances: Mykal Kilgore and Shoshana Bean do  terrific jobs, giving Brown's songs the star turns they need.
 Shoshana Bean, Mykal Kilgore
In particular, "On the Deck of a Spanish Sailing Ship, 1492" benefits from Kilgore's amazing talent, style, and presence, as well as his awesome voice; the song and the singer might have been created for each other. His other numbers, alas, although very good, lacked the same intensity. Shoshana Bean has three exceptional moments, in "Just One Step," "Stars and the Moon," and "Surabaya Santa," a number emphatically over the top – literally.
The other two singers, Colin Donnell and Solea Pfeiffer, balance each other well, being equally pleasant and hardworking, but not exciting. Pfeiffer displays a lovely wispiness in "Christmas Lullaby," but Donnell's best efforts can't raise even his most emotional moments above somewhat wooden.
Director Kate Whoriskey presents this staged reading as just that, complete with music stands and scripts-in-hands. What's novel and interesting, though, is her use of an ensemble of dancers to enhance? Decorate? Explicate? Inform? Whatever. To dance around the songs. The dance ensemble competently executes choreographer Rennie Harris's hip-hop/street/contemporary/modern dances, which are visually compelling, utterly distracting, frequently unrelated to the songs, and ultimately a head-scratching moment.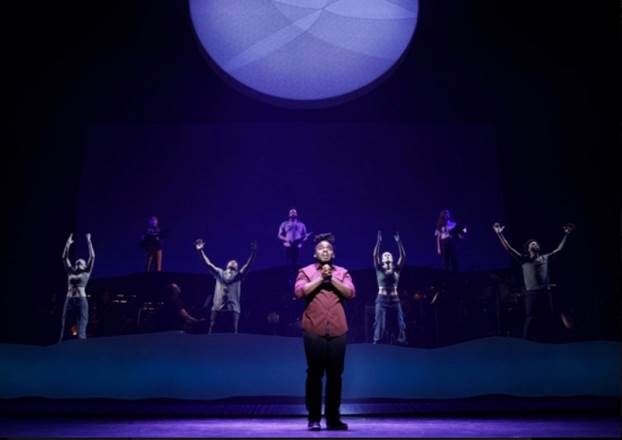 Mykal Kilgore,                                                                                    photos by Joan Marcus
Why are these dancers here? Once or twice, they really do give a visual boost to the impact of a song – particularly in "The Flagmaker," and the transition to it. But mostly, they're interesting to watch, but not doing much for the show other than to give the audience something to look at.
The Encores! stage always presents challenges. An excellent orchestra under music director Tom Murray, sited on stage, offers opportunities for a sound designer to try to overcome the simple fact that orchestras by their nature produce more sound than singers do. Sometimes, sound designer Leon Rothenberg manages that balance well; other times, not so much, in spite of all the miking. Scenic designer Donyale Werle makes a charmingly moon-and-starlit set – a lovely reference to "Stars and the Moon,"  one of the best songs in the show – and really gets to flex her design muscles on "Surabaya Santa;" costume designer Clint Ramos has a ball with that number, too. 
Songs for a New World certainly has a loyal following; the audience went utterly batty over many of the numbers, jigging in their seats, leaping up to applaud, shouting approval. Thank god for loyal fans. They keep the dream alive.
Songs for a New World
Encores! Off-Center
Jun 27 – 30
Wed & Thu at 7:30pm,
Fri at 8pm, and Sat at 2 & 8pm
131 W 55th St (between Sixth and Seventh avenues)
New York, NY 10019
https://www.nycitycenter.org/pdps/songs-for-a-new-world/
CityTix® 212.581.1212