Sandra Mae Frank and Austin P. McKenzie           photos by  Joan Marcus
                               by Deirdre Donovan
You've got to hand it to Deaf West Theatre for reviving the rock musical Spring Awakening on Broadway this season.  After all, the memory of Steven Sater's and Duncan Sheik's 2006 Spring Awakening, which snagged 8 Tony Awards and launched some actors' careers (notably, John Gallagher Jr. and Jonathan Groff), has hardly faded from theatergoers' minds.  This new production, however, has its own frisson.  As directed by Michael Arden, it reimagines the musical by setting it in a deaf school in Germany and doubling deaf and hearing actors for key characters.
The production has a (mostly) young cast of 28 and is performed simultaneously in American Sign Language and spoken English.  Theatergoers who saw Deaf West and Roundabout Theatre Company's Big River on Broadway in 2003 will need no nudge to see this Spring Awakening.   Deaf West Theatre has become a synonym for high artistic quality.  So, if you missed Big River, consider yourself lucky that you have a second chance to see this remarkable company.
The show comes to New York with lots of buzz.  It has been staged twice in Los Angeles to good reviews at Inner-City Arts Rosenthal Theater in September 2014 and the Wallis Annenberg Center for the Performing Arts in May 2015.  True, New York theatergoers tend to be a tough group to impress.  But judging by the looks of the audience members who sat in the orchestra seats near me, this production is gaining steam.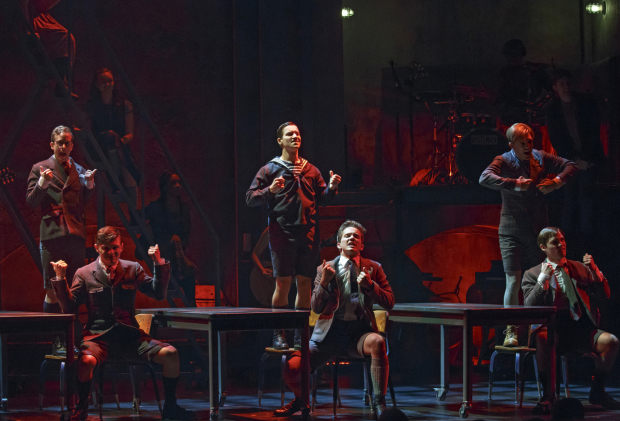 Go early to the show!  You will be able to see the actors slipping into their period costumes in a pre-show act.   Going early also gives you a chance to thumb through the program and become familiar with the large cast of deaf and hearing actors and find out how this production is making its own carbon footprint (more later, on this).
Spring Awakening is a tearjerker.  Based on Frank Wedekind's 1891 expressionist play (it was banned after publication and not produced until 1906), this coming-of-age tale revolves around three German teens, the angst-ridden Melchior (Austin P. McKenzie), the conscientious student Moritz (Daniel N. Durant), and the endearing Wendla (Sandra Mae Frank).  Each character is full of contradictions as they confront puberty and grapple with their budding sexuality and the adult world.  To complicate things, the adults in their world are attempting to mold them to fit into bourgeoisie society.  Unsurprisingly, these teenagers rebel, seeing the hypocrisy of the bluenosed adults who are not practicing the moral code they teach.  This musical fiercely explores the themes of teenage sexuality, masturbation, sadomasochism, suicide, and more.
The Deaf West Theatre company is well-known for their practice of doubling roles, that is, one actor will sign and the other will speak/sing the dialogue.  This marriage of signing and speaking/singing has a surprising eloquence on stage.  Not only does it force you to think about the reality of being deaf in a hearing world, but it is fascinating to watch two actors seamlessly create one persona.  What's more, it unapologetically thrusts American Sign Language to center stage.
This Spring Awakening is a mini-history lesson on deaf education too.  Arden, in a program note, points out that eleven years before Wedekind's Spring Awakening was published in Germany, there was the Milan Conference that "passed a resolution banning sign language across Europe and the United States."  In short, lip reading and speech were considered "superior" to sign language in the late 19th century. While Arden doesn't try to hit one over the head with the Milan Conference in his Spring Awakening, he nods to it by staging his piece in a deaf school.
The acting is superb.  It seems wrong to single out any performer from the 28-member ensemble, but Austin P. McKenzie (a hearing actor) is truly a wonder in the lead role of Melchior.  He gives new meaning to the term "triple threat" as he speaks, sings, and signs during the show. If the young actors are terrific, so is Broadway veteran Patrick Page.  Page takes on a quintet of roles here and delivers all to perfection with his mellifluous voice.  Oscar winner Marlee Matlin inhabits three parts, and delivers all with brio.  And a shout out to Ali Stroker who becomes the first actor ever to perform in a wheelchair on a Broadway stage.  If art is supposed to hold the mirror up to nature, then this musical does so with twenty-first century realism and inclusiveness.
Admittedly, the rock songs (lyrics by Sater, and music by Sheik) aren't new but they register differently here than in the original Broadway production. Perhaps it's the deaf actors' gestures that visually coordinate with the hearing actors' crisp vocal phrasing.  In any case, there is a dramatic intensity flowing through each musical number that is not only heard but felt.
As for the choreography, I confess a bias for Bill T. Jones' athletic choreography in the original Broadway staging of Spring Awakening.  But Spencer Liff is no slouch and his whip-smart choreography is executed with ferocious energy by the ensemble.
And let's not forget Dane Laffrey, who does double duty as set and costume designer.  His austere set neatly underscores the atmosphere of repression here and his period costumes look right by not being overdone.  Ben Stanton's lighting shifts with the mood of each scene and Gareth Owen's sound design crackles.
True, there are lighter, and more feel-good, musicals on Broadway now than Spring Awakening.  But Arden proves here that a dark musical can be a very stirring—and soulful--experience.  And it just might change your perception of the deaf community.
Through January 24th.
At the Brooks Atkinson Theatre, 256 W. 47th Street, Manhattan.
For more information and tickets, visit www.ticketmaster.com or calling 877-250-2929.
Running time: 2 hours; 25 minutes with one intermission.