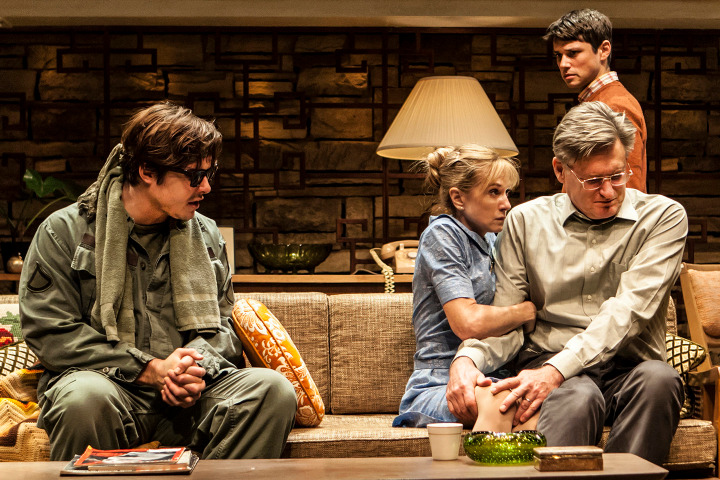 Ben Schnetzer, Holly Hunter, Bill Pullman and (standing) Raviv Ullman  Photos: Monique Carboni
                               by David Schultz
A revival of playwright David Rabe's Tony Award winning play Sticks and Bones (1971) may prove to be the most moving and gut wrenching play in New York City at the moment. This seriously demented twist on the Ozzie and Harriet T.V. clan, circa 1968, during the height of the Vietnam War still cuts deep. Every generation has its wars and war heroes, as well as its forgotten unsung soldiers.
The play is set in a very specific time and place (1968), but the parallel to soldiers returning from the more recent wars in Afghanistan and Iraq is quite resonant. Bill Pullman and Holly Hunter are the picture perfect couple. They inhabit the roles of Ozzie and Harriet with measured cadences and speak in a zippy repartee; very reminiscent of the way the television couple spoke in the golden age of the 1950's era.  Equally in sync with the frothy family is son Rick (Raviv Ullman), chirping with a short staccato verbal style, which amuses at first, then assumes a sinister undercurrent as the play evolves.

Holly Hunter and Bill Pullman
The characters all seem a bit too animated, a bit too shrill and a bit fearful of what condition son David (Ben Schnetzer) will be in, on his return from the Vietnam War. This sets into motion the return of the war hero to the homestead. All hopes are shattered upon the return in the early scenes of the play. David returns, shell-shocked and blind. His emotional state is frayed and he is consumed with a deep-seated anger at what he experienced, and even more so at the total mindlessness and apparent shallow welcome he receives from his picture perfect family. The more the family seeks to comfort and placate David, the more his anger boils to the surface. They hope to stave off his inner demons with religious help from Father Donald (Richard Chamberlain) to no avail. David conjures the image of a woman he had a brief relationship with back in Nam. This ethereal woman named Zung (Nadia Gan) doesn't speak, until a brief scene later. She alone seems to calm his inner demons.
This brief synopsis doesn't do justice to the many-layered nuances that Mr. Rabe has written into the script. From top to bottom, this impeccable play has been blessed with articulate acting from the entire cast. Director Scott Elliott amazes with unswerving pitch-black comedy that slides into horrific emotional scenes in quick succession…so fast at times its hard to catch your breath. This hard-to-pin-down, what comes next roller coaster masterpiece is the opposite of comfort food.
The achingly accurate living room set design by Derek McLane is perfection. The floral printed couch, overstuffed barco-lounger chair, wood paneling, garish orange doors and latticework backdrop speak volumes of taste or lack thereof. A wide staircase stage right ascends to the second floor of the house, where we are privy to the collage-dorm-like room of son David. It is there that he escapes his cheerful family, with occasional visits from the ghostly Zung. Costume designer Susan Hilferty perfectly captures the look and tacky vibe of the late 60's. Lighting designer Peter Kaczorowski bathes the proceedings in bright hues; but does darken the tone, literally and figuratively with a mesmerizing lighting effect during one of Mr. Pullman's darker inner dialogues. Director Scott Elliott has a clear vision of what this play is about. The amazing thing is everyone on board…. the entire cast, is in perfect sync with the extreme emotional rhythms of this symphonic mediation of war and its discontents. Holly Hunter is all movement, hyper chatty, eyes bulging.  She exudes an exquisite any minute-on-the-verge-of-a-nervous breakdown vibe. This uncanny actress shows a virtual color wheel of emotional variety. She makes you laugh, and chills to the marrow in equal measure, sometimes simultaneously. Mr. Pullman equals Ms. Hunter in a memorable reading of a man who is losing grip and seems to be disappearing from within his own family. His incremental descent, perfectly developed, is a marvel of technique. This actor has genuine craft that surpasses the sense of watching someone reciting mere lines. He embodies the anguished pain of this failed father with deeply resonant tones. Ben Schnetzer as David is all Hell and Fury writ large. But this talented actor does wrangle and wrestle and hit with a deep emotional punch. In one late-second act scene he does indeed fight literally with Father Donald, as they spar in David's bedroom.
The play moves inexorably toward a horrific dénouement. It makes complete sense to the family at hand; the metaphor hangs like a stench of rotting flesh. The shock and dismay of a torn country, the turning away from the young vet's returning from an emotionally scarring war, the complacency of the country, are all beautifully captured in this surreal comic tragedy.
The Pershing Square Signature Theater
480 West 42nd Street, New York City
$77-$97.  Ticket Central (212) 279-4200
2 hours, 45 minutes   one intermission
Through December 14th