by Deirdre Donovan
You won't hear a better storyteller on a Broadway stage this season than John Lithgow.  In his solo show, aptly titled Stories by Heart, the veteran stage, film, and TV actor spins a long and heart-felt yarn for the audience that is interwoven with humor, wit, and a profound humanity.  As seamlessly helmed by Broadway veteran Daniel Sullivan, it becomes a master class in the art of storytelling.
Forget fanfare or special effects. Lithgow simply walks onto the stage carrying an old worn book in his hands, which he places on a small table at stage right.  Dressed in a black suit and a white open-necked shirt, he dives right into the subject of storytelling by spotlighting his show's title.  "What is this Stories by Heart? " Without offering any facile answer, he shares that he will be telling us two stories during the show that hold very special meaning for him. 
His homiletic tone continues as he tosses out a few questions to the audience: "Why do all of us want to hear stories? Why do some of us want to tell them?"  These questions linger in the air throughout his entire presentation, just waiting to be answered by Lithgow at the best time.
Lithgow then gets down to the business of storytelling itself.  He reveals that the two leading players of the evening are the "fat volume sitting on the little table over there" (The Teller of Tales) and his father Arthur Lithgow.  Lithgow smiles—and confides that if it weren't for his dad he wouldn't be standing on the American Airlines Theatre stage at the moment or even be an actor.  Indeed, you could hear the proverbial pin drop in the audience.  Lithgow had us in the palm of his hands.
Listening like children gathered around a campfire, the audience leaned in as Lithgow gave us the vitals on his "old man."  He explained that his father was a "man of the theater," wearing the various hats of acting, directing, producing, teaching—and organizing summer Shakespeare festivals in Ohio through the 50s and 60s.  And his mother Sarah?  According to Lithgow, she was the "unflappable road manager" who kept everything on an even keel and forever projected that things were "just fine." From Lithgow's perspective, his wasn't a typical childhood but an enjoyable one.  He, and his three siblings, delighted in seeing the Bard's plays staged in regional theaters, arriving in schools half-way through a school year, and of course listening to a raft of bedtime stories told by his dad.
Thanks to his dad, Lithgow absorbed a good deal of the classics as a boy.  He tells the audience that from a tender age he became familiar with stories by Edgar Allan Poe, Arthur Conan Doyle, Jack London, and "some seriously grown up stuff like Hemingway, Fitzgerald, Colette. . ."  Lithgow impishly asks, "What was [dad] thinking?"  Though it's quite evident from Lithgow's expression that he knows his dad was sowing in his fertile imagination the seeds for his future acting career.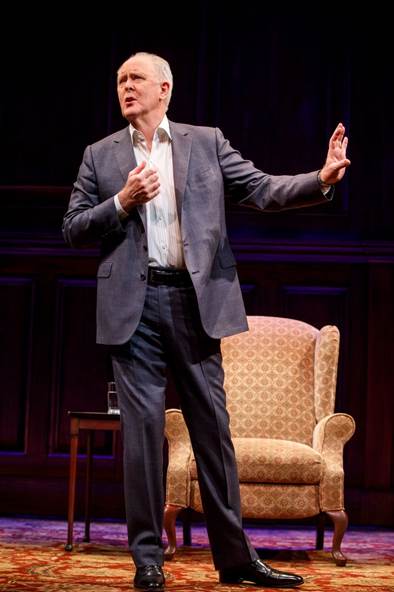 Lithgow then turns to a story that his dad often read to his young progeny called "Haircut," and adds that it was penned by that "gin-swilling cynic named Ring Lardner." Lithgow recites the story verbatim as he mimes the character Whitey, the loquacious small town barber in Michigan who is giving a nameless customer a haircut.  Lithgow, as Whitey, couldn't be more convincing, snipping away hair from his silent customer and gossiping about the recent death of a local named Jim Kendall.  We learn that Kendall was a married man who drank too much, played pranks to a fault, and chased women.  That is, till one day he 'accidentally" got shot by another local, a half-wit Paul whom he took on a duck-hunting trip to a lake area.
While one watches the minutiae of Lithgow's performance, Lardner's story comes alive with all its funny twists and weird turns.  And what starts out as gossip grows into a subtle critique of adultery, alcoholism, and intolerance.
If the first story is bone-chilling, the second, P. G. Wodehouse's "Uncle Fred Flits By," is a rib-tickler.  But, strangely, Lithgow isn't presenting it here for its comic value alone.  According to Lithgow, it's a favorite because it helped pull his father out of a deep, dark depression following his abdominal surgery at age 86.  In short, Lithgow witnessed a kind of miraculous transformation in his dad as he re-read to him the adventures of Pongo Twistleton and his infamous Uncle Fred.  Much like the statue scene in The Winter's Tale where Hermione returns to life, his dad's spirit rebooted while listening to the bold adventures of Uncle Fred, a character who took flimflammery to shameless new heights.
Without spoiling the delicious story here, Uncle Fred was the bane of his nephew Pongo Twistleton's existence.  Worse, Pongo never knew when his Uncle Fred would come calling to the "great city" and where he would decide to wander.  On this occasion, his 60-something year-old uncle decided to take Pongo on a trip to the suburbs to visit an old family estate.  But enroute to it, a rain storm hits and the two find shelter at a villa called The Cedars.  A poser extraordinaire, Uncle Fred impersonates a lowly parrot claw-clipper, the paterfamilias of The Cedars, and the neighborly Mr. J. G. Bulstrode (don't ask), all in the space of one soggy afternoon.
Okay, perhaps this might all sound sentimental and silly.  But in Lithgow's hands, it's not a bit.  Wodehouse's "Uncle Fred Flits By" becomes more than just a recitation of a literary gem.  As Lithgow remarked in a New York Times article (January 9, 2018), he's in "the business of consciousness raising" as a storyteller.  And sometimes it can go beyond that—and dispel the depression of his aging dad.
It's no accident that Lithgow's presentation is smooth as butter.  The Tony and Emmy award-winning actor performed it in embryonic form at Lincoln Center's Mitzi Newhouse Theater
 in 2008, telling stories in repertory fashion under the direction of Jack O'Brien.  Lithgow then took it on the road for a decade, adapting and refining the material in 35 cities across the country and in London at the National Theatre.
Simplicity rules here.  The creative team (set by John Lee Beatty; lighting by Kenneth Posner) smartly keep the props down to a minimum:  the hefty omnibus Teller of Tales, a large armchair, and a small table.  And, oh yes, a glass of water to make sure Lithgow's vocal cords remain lubricated for the entire two-hour show.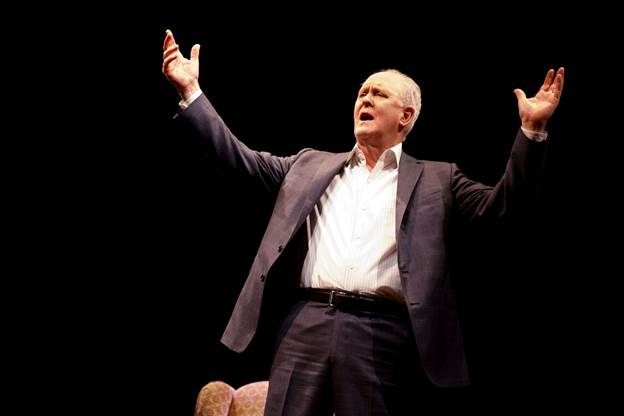 Photos by Joan Marcus
Stories by Heart is Lithgow's valentine, not only to his parents, but to the theater.  Lithgow erases the line between storytelling and theater in his show and teaches us that both forms intertwine— to borrow a line from P. G. Wodehouse—"like ivy on an old garden wall."
Through March 4th.
At the American Airlines Theatre, 227 West 42nd Street, Manhattan
For more information, phone 212.719.1300
 or visit www.roundabouttheatre.org
Running time:  2 hours with one intermission.