Eden Malyn in STUFFED - photo by Jeremy Daniel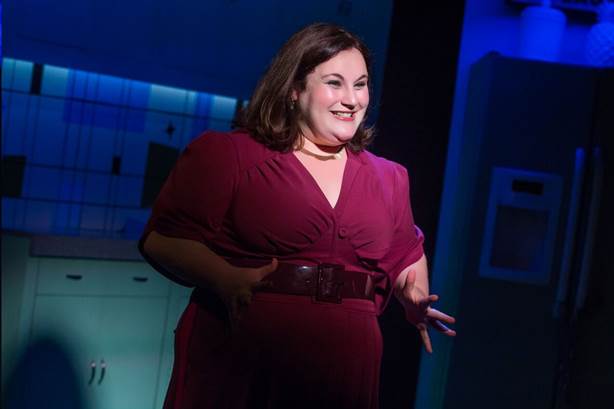 Lauren Ann Brickman
Marsha Stephanie Blake
Lisa Lampanelli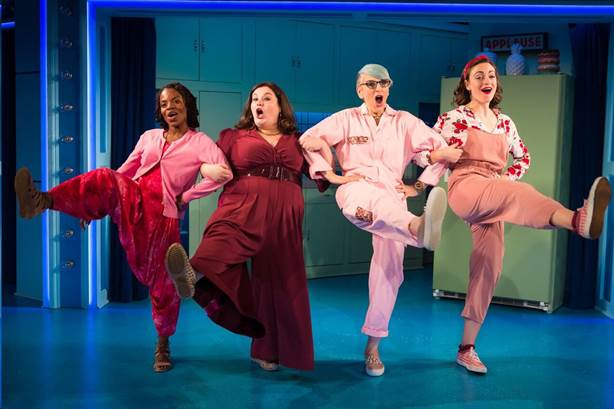 Marsha Stephanie Blake, Lauren Ann Brickman, Lisa Lampanelli, Eden Malyn
                                                                                                             photos by Jeremy Daniel
                           by Julia Polinsky
Lisa Lampanelli's Stuffed opens on an aqua fantasy mid-century modern kitchen, dominated by a chained shut side-by-side fridge festooned with caution tape. The fridge shakes, rattles, and rolls, as we hear Lisa (Lisa Lampanelli) shout "Let me out!!" or words to that effect (edited for family-friendliness; this show uses language definitely not suitable for delicate ears).
The fridge bursts like a lava cake, and Lisa arrives onstage, cursing her years trapped in it, and kvetching about having gained and lost 372 pounds during that time. So, from minute one, we're steeped in Weight Issues, and something that smells like overbaked honesty.
It's hard to speak of plot, here, b/c the show's 90 minutes play out like a standup routine with layers of confessional moments. Not a surprise; Lampanelli is a successful standup comic, with an emphasis on being the Queen of Mean.
Known for ethnic slurs, racist jokes, and no-holds-barred dissing of basically everyone, Lampanelli pulls in her claws in Stuffed. Not to say that the text is harmless, but the dig-deep picture she paints of women with weight 2
e, complete with spotlight, mic, and audience interaction, and the way she works with the three weight-obsessed soul sisters who invade her act. "You know I work alone," she says, when Britney (Eden Malyn), Marty (Lauren Ann Brickman), and Katey (Marsha Stephanie Blake) arrive onstage and literally steal the show from Lisa. Yeah, well, not any more. The four women expand Stuffed from a comedy routine to game show, talk show, and just girls talking girl talk – all about food and weight.
It would have so easy for Stuffed to go off the rails and become confusing. Which parts are standup? Which parts storytelling? Adept direction by Jackson Gay, terrific lighting by Amith Chandrashaker, and Antje Ellerman's smashing set, set, all keep the four characters popping in and out of our view and our attention, without getting us lost.
Each of these women has a different issue with weight. Katey can't gain an ounce, no matter what she eats, and the "skinny bitch" comments fly; Britney, a bulemic/anorexic, speaks of a childhood full of Frito pies (don't ask); Marty lives her life fat and happy, she says; Lisa seems to be winning her lifelong argument with food and the scale. Seems.
The four of them chant lists of their favorite foods, completely diss salad, and tell truths about how the eating-obsessed think about food. Among the truths: they reveal sneak-eater secrets, make cookie-dough confessions, and spin out a hilarious riff on jeans.
Some of that's funny as hell. Some hurts. A whole section on "the bottom" hurts most, as each woman tells her own story of totally tanking, and then coming back.  The actors work their roles so lovingly, and with such good humor, that Stuffed brings the room up, rather than down.
You may leave wondering if any of the characters in Stuffed has actually conquered her demons, but you'll have had such a good time along the way, you may not care that you never really get an answer to that question. Lisa has the last, revealing, line. Go see Stuffed and hear it for yourself.
Stuffed by Lisa Lampanelli at Westside Theatre/Downstairs
407 W 43rd St between 9th and 10th
Monday, Tuesday, and Thursday at 7pm
Friday at 8
Saturday at 2 and 8
Sunday at 3 and 7
Tickets $75-85; premium $95-105
Rush tickets available day-of, $20 cash at box office
Telecharge.com