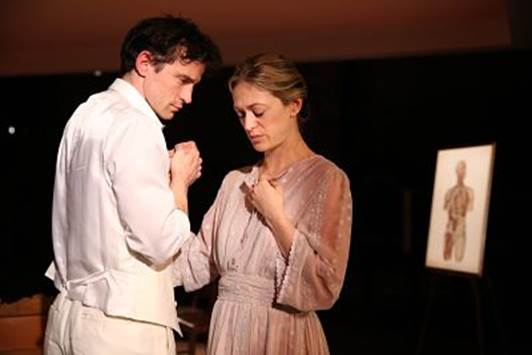 Nathan Darrow, Marin Ireland                  Photo: Carol Rosegg
                                  By Fern Siegel
The dichotomy of human nature — the sacred and profane — fascinated Tennessee Williams, who routinely employed elements of Southern Gothic to explore dysfunctional people ruined by inner demons.
Such themes are evident in Summer and Smoke, now at the Classic Stage Company, in an interesting, stripped-down coproduction with the Transport Company. Set in Glorious Hill, Mississippi, from the turn of the century through 1916, it chronicles the fractured romance between Alma, a minister's daughter (Marin Ireland), repelled and attracted to John, the troubled neighborhood doctor (Nathan Darrow). 
Both wrestle with societal expectations.
Alma longs to reach "up to something beyond attainment." Her name, made clear in the play, means "soul" in Spanish. Conversely, John is a dissolute sensualist, represented by a soulless anatomy chart, and eager to tear her down. (Alma is enamored of the image of an angel statue, titled Eternity.) Thus, the cosmic battle begins.
The play premiered on Broadway in 1948, and Williams' signature themes are underscored by the couple's torturous exchanges.
Alma is the more interesting character, as she veers between her passion for literature and art and her conflicted love for John. She is also the sacrificial lamb of a shattered family. Given her mother's (a strong Barbara Walsh) apparent madness, Alma is forced to take on her role.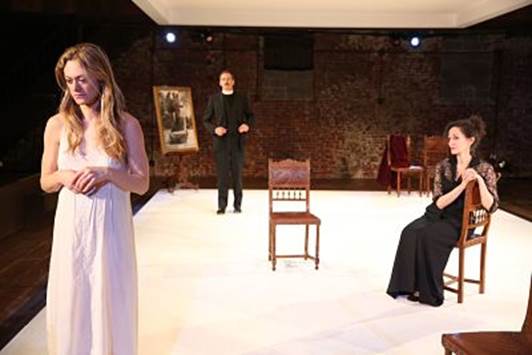 Marin Ireland, T. Ryder Smith and Barbara Walsh  Photo: Carol Rosegg
John's father (Phillip Clark), a physician, wants his son to follow in his respectable footsteps, only to be disappointed by his gambling and drunken ways, represented by his nights at the Moon Lake Casino to see Rosa (Elena Hurst). Assailing John's weaknesses, he decries "wasters, drunks and lechers" and consigns John to the slag heap of humanity.
Summer and Smoke followed Williams' triumphs of A Streetcar Named Desire and The Glass Menagerie, which catapulted the playwright to fame. It also explores the tensions between parents and children, his theatrical specialty. 
Most telling, in Alma's aspirational yearnings, we see shades of Blanche DuBois, who tragically aims for artistic ideals, and, to a lesser degree, the limitations of Menagerie's Laura. Dr. John possesses some of the cruder aspects of Stanley Kowalski and predates Suddenly, Last Summer's dissolute Sebastian Venable, a pampered man devoured by his carnal excesses.
Indeed, in their intense moments, John initially demeans Alma for her civilized impulses. ("I am mystified by unprovoked malice," she responds ruefully.) The ultimate insult: She is judged by a man who himself is wanting! Yet their tug-of-war has a surprising outcome. 
Marin Ireland delivers a standout performance, adept at illustrating the tensions — internal and external — that consume and exasperate her character. Alma runs the gamut from fragile to ferocious, aided by a mother who screams "fight" whenever her minister father (T. Ryder Smith) insists on acquiescence. Has she learned the only way to escape suffocating connubial duties is to appear out of control?
Darrow does not equal Ireland's nuanced efforts, though there are genuinely moving scenes between them, and even the occasional hint of chemistry.
The directorial choices by Jack Cummings III for the revival are minimalist. A bare stage, two images and a few chairs suffice. In fact, he has his actors mime almost every action, from eating an ice cream cone to opening a window, to showcase the text. 
Nathan Darrow, Elena Hurst, Gerardo Rodriguez  Photo: Carol Rosegg
The creative team includes set design by Dane Laffrey, costume design by Kathryn Rohe, lighting design by R. Lee Kennedy and sound design by Walter Trarbach. Michael John LaChiusa composed original music.
For Williams' fans, Summer and Smoke is touching. Though a less notable addition to his oeuvre, it does reflect his thematic obsessions. Still, compelling scenes and a capable ensemble grip our attention. But it is a calibrated Ireland who deserves the shout out this round.
Summer and Smoke
CSC Repertory Theater, 136 East 13 St. Manhattan (Extended through May 25)
For tickets visit: http://www.classicstage.org/shows/2018/04/summer-and-smoke/
Running time: 2 hours, 30 minutes