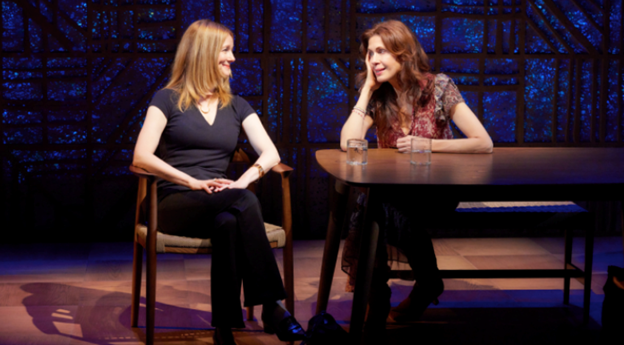 (L-R) Laura Linney, Jessica Hecht  (Photo: Jeremy Daniel)
Summer, 1976
By Fern Siegel
Even short-lived friendships can stay with us for a lifetime.
That's the premise behind Summer, 1976, now at the Samuel Friedman Theater. It stars two veteran stage actors — Tony-nominated Jessica Hecht and Laura Linney — at the top of their game.
Their chemistry is palpable as they look back, 25 years later, on their intimacies, conflicts and regrets. David Auburn's play underscores how something time-framed, a relationship forged during a fateful bicentennial summer, can stay with you, even when people drift away.  
The minimalistic set by John Lee Beatty and beautiful lighting by Japhy Weideman highlights the women's emotions, both subtle and stirring.
Linney and Hecht begin the play by walking onto the stage and taking a seat. The move is deceptively simple. Still waters run deep. Summer, 1976 is a potent reminder that what appears as ordinary is often something more — and it holds our attention for 90 nonstop minutes.
The action, as the title suggests, begins for a brief period in the summer of 1976. Diana (Linney) teaches art at Ohio State, while Alice (Hecht) is the wife of an economics professor up for tenure. Trapped in a rather insular community, they meet as a result of their 5-year-old daughters, who instantly bond.
Conversely, the women aren't initially enamored of each other. Tightly wound Diana finds the too-casual Alice trapped in a conventional marriage, disdainful of her middle-brow reading tastes. "She just thought she was unconventional because her house was messy," says the icy Diana.
Free spirit Alice is acutely aware of Diana's affectations — the kind of person who drops words like "jejune" into casual conversation — and her emphasis on an exterior life. But she's also sensitive to Diana's loneliness as a single mom and her inner artistic longings.  
(Photo: Jeremy Daniel)
The two discover that despite their differences, they share and appreciate each other. Paul Klee's paintings even rate a mention.
The two-hander explores the trials of motherhood and companionship. And it addresses both the joy and occasional fear of learning, as Alice does, that "people are not one thing."
Friendships forged as young mothers can sometimes be expedient. Here, what appears as an unlikely union is quickly revealed as a profound connection. While Diana is memorable in her brief, but powerful appraisal of sexual allure, it's worth noting that the strongest bond, however brief, is theirs.
Their connection, far stronger than Alice's with her husband, the unseen Doug, explores the tricky terrain of friendship.
It's a delicate dance of knowing when to push, when to retreat, and how to navigate in those seconds when something goes inexplicably wrong. Summer, 1976 is a meditation on how fragile circumstances can be. And how contradictions and missteps, rarely apparent in the moment, can alter our lives.
What makes a play with only a few big moments so noteworthy is that the playwright doesn't succumb to cliches or melodrama. There is also a relatable hint of fantasy and wistfulness.
Director Daniel Sullivan is working with actresses who, with a turn of a head or a change in tone, can command our attention. Quiet and unassuming, Summer, 1976 is a welcomed addition to the season.
Summer, 1976 - Samuel J. Friedman Theater, 261 W. 47 St.
Running time: 90 minutes, no intermission.
Tickets: www.manhattantheatreclub.com/shows/2022-23-season/summer-1976/