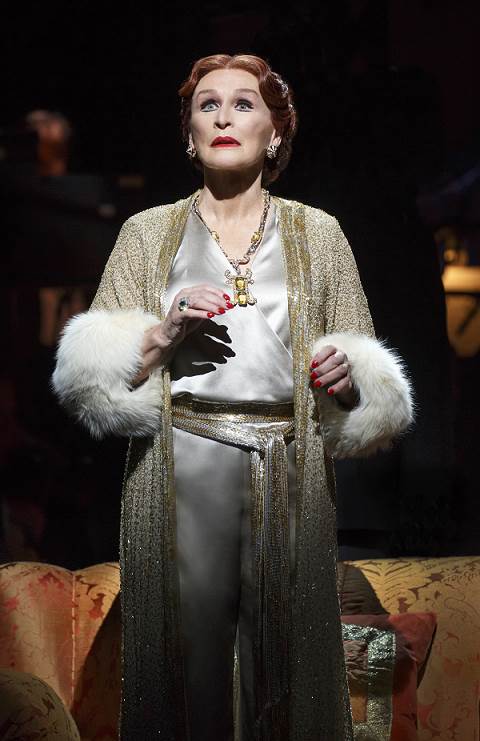 by Eugene Paul
Over the years, the venerable Palace Theatre has witnessed towering egos trumpeting their treasured arts within its gilded splendors making it the perfect setting for the current explosion now waging battle for dominance on its great stage between two huge egos: Andrew Lloyd Webber and Glenn Close, neither of whom could do without the other.  That rarity of rarities, an overwhelming bravura performance is now taking place in these plush halls bringing people to their feet in tumultuous bravos and applause.  My hands are still raw. Extraordinary Glenn Close found the award winning role of a lifetime twenty years ago as a great, mad silent film star, Norma Desmond, and has brought it back to Broadway, greater, madder, more wonderful than ever, richer in every detail. If you love theatre, you owe it to yourself to experience this once in a lifetime – back again! – triumph.  You'll talk about it forever.
But – this is the Andrew Lloyd Webber production, his music central, the English National Opera Production complete with symphony orchestra and conductor occupying most of the stage from curtain up to curtain down, spilling sumptuously delivered Webber compositions from start to finish, presenting director Lonny Price with an enormous headache: how to stage a musical drama with a great star instead of doing a concert with Sir Andrew's music, how to deepen a tawdry tale into a drama of dark dimensions.  He tries.  Hard.  But Webber music, no matter how beautifully played, only comes to greatness when its star sings and acts to the fullest and we are caught in the magic of the dreams.
Once upon a time, not very long ago, America had no movie stars.  America was needy, the people had to have a dream, an American Dream, and young, brash Hollywood manufactured the dream, manufactured itself, manufactured purveyors of the dream by creating movie stars, manufactured their images, polished, protected, embellished their stars, fashioned them into American royalty. American legends. It wasn't long before they began to believe their own creations, then took advantage of the new wealth they dreamed up.
Witty, wise director Billy Wilder dreamed up a movie entertainment he called "Sunset Boulevard" but couldn't find a big enough movie star among studio stars and hired one of the greatest movie stars of the Silents, half forgotten Gloria Swanson,  to play his Norma Desmond. She swooped up his story.  She owned it. The story became hers, the very words hers, this regnant queen of the Silents. And, irresistibly, the movie became a Broadway musical. The legend was reborn.  Now, it is back and "It's As  If We Never Said Goodbye".
Yes, of course, that's one of the great hit songs from the show, brilliantly sung, superbly performed by  the astonishing Glenn Close in her stunning reenactment of the immense persona of an old time movie star, Norma Desmond, the blistering, dark heart of Billy Wilder's movie. Sunset Boulevard, the musical, is an old fashioned, operatic tragedy mightily embellished with Andre Lloyd Webber's overweening score which, thanks also to Don Black's and Christopher Hampton's lyrics _ they also did the book --  he gets right in two places. The songs  totally belong to Glenn Close. Thanks to her all out, no holds barred performance, that's reason enough to see the show.
And all here are the imported forty piece English  symphony orchestra and its conductor, Kristen Blodgette, as well as the English principal players from the English National Opera production which starred Glenn Close when she played the show in London to resounding acclaim.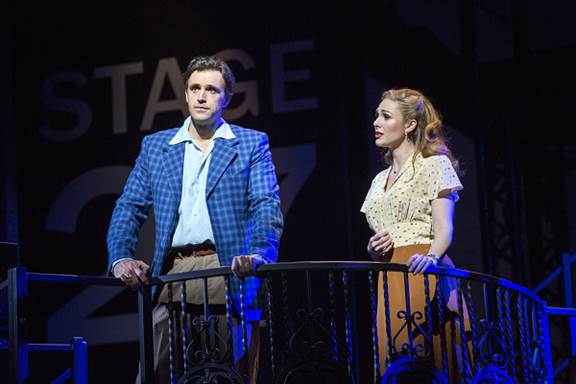 Handsome Michael Xavier as Joe Gillis, Norma Desmond's live in lover, makes an auspicious Broadway debut, good to look at, fine to hear, resourceful an actor in his love scenes with Betty Schaeffer  (lovely Siobhan Dillon), the girl he walks away from. Dillon is captivating, in conflict, in song. Fred Johanson plays the mysterious Max, slave to Norma in his devotion.  Johanson's  is an imposing presence with an impressive voice.
The story? Banal situation, which director Lonny Price subverts with a ghoulish hook by levitating a man's corpse from a swimming pool, slowly raising it up, up, up to the top of the theater, to hang there throughout the performance, even as we figure out the corpse is Joe Gillis, Norma Desmond's lover. Joe, an unsuccessful screen writer, escaping from the repo men after his car, ends up at Norma Desmond's huge relic of a mansion, accepts refuge there,   is enlisted to rewrite her own screenplay that will restore her to her glory on the screen. The reworked script is delivered to towering director, Cecil B. DeMille (fine Paul Schoeffler). It's terrible.  Not hearing from him Norma goes to DeMille's active set. An old stagehand recognizes her, shines a spotlight on her. She preens, full glory. Joe sees Betty there, love rekindled, wants to leave Norma. Mad, impassioned Norma shoots him.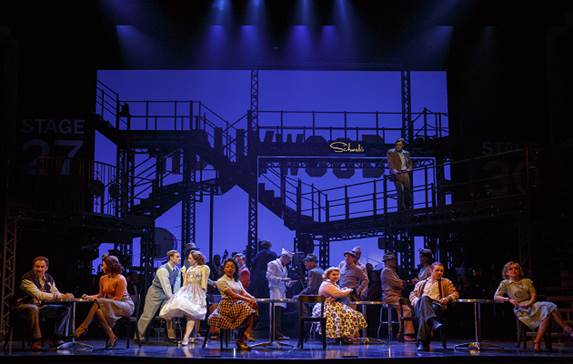 Designer James Noone's setting, deliberately crafted to work around the composer's symphony orchestra, occasionally takes advantage of the Palace Theatre's own lavishly gilded wall decorations to suggest Norma's palatial home but what should have been ornate, gorgeous staircases is merely iron grillwork. All of Glenn Close's costumes are by Anthony Powell.  Designer Tracy Christensen does for the rest of the very large company. It's still a big show.  It's the biggest in town when Glenn Close steps into the light.   That other hit song?  "With One Look".  Devastating.
                                                          *
Sunset Boulevard. At the Palace Theatre, 1564 Broadway at 47th Street.  Tickets:$55-$200+. 877-250-2929. 2hrs,30 min. Thru June 25.