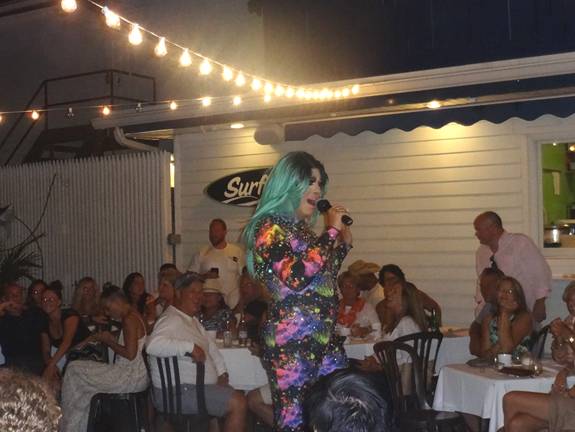 THIRD ANNUAL KISMET DRAG SHOW
                         By Jeannie
Introducing a New Drag Queen and the simultaneous execution of three perfect splits made show history
First an apology for not mentioning the names of the "girls" of the cast in the show's title, which included three former Miss Fire Islands; emcee Logan Hardcore, Ariel Sinclair and last year's winner Brenda Darling, and two Entertainers of the Year, Logan & Ariel. They are right of course, but by way if explanation, they are Kismet's only drag queens ever and so the name was still special.
Logan hit the ground running commenting "when we got here we were greeted by little kids who said 'these are guys wearing dresses!' - gay bashed by 3 year olds before getting off the taxi…
Next thing you know we'll be doing birthday parties for them"
"I have simulated a blowjob, chugged my drink, stole someone's wallet, stuffed a dollar bill up my nose, and stuck my penis up my butt" she continued "all in the first three minutes here…my whole act…so thank you very much for coming, we can go!".
"Where are we anyway?  Oh! Across the street from the Pizza shack!"
Announcing they will work for 35 cents, a metro card, EBT cards
"I already got a dollar more than I make in Cherry Grove".
As she strutted through the crowd she remarked "this place looks like Act I of Hairspray, so white, only one black in the place!" Asking how many gays or lesbians in the crowd furthered the image.
Logan announced it was her birthday and she was getting married next week, with Brenda Darling as her bridesmaid  "I would cry but the botox won't let me".
She warned "you can call me Caitlyn Jenner…I ain't no lady"
Announcing that they had to be "nice" while the sun was still up and were still being gay bashed by 4 year olds, "now that it's dark we will get vulgar"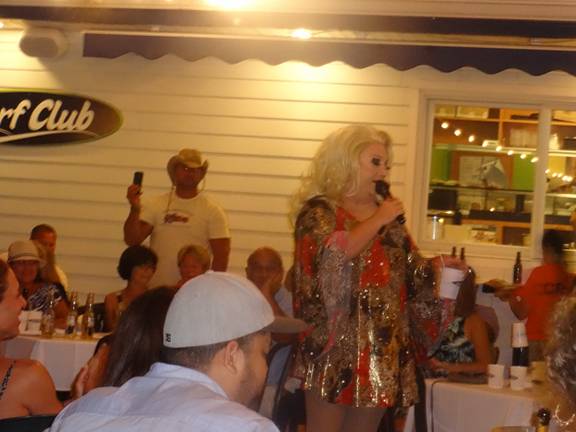 and introduced the legendary Ariel Sinclair, so sweet and girly with her long blond curls over shiny mini dress, she quickly dispelled that myth by lip synching  a song  about the size of her V and many ways to enjoy it (it  makes one wonder where she finds a pre recorded song like that?)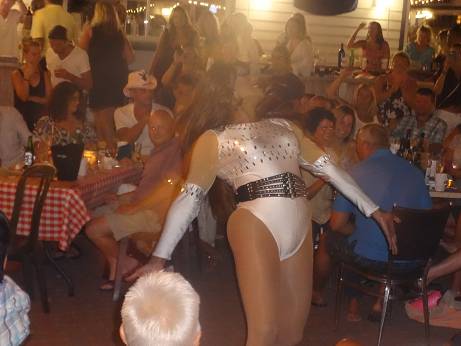 The ever glamorous Brenda Darling strutted through a few numbers and included a startling split "and we are doing this on s stage held up by milk crates!"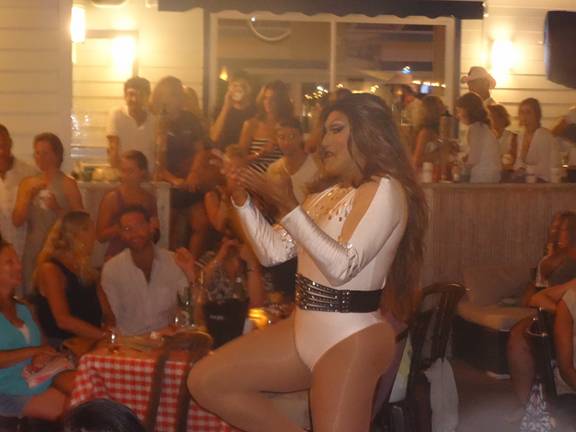 Logan countered with one of her own.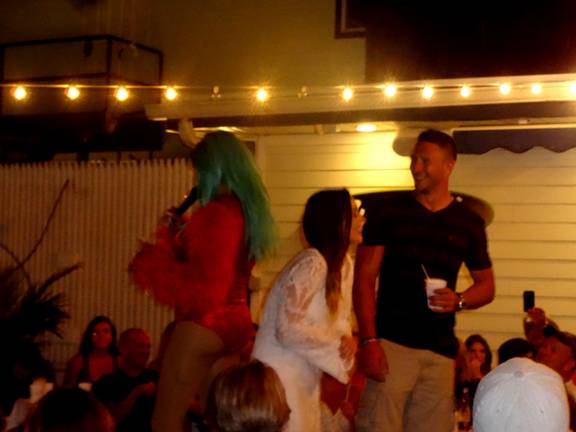 Segueing into the requisite talent show pulling contestants from the audience  included a young woman from Australia, who surprised all with a split of her own.  Later, when she won, the three of them lined up on the runway and executed perfect splits in unison – a surprise move that delighted the crowd and even them!
(Unfortunately the lighting in the Out courtyard is substandard and this glorious moment went unrecorded for the annals of drag show history)
Another unexpected and touching moment was when a 15 year old girl approached Logan with her tip. Logan refused it and gave it back to her
"for her college fund" Another first!
But the absolute highlight of the evening was when Out owner Paul Barbara approached the stage with a tip and was invited backstage for a surprise
…and out comes new drag performer "Barbara Paul"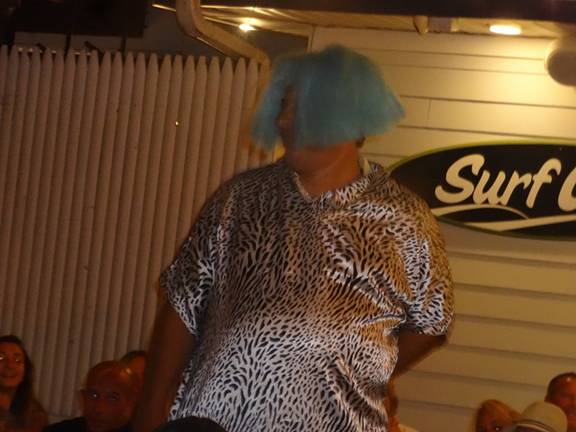 …working it – definitely worth the 2 drink minimum
Getting sentimental as she imbibed ever more drinks ("yes, you are all wondering where I put them and how do I pee in thei outfit") Logan repeatedly thanked everyone for their warm recognition. "It's OK to be gay in Kismet, three years in a row. I love it here".
The crowd roared beck its approval.
Their material ran out long before the last hour of the 3 hour marathon - but the alcohol saturated crowd didn't seem to notice…
and they all worked so hard
Paulie was happy with the event:"Good night, nice crowd, attendance about the same a last year but the reserved tables which had patrons eating and drinking made it better for the house".