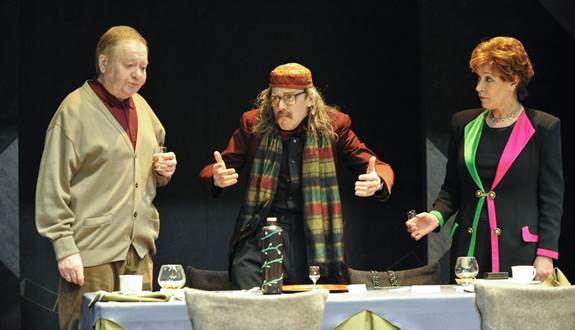 L-R: Russell Dixon, Ben Porter, and Sarah Parks
                              By Eugene Paul
"How else can we hope to cram a life time of events into two or three hours?" asks playwright Alan Ayckbourn in his eloquently terse essay, "Time Was…", a lovely little gift in the Ayckbourn Ensemble program that accompanies this greater gift, a heaping portion of Alan Ayckbourn, Sir Alan, man of the Theater, sly observer of the human condition for over fifty years, loyal to his home base in Yorkshire, the Stephen Joseph theatre in Scarborough.
 Ayckbourn is being celebrated – he just turned 75 – with his repertory company's presentation of four premieres including his 78th play, and among them, Time of My Life, a Chekhovian comedy with broad Yorkshire accents and an even broader acting dessert fillip: one actor, Ben Porter, gets to play five different waiters working in the restaurant the jumped up Stratton family has favored for years, past, present and future.
The restaurant itself plays a role.  If we were seeing this play in Scarborough or the West End in London, we'd be smarmingly tickled by the portraits of the waiters and the restaurant if we were British, recognizing the deliberately flaky fake-y accents and eccentricities of the waiters, recognizing the reason they all look alike is not because they are being played by the same actor but  because we all know the owner imports members of his family to Britain, to work there as comic foreigners;  the owner knows that his restaurant is his theater and the family quirks are keys to the character and success of his restaurant.  Ayckbourn's none too gentle spoofing  thus creating the spine of his play is also thus the key to his play's success as well.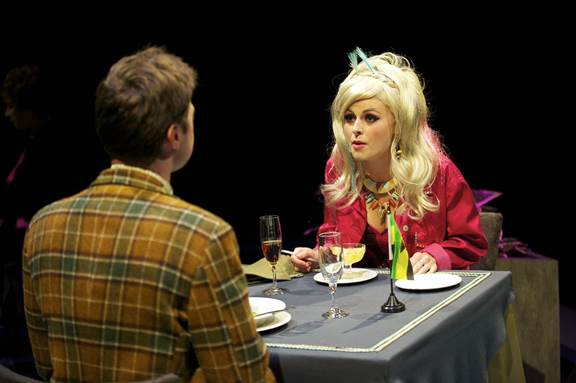 James Powell and Rachel Caffrey                                                . Photos by Tony Bartholomew
It's Laura Stratton's 54th birthday party and Laura (Sarah Parks) and her husband,  Gerry (Russell Dixon) have gathered their two sons, Glyn (Richard Stacey), his wife Stephanie (Emily Pithon), their younger son Adam (James Powell) and least and most of all, Adam's new girl friend Maureen (Rachel Caffrey) for this birthday celebration in this, their favored family dining place, where they've been waited on assiduously which is how Gerry and Laura like it. As who doesn't.   And wouldn't you know, that tart of Adam's, overdressed and overpainted gets sick drunk and runs to the gents to puke!  The gents!  It certainly breaks up a party.
With his usual deftness, , playwright Ayckbourn thrusts us into his play's  midst, the cross currents rattling from one end of the big table to the other, hard nosed Gerry at the head, already well oiled, Laura at the foot – or is it the head really? -- lancing in every direction, Glyn sucking up to his boss, his Dad, Stephanie as smilingly uncomfortable as ever with her husband and his parents, Adam in itchings of discomfort dreading his mother's reactions to his girl friend and poor, Maureen, knowing everything is going just as she had feared, unused to drink, plastered, helpless.  This is their Present, the birthday Present, as Ayckbournish  a moment as there is.  From here, two smaller tables, one for Past, one for Future, serve to spin the Stratton family saga, woven together by the  ridiculous waiters, their miens obsequious to scornful, sappy to scrappy.
At table Past, we are led back scene by scene to young Adam's and younger Maureen's gaffe filled first meeting, ill fated attraction.  At table Future, we become privy to Glyn's and Stephanie's sour, mismatched marriage.  And throughout, at big table Present, we watch Gerry get drunker and drunker, unhappier and unhappier, angrier and angrier, Laura leading him on, collecting her due, tough, tougher, toughest.  The fatal catalyst in more ways than one is the celebratory bottle of cherished home brew from his native land that the owner of the restaurant bestows on his beloved customers.  It must all be drained; it is tradition.  It also foretells the coming events as surely as if they were planned: sodden Gerry, driving home, killing himself, putting Laura in hospital.  Laura surviving, of course.  That's what she does. That's what the others have to do , too, each in his or her own way.
Ayckbourn's unsparing eye does little to warm us to this family, how could it, comic waiters and all.  His cleverness in  staging, in folding and unfolding Time, cannot compensate for this family's lack of lovability.  Yes, we sympathize with Maureen in spite of herself, maybe with Stephanie, too, perhaps a bit with Glyn. We enjoy the mockery, the satire, the double edged scenes, even as Adam remains his mother's baby boy, and Laura, well, you can understand her but you can't stand her. Sarah Parks gives a murderous performance.  As Gerry, Russell Dixon couldn't be better, but care about him? No  thanks.  Rachel Caffrey is a marvelous mess as Maureen.  Everybody is top flight. Jan Lee Brown provides flinty simple scenery and commenting costumes. The Ayckbourn Ensemble rides high,  But cold comfort is a known Ayckbourn outcome even as we are left with our warm  admiration for work well done.
59E59 Theaters, 59 East 59th Street near Park Avenue. Tickets: $70 212-279-4200. For repertory schedule: britsoffbroadway.com.  Thru June 29.