By Joel Benjamin
Underworld Productions Opera presented a novel program at the Leonard Nimoy Thalia Theatre, combining two mini-operas with Leonard Bernstein's Trouble in Tahiti, his melodic, if heavy handed one act dissection of the breakdown of a middle class, suburban marriage.  They called the program TROUBLEfuturesongs.  It proved to be a wonderful combination of tastes, textures and talent.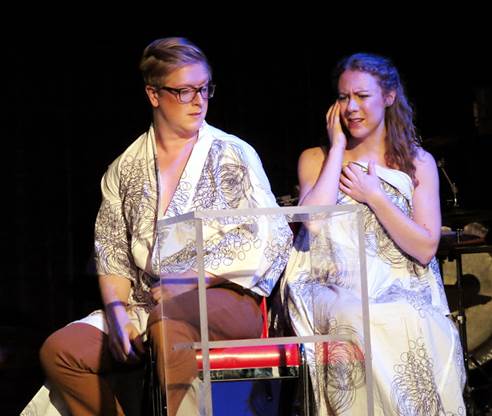 Brian Long (Tereus) and Michelle Seipel (Procne) in Justine F. Chen's "Voice for a Future Nightingale." Photo by Jonathan Slaff.
Each work had a singular feel, beginning with Voice for Future Nightingale which condenses a story by Ovid into a concise tale of poetic vengeance.  Philomel (Stephanie McGuire) is raped and disfigured by her brother-in-law Tereus (Brian Long) who abandons her.   The ten minute work contrasts Philomel's lonely suffering, sung in harshly angular music with the mundane relationship of Tereus and Procne (Michelle Seipel) who are seen chatting over a dinner table and lying in bed.  All the while Tereus is assuring Procne that Philomel is well, Philomel, who is speechless because her tongue was cut out by Tereus, is weaving a tapestry that tells what happened to her.  At the very last moment, the package containing the incriminating woven cloth arrives at Procne's door and we are left to suppose what happens next.
Composer Justine F. Chen and librettist Ken Gass's work is all lean and to the point, opposing Philomel's poetic laments with the domestic boredom of the married couple.  Ms. McGuire's big mezzo-soprano was piercingly moving while Ms. Seipel and Mr. Long's quieter music conveyed the tension in their relationship.
TROUBLEFUTURESONGS -- Gian-Carla Tisera in "Outerborough Songs" by Thomas Deneuville. Photo by Jonathan Slaff.
Outerborough Songs is uniquely composed for electric guitar (Marco Marino) and soprano (Gian-Carla Tisera), relating in several short sections, the ups-and-downs of a relationship.  First seen in a hip leather coat, tight pants and dangling earrings, Ms. Tisera wanders about in front of video projections of urban scenes, including an evocative view of rooftops.  As she goes from sad to elated, she literally lets her hair down and dons a formal gown en route to a date.  Composer Thomas Deneuville set the poems by D. Nurkse to music that is contemporary with hints of pop (metal, rock, etc.) which Ms. Tisera sang with a full-bodied expressiveness.  Mr. Marino, a mop-headed young man, sensitively tailored his playing to the singing.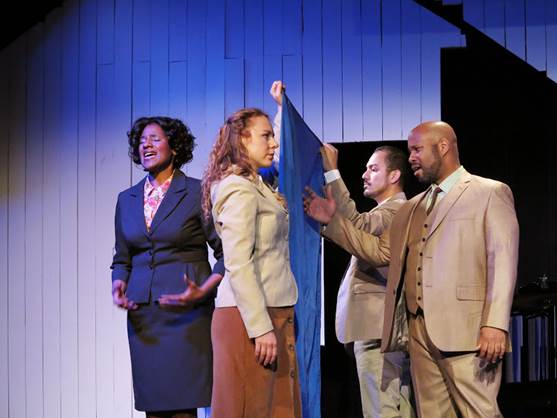 Stephanie McGuire, Michelle Seipel, Luis Gonzalez and Isaac Grier in "Trouble in Tahiti" by Leonard Bernstein. Photo by Jonathan Slaff
Trouble in Tahiti, Bernstein's 1951 opera doesn't hold up well dramatically.  It's full of clichés and Freudian psychology, but, on the plus side, has some gloriously moving melodies.  Although the Underworld's production is a precious opportunity to hear this work again, some of stage director Gina Crusco's auteurish intrusions were poorly thought out and the conducting by Mark Shapiro, here handling a much larger ensemble than the previous two mini-operas, failed to balance the singers with the score, making much of the libretto unintelligible.  True, the lines were projected onto a screen, but it would have been good to hear the lines sung clearly. One big mistake, in fact, was not miking the Trio (Michelle Seipel, Miran Robarts and Luis González) who were Bernstein's version of a combination Greek Chorus and pop group.  They were specifically written to be amplified to emphasize the references to the then popular close harmony groups.   Crusco, the Underworld's artistic director, who directed the entire program, decided to update the opera with implications of drug use, adultery and a touch of feminism.  She used the Trio to portray the fighting couple's son and other characters who were only implied in the original. 
Trouble in Tahiti movingly shows the breakdown of the marriage of Dinah and Sam who cannot communicate, their every word a bullet aimed at each other's heart.  Dinah finds solace in a silly musical film which provides the title of the opera and Sam manages to relieve his tension at the gym. Ms. Crusco turns Sam's egocentrism into something darker and uglier, making it quite unlikely that this couple's union will survive despite Bernstein's hopeful finale.
However, the singing of the two leads, Stephanie McGuire and Isaac Grier, was strong and expressive and easily heard over the 14-member orchestra, making the inaudibility of the Trio even more perplexing. 
The set designer, Michael Minahan, made the most of the tiny Thalia stage with expressive hangings, videos and a wonderful backdrop in the shape of a house used for the Bernstein work.  A tiny model house was quite witty.  Edgar Cortes' costumes in all three works were also witty evocations of the characters.  Kia Rogers' lighting turned the performing platform into a complex space.
The Underworld Productions Opera Company produced a musically and dramatically varied program with works that complemented each other beautifully in their themes of love lost.  The singing and acting were first rate and the staging imaginative and clever.
TROUBLEfuturesongs – May 17-19, 2014
Leonard Nimoy Thalia Theatre
Peter Norton Symphony Space
95th St. & Broadway
New York, NY
Tickets:  212-864-5400 or www.symphonyspace.org
More Information:  www.underworldprod.com
Running time:  90 minutes.