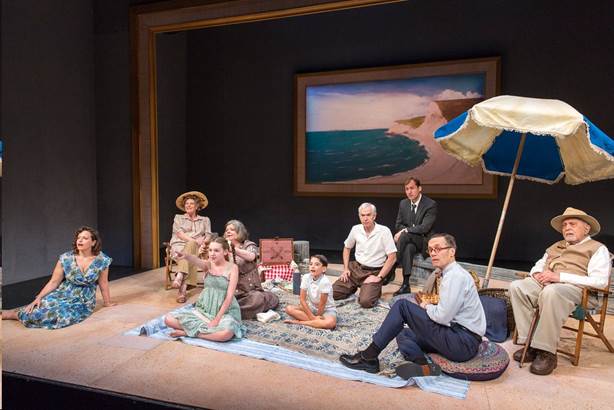 Katie Firth, Jill Tanner, Kylie McVey, Polly McKie, Athan Sporek, Philip Goodwin, Julian Elfer, Curzon Dobell, and George Morfogen
††††††††††††††††††††††††††††††††††††††††††††† By Ron Cohen
Mint Theater Companyís campaign to re-burnish the reputation of English playwright N.C. Hunter scores a fair Ė if not overwhelming -- amount of success with its mounting of his 1953 dramedy, A Day by the Sea.
In the 1950s and early 1960s, Hunter (1908-1971) was one of Britainís top dramatists, his plays attracting casts studded with the countryís thespian royalty. The original London cast of A Day by the Sea included such luminaries as John Gielgud, Ralph Richardson and Sybil Thorndike and ran for 386 performances. It didnít do nearly as well, however, in New York, where a 1955 staging with Jessica Tandy and Hume Cronyn apparently was ignored in the razzle-dazzle of Broadway and chalked up only 24 performances. And eventually, Hunterís standing in Britain fell precipitously in the wake of the brash and jarring work coming from the emerging group of writers labeled the ďAngry Young MenĒ Ė John Osborne, Arnold Wesker and Harold Pinter, among them.
Mint Theaterís examination of Hunterís work started in 2013 with its production of his A Picture of Autumn, and its newest show makes for a worthwhile follow-up. The companyís enthusiasm for Hunterís output is also expressed unstintingly in the biography appearing in the playís program. ďAs Hunterís West End peers, including (Noel) Coward and (Terrence) Rattigan, draw renewed rounds of applause in the varied theatre worlds of the twenty-first century,Ē it says, ďHunter likewise beckons new audiences with plays rich in ambiguity and paradox.Ē
A Day by the Sea examines the uncertainties and anxieties of British society in the harsh years of recovery after World War II. It portrays a group of upper- and middle-class folks gathered at the country estate of the widowed matriarch Laura Anson (Jill Tanner). They include her son, Julian (Julian Elfer), a 40-year-old diplomat whose dedication to his job and the common good has closed out any personal relationships; Frances Farrar (Katie Firth), who as a young orphan was raised by Laura and now has returned years later after a scandalous divorce for a visit; David Anson (George Morfogen), Lauraís 82-year-old ailing brother-in-law, and Doctor Farley (Philip Goodwin), Davidís caretaker with a predilection for gin.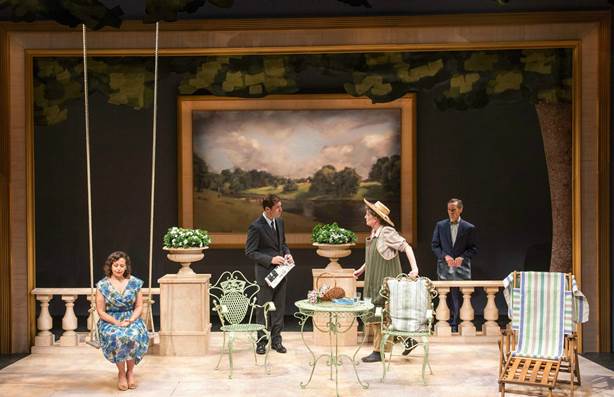 Katie Firth, Julian Elfer and George Morfogen in A DAY BY THE SEA by N.C. Hunter.
Photo: Richard Termine.
As these characters interact, the play, as has been noted many times, is reminiscent of the work of Anton Chekhov. Nevertheless, Hunterís people take on their own distinctive personalities, marked much more by traditional British reserve rather than the surging of Slavic emotionality. Rounding out the cast are Curzon Dobell as the family solicitor, Sean Gormley as one of Julianís diplomatic service colleagues, Kilie McVey and Athan Sporek as Francesí young children and Polly McKie as their nanny.
†
Most tellingly, the Mint production, directed by Austin Pendleton with admirable sensitivity to it shifting moods of comedy and drama, provides the opportunity to relish Hunterís acute philosophical ruminations on the quandaries of time, aspiration, society, aging and mortality. The arguments contrasting the dark assessment of mankind presented by the tipsy and pessimistic doctor and the hopeful picture of the future painted by Julian are among the high points of Hunterís writing.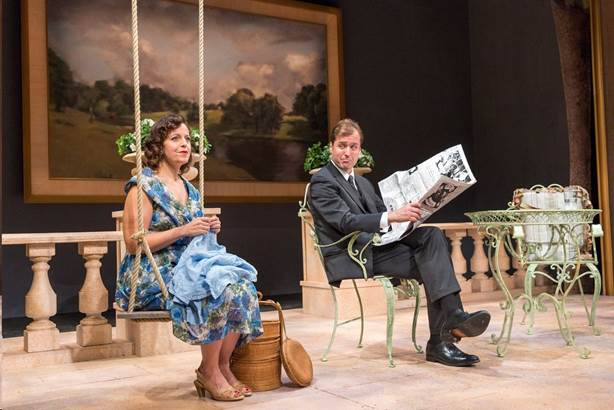 Katie Firth and Julian Elfer
The main plot line evolves around Julianís recall to a routine job in London from his post in Paris, where he felt he was performing irreplaceable work with refugees. The recall makes him realize how much he has ignored his own life for his job, awakening his long-buried affection Ė perhaps even loveófor Frances. However, as he will discover, Frances is no longer the happy innocent she was when she first came to the Anson household.
That the production is not a total triumph of rediscovery may well be due to a lack of theatrical chemistry, the gaps that can develop between performer and text. There are stretches when the actors seem simply to be delivering dialogue rather than actually communicating with one another. Granted, itís done with style. The English accents are fairly impeccable, though they sometimes seem to be the main concern of the actors rather than their charactersí emotional states. (Amy Stoller is credited with dialects and dramaturgy, although many of the cast members have Brit credentials of various sorts.)
The handsome but highly formal set designs, the estateís garden and the seashore beach, also contribute to the stilted feel that pervades some of the action. Both locales are dominated by a large, emphatically framed landscape painting set on dark gray walls. A grab bag look of the costumes is also distracting, particularly the matronly ensembles given to Frances, a woman whose allure, itís suggested, has only been heightened by the tragedies in her life.
Polly McKie† and David Anson
Among the more notable turns are Morfogenís masterly sense of timing in mining the humor to be found in the gruff rejoinders of the elderly Uncle David, and the poignancy demonstrated by McKie as the lonely governess attempting to forge a relationship with the reluctant doctor.†
Nevertheless, as the story unfolds, the entire cast works diligently to give credibility to the frictions and affections roiling through Hunterís characters, and while one could wish for a more overall presence of that elusive quality called charisma, one can certainly agree that Mint Theaterís appreciation of Hunter is a noble cause.
†
Playing at The Beckett Theatre
410 West 42nd Street
212 239 6200
Telecharge.com
Playing until September 24